Top 10 Relevant Questions You Should Ask the Interviewer
If you've ever faced any interview then you must have heard this line from the interviewers – Do you have any questions to ask? Indeed, an interviewer expects you to ask several worthwhile questions to determine your interest and zeal towards the job opportunity. Moreover, asking relevant questions to the interviewer not only makes your impression right but it also helps you to know some useful insights of the company such as the company's environment, your daily tasks, future opportunities, and many more. Though you're required to be very concerned and ask only relevant & worthwhile questions to the interviewer for better outcomes!!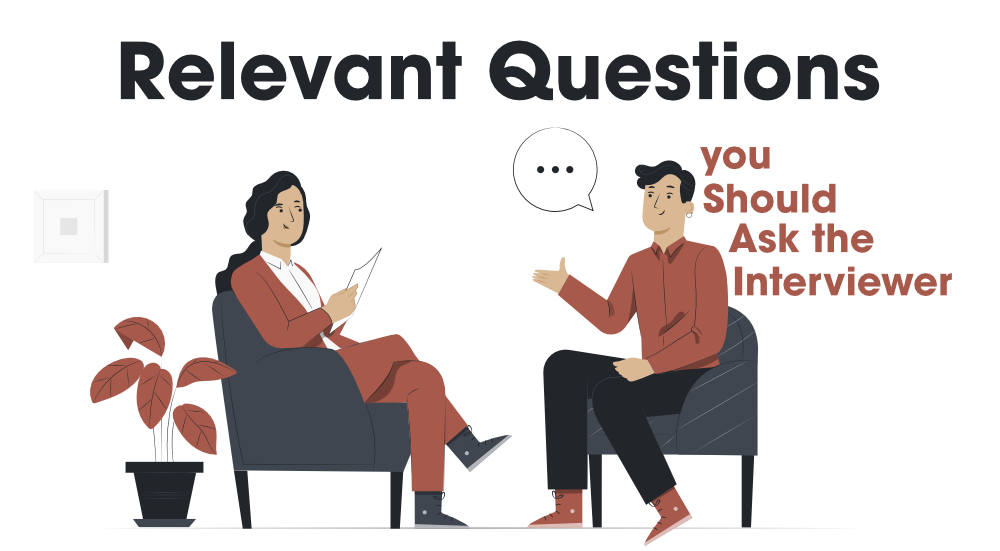 However, you can come up with various spontaneous questions in your mind during the interview but having several questions ready before the interview will boost your confidence and give you an edge over other candidates. Now you must be thinking that – What are those impactful questions to ask in an interview? No worries, here in this article, we will let you know about several most-recommended and relevant questions that you can ask the interviewer to make the right impression and increase your chances of getting success.
1. Can you please let me know about the culture & values of the company?
You can start the process of asking questions from here. This question will help you to know about the culture and core values of the company that further will help you to identify the working environment of the organization. The other purpose of this question is to let the interviewer know that you're genuinely interested & concerned about this particular job opportunity and want to know about every required aspect of the company for this job profile.
2. What will be my primary responsibilities in this job position?
This question will help you to learn about your job role in detail and what will be your day-to-day tasks in the organization at the specified job profile. Though you must keep in mind that if your day-to-day tasks or responsibilities are clearly & thoroughly mentioned in the job description or provided by the interviewer priorly then try to avoid asking this particular question.
3. What will be the biggest challenges of this job role?
Here comes another prominent question! Firstly it will let you know about the actual picture of the job role and other useful insights (which you probably won't get from the job description) and will help you to make yourself prepare for the problems or challenges that you will be facing at the designated job position. Secondly, it will give the interviewer an idea about your challenge facing quality or skill when you'll discuss it in detail.
4. What are the prospects for career growth in this profile?
This is also a relevant question to ask the interviewer. It'll help you to know about future career opportunities and the career advancement processes in the company. This question will also help you to let the interviewer know about your long-term vision or plan of working within the company. Furthermore, you must ensure to not ask several unnecessary or inadvisable questions regarding career growth such as – when will I get a salary hike or promotion, etc.
5. Are there any opportunities for professional development for employees?
Here you can ask if the company promotes professional development culture and offers several development programs. It will help you to know whether the company offers opportunities to learn and grow to the employees or not. It will also let the interviewer know about your learning and professional development goals. However, while asking this question, you must keep in mind that it should not sound too selfish or individualistic as it can make a negative impact on the interviewer.
6. What are the goals of the company for the future?
Indeed, apart from asking about career growth or other professional development opportunities, you're also required to ask about the future goals and objectives of the company. It will give the interviewer a glimpse of your concern & curiosity towards the company and job opportunity. Moreover, you can also convert this question into an opportunity to let the interviewer know about your prior research on the company by sharing several crucial insights or information of the company regarding future goals.
7. How does the company evaluate the performance of employees?
You can ask this question to show your curiosity for the job role and your vision of long-term working in the company. Also, it will help you find some additional valuable information regarding the job profile and career advancement in the company that will help in the future. You can learn about several key performance indicators and other performance measures on which the company works through this particular question.
8. Is there anything else I can clarify to you about my qualifications, resume, etc.?
You must keep in mind that the interview has not ended yet and you still have some chances to impress the interviewer and showcase some of your skills & strengths that have not been discussed yet. Hence, you're recommended to ask the interviewer if there is something more you can provide to him that would be helpful for your assessment and making the final decision. Though, don't boast about any of the irrelevant or unnecessary skills from the perspective of the particular job profile.
9. What suggestions would you like to give me based on my interview performance?
You can prefer to ask several suggestions or feedback for your interview performance from the interviewer to make the right impression and to create a better professional connection with the interviewer. It will not only show your optimistic and positive nature to the interviewer but also help you to get some worthwhile suggestions or advice that further will help you a lot in your upcoming interviews or other career opportunities in the future.
10. What will be the further steps in the interview process?
Though this question can be considered as a part of the follow-up process and you can ask it from the interviewer to show your enthusiasm and dedication towards the job opportunity. Also, it will help you to know about the further interview process and the respective schedule to prepare yourself accordingly. However, you need to be very professional & obliged while asking this question and doesn't act too eager or impatient.
So, these are several most-recommended questions that you can prefer to ask in an interview to make a positive impact on the interviewer. However, you can ask various other questions as well according to the interview scenario. All you have to keep in mind is that the questions should be specific and relevant to the job profile!!

My Personal Notes
arrow_drop_up