Top 10 Reasons to Learn AWS – Services And Benefits
Cloud computing is the latest buzzword in the IT sector. Today it has become a critical element in the business and it has changed the way IT solutions are delivered and consumed by the end-users. In our day to day life, we are using the services of cloud computing a lot. When you update your Facebook status, you are using cloud computing. When you use net banking, again you are into the cloud. Dropbox, Google Drive, Hubspot, and there are many more examples of cloud computing. Chances are strong, that you may depend on cloud computing to solve challenges faced by your business. We can assume that businesses that are not moving to the cloud are limiting their chances of growth.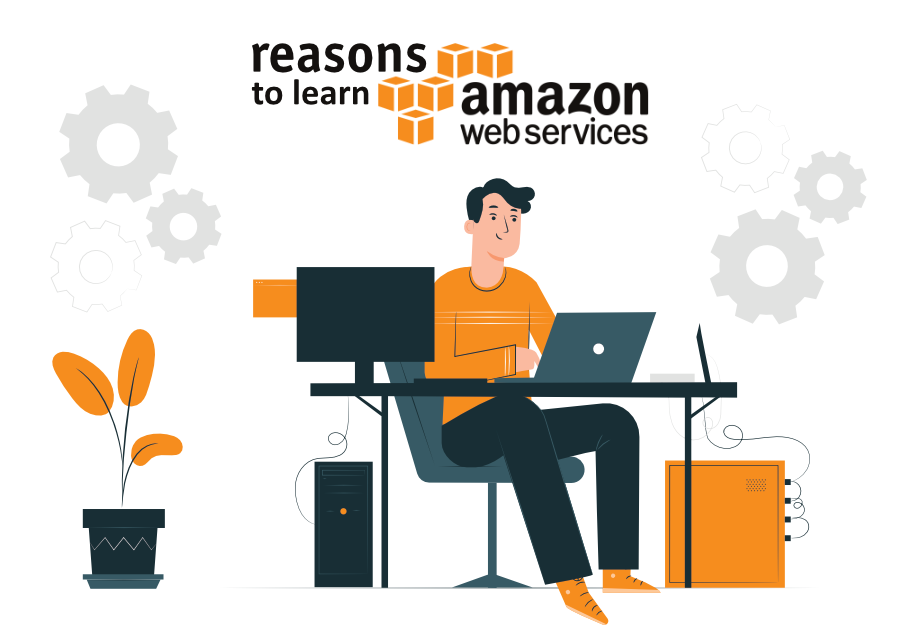 As per Forbes, the expenses on public cloud services is expected to rise at an annual growth of around 19.4% from $70B in 2015 to more than $141B in 2019. According to IDC, it has been also found that spending on public cloud services and infrastructure is forecast to reach $210 billion in 2019, an increase of 23.8% over 2018. The forecasted five-year compound annual growth rate (CAGR) from 2017 to 2022 is projected to be 22.5-percent to reach $370 billion. If we check out the market share of total cloud computing service and infrastructure then Amazon Web Services (AWS) currently leads and continues to grow. Take a look at the picture given below which says a lot about the market share and growth rate of AWS.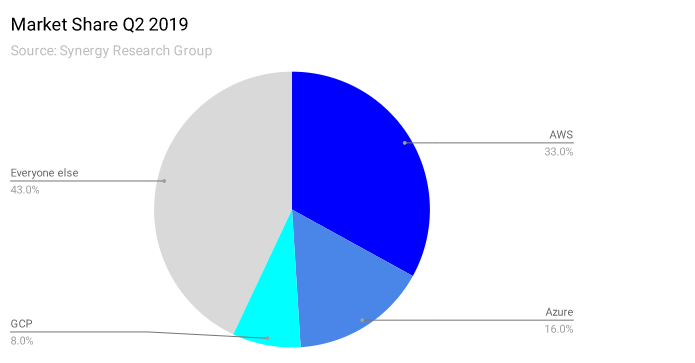 Major industries including hospital and healthcare, staffing & recruiting, consulting along with the major ones being software, ITES employing their services on AWS for their business operations and support. Around 5 billion dollars valuation giants have joined hands with AWS.
Adobe adopted AWS Cloud because of the richest set of APIs and deep integration of all the automated softwares.
AirBnB adopted AWS Cloud to launch their community driven app.
Netflix used the model of the dynamic AWS infrastructure of about tons of instances over many geographical areas.
Lyft spent, $300 million between 2019 and 2021
Pinterest will spend around, $750 million between 2019 and 2023.
Apple spends over, $360 million per year for iCloud and other services
AWS has also shaken hands with Nokia for 5G, IoT and cloud services, it is further attracting attention and trust of the cloud consumers/service providers. From all these data you can imagine that learning AWS is not a foolish idea from career and business perspective. Let's discuss the services offered by AWS and the major benefits of choosing it, in case if you are confused about choosing this platform.
Services Offered By AWS
AWS offers its services to businesses through dozens of data centers in Availability Zones (AZs) that are spread in different regions across the world. Each area has multiple AZs, which in turn have several physical data centers. The regions and AZs are all connected by low-latency network links that create a pool of highly reliable infrastructure resources that are resistant to failures of entire data centers or individual servers.
You can easily create your account on AWS and get a lot of benefits of AWS services. One of the best things is you have to pay only for those services that you are using and there is no need to pay extra. We are going to mention some of the services that are provided by AWS…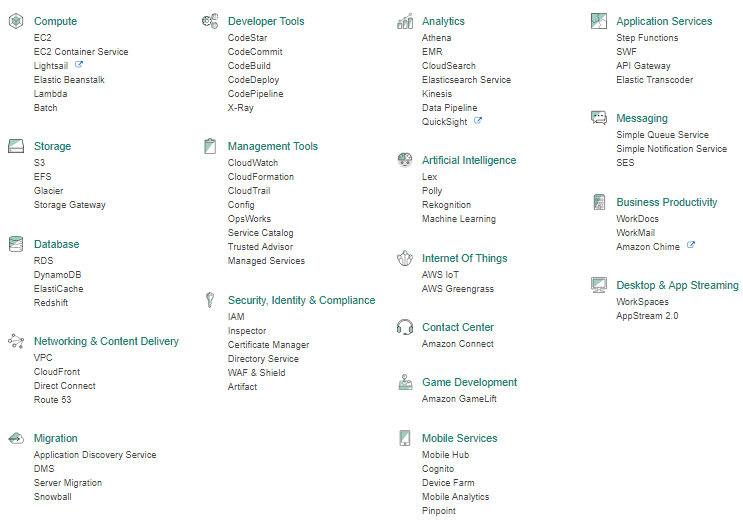 Reasons To Learn AWS
AWS is safer, cost-effective and efficient as compared to its corresponding competitors like Alibaba, Google, IBM and hence major companies are employing their services. Learning or choosing AWS is not just beneficial for students but also it is a good choice for industries who wants to improve their business. We have already mentioned that a lot of industries are moving to AWS so there is no doubt that career opportunity is enormous in this field According to the Google trends, organizations are facing a severe skill scarcity in AWS. The professionals who desire for a profitable career should move towards the AWS. There are more than 350, 000 professionals who are required to fill the cloud job titles. AWS skills are at the top list of the most demanding skills for employers nowadays and if you are concerned about the salary in this filed then check out the link of Glassdoor. Now let's discuss some more reasons to learn AWS…
1. Customization
AWS platform allows it's user high level of customization to meet the requirement of individual businesses. Customization option such as customer-defined tagging allows users to effortlessly monitor and handle specific resources. AWS tags can be utilized for cost tracking, security and automation as well.
2. Flexibility & Scalability
Starting with initiation, Amazon has always paid attention to the scalability. AWS services are always flexible to your needs and you can auto-scale them as per your requirement. Businesses do not have to deal with the constraints of physical computing infrastructure and can have access to servers and storage on demand. Scalability allows automatic increase or decrease of resources capacity as per the needs. Flexibility allows businesses to up-scale and down-scale according to the requirements. You can start and stop any service at any time.
3. Application Programming Interface (API)
AWS APIs are available in various programming languages which allows you to manage your infrastructure programmatically. Third-party services like CloudRanger, Quintly, and Tango card help you to launch a new instance; take backups and support utilizing all time and cost-saving features of AWS. For example, CloudRangers helps the company to understand the cloud with a visual representation. Quintly provides social media analytics for brands on a single dashboard.
4. Security
Security has been always a major concern for enterprises when it comes to choosing any service and cloud security has always been a topic of debate. This concern AWS understands very well. AWS provides the greatest level of data privacy and security to its customers regardless of their business size. It doesn't matter whether you are running a small startup or a large business AWS has extensive security support which offers real-time insight on suspicious activity and potential vulnerabilities. AWS ensures data privacy through physical security, fine-grained access, and data locality control. There is also no additional cost for IAM (Identity and Access Management). IAM helps users control who is authenticated and authorized to use the resources.
5. PaaS Offerings
We have discussed that AWS is highly scalable, It duplicates alike methods in accomplished services for data-warehousing, backup, database, transcoding, caching, application management, storage, and infrastructure management. This is very helpful in decreasing the total time and energy consumed in setting-up & managing the infrastructure. This helps decrease the overall cost of the market.
6. Scheduling
Scheduling means you can start and stop AWS services at predetermined times which means you can schedule your services to run at a particular time or on a particular day or even when a certain event takes place. For example, AWS allows you to schedule services such as Elastic Compute Cloud (EC2) and Relational Database Service (RDS). You are not required to run these services throughout the weekend or off-hours. Also, scripting is not required with the support of third-party tools like CloudRanger.
7. Recovery
In every business backup of data is important to avoid any disaster or huge loss in business. A small amount of downtime, stoppage in services or data loss results in calamity. In the case of AWS, there are multiple cloud-based recovery options available which enable you to recapture your data and IT infrastructure. If one of the servers has lost the data it can be obtained again.
8. Consistency & Reliability
We have already discussed that AWS is a useful platform to keep the backup of your data. Reliability is also the best selling point of AWS which can be achieved through multiple backups of servers at multiple physical locations. According to a report in 2015 AWS had the minimum downtime. AWS has been "far better at keeping its public cloud service running than either Microsoft or Google." To write a reliable and stable application in AWS you need to learn about the AWS consistency models on AWS.
9. Global Architecture
When it comes to choosing a service we need to check the service availability in the desired location. AWS is a global leader when we talk about cloud service providers. It is well known for its availability zones. AWS cloud spans 44 availability zones with 18 geographical regions and one local region around the world. Each of the AWS regions has multiple availability zones and data centers. Many more availability zones are a work in progress and you can see that in the future.
10. Pricing
The number one reason to learn AWS is the pricing option. AWS has a pay-as-you-go approach for pricing. It provides flexible pricing options which means you only have to pay for the individual services which you need and for as long as you use them without having to pay for a long term contract or complex licensing. There is no additional charges and termination cost in AWS. AWS also provides a pay-less-by-using-more approach to promote higher usage. For example, the more storage you require for S3 the lesser you pay per unit per month. You can create a free-tier AWS account if you are new to this technology and wants to learn about it. This free tier account provides access to some free services that will never expire.
My Personal Notes
arrow_drop_up