Top 10 Most Valuable Cloud Computing Certifications
Cloud computing has recently witnessed a sudden increment in career paths, research positions, and other opportunities throughout the whole world. Currently, the market for cloud computing is all-time high with a size of USD 371.4 billion and is expected to grow up to USD 832.1 billion by the year 2025 due factors such as growing digital transformation and rising consumption of big data. Due to this unprecedented rise, companies are seeking to leverage the power of the cloud and for this, they will need people who are proficient with cloud tools and hold expertise in the public, private and hybrid cloud.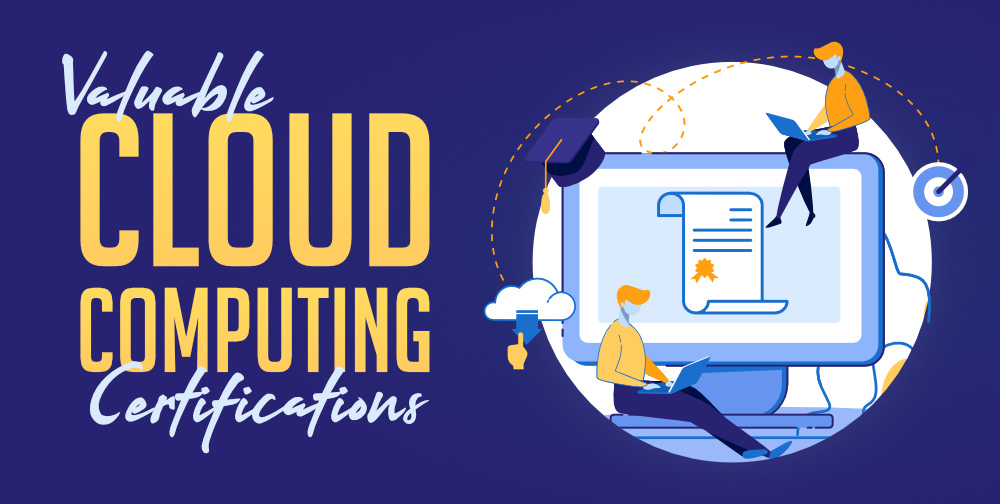 Cloud requires a good blend of technical expertise along with business and leadership skills. While specifically hiring candidates for cloud roles, companies prefer them based on their cloud qualifications in which a verified certification plays a major role. This is because cloud computing jobs range from solution architects to cloud security and developers and whatnot, so certification is a determining factor in the cloud role that will be assigned to you.
Here are the top 10 most valuable cloud computing certifications that you should possess to land a desirable cloud job!
This certification is suitable for professionals who already carry out a solutions architect role and have one or more than one year of practical experience in constructing and designing an accessible, cost-effective, reinforced fault immune or tolerant and scalable distributed systems on Amazon Web Services. The certification validates that you have a working knowledge of architecting and deploying applications on AWS which are stable, secure, and robust. It also certifies that you can define a solution using architectural design principles and give implementation advice depending on user requirements.
Cost of Examination: 150 USD
Average Annual Salary: $130,883
This certificate needs a little more experience than the associate level AWS certification, probably having two or more than two years of practical experience in a solution architect role and have managed and operated systems on AWS. It also demands familiarity with the AWS Command Line Interface, the AWS Billing Console, AWS Application Programming Interfaces, AWS Cloud-Formation templates, and AWS Management Console. The skills validated by the certification include that of the ones mentioned in associate-level certification as well as migrating multi-tier and complex applications on AWS, implementing cost-effective strategies, and designing and deploying enterprise-level secure, robust, and scalable operations on AWS.
Cost of Examination: 300 USD
Average Annual Salary: $148,456
This certificate is for professionals who are in a development-related field and possess one or more than one year of hands-on or applied proficiency in maintaining and developing an application based on AWS. The credential validates your skills in exhibiting key and elemental AWS services, use cases, and best practices of AWS architecture. It will also demonstrate expertise in debugging, deploying, and developing applications using AWS. Prerequisites for this examination require an in-depth understanding of CI/CD pipelines to deploy applications on AWS, proficiency in writing code for cloud-based applications, and understanding of containers and application lifecycle management.
Cost of Examination: 150 USD
Average Annual Salary: $130,272
This certification is intended to test the practical and applied skills required for a cloud job. To get a deep understanding and for preparation of this exam, hands-on experience is recommended which is made available on Qwiklabs and GCP free tier which will help to level up the skills and knowledge. This certificate verifies that the individual can develop, design, and manage highly available, dynamic, robust, and secure solutions to drive business targets. The individual should also be proficient in software development approaches and methodologies as well as multi-tier distributed applications that range from multi-cloud to hybrid environments.
Cost of Examination: 200 USD
Average Annual Salary: $139,529
This certification requires an industry experience of three or more than three years which includes one or more than one year of experience in managing and designing solutions using GCP. This exam validates your ability to design systems that require data processing, build and operationalize systems that need data refining, initiate machine learning models, and ensure solution quality. You should be able to build, design, secure, and observe data processing systems with a focus on security, compliance, efficiency, scalability and flexibility, and portability. You should also be able to deploy, leverage and continuously train machine learning models.
Cost of Examination: 200 USD
Average Annual Salary: $127,053
The certification requires foundational knowledge of cloud services and the way these services are provided by Microsoft Azure. It is intended for individuals who are just starting to work with cloud-based services or solutions or are new to the Azure cloud platform. Azure Fundamentals certification validates knowledge of cloud concepts, Azure services, and workloads, security, privacy in Azure along with Azure pricing and support. You are required to be familiar with the general technology concepts that include networking, compute, storage, app support, and development.
Cost of Examination: 99 USD (May Varies)
Average Annual Salary: $110,000
This certification requires a minimum of six months of practical experience of administering Azure cloud with a good understanding of the core services of Azure, workloads, governance, and security. This role also requires proficiency in using PowerShell, Azure Command Line Interface, Azure Resource Manager templates, and the Azure portal itself. The exam verifies your ability to manage Azure identities, Azure governance, implementation and management of storage, deployment, and management of Azure compute resources, the configuration of virtual networking, and monitoring of Azure resources. Some responsibilities for this role include implementing and managing identity, compute, storage, and virtual networks in a cloud environment along with provisioning resources when needed.
Cost of Examination: 165 USD (May Varies)
Average Annual Salary: $107,683
This certification requires having a subject matter expertise in designing and implementing solutions that are deployed on Azure cloud which include concepts like compute, storage, network, and security. A solutions architect partners with cloud Database Administrators and clients to implement solutions. You should have expertise in IT operations, networking, virtualization, security, identity, disaster recovery, and budgeting with a profound knowledge of DevOps. It validates that you can design identity and security, design data storage and infrastructure, implement solutions for applications and management, and security solutions.
Cost of Examination: 165 USD (varies)
Average Annual Salary: $76,112
The CCSP certification verifies that you possess technically advanced skills and knowledge to manage, design, and secure data, applications, and infrastructure in the cloud by utilizing the best practices, policies, and strategies that are established by the cybersecurity experts. This certification is ideal for IT leaders who are enterprise architects, security administrators, systems engineers, security consultants, and security engineers. This is one of the most sought after exams that holds high value and does not use a specific platform but rather equips you for multiple cloud security tools and technologies.
Cost of Examination: 549 USD
Average Annual Salary: $154,424
This certification measures capabilities on managing and incorporating cloud-related technologies as part of systems operations. It assumes that the individual candidate will bind solutions together that meet particular business-oriented needs and work in a variety of industries. It ensures that IT infrastructure professionals develop skills related to cloud computing on various platforms, including the movement of applications, workflows, databases, and systems to the cloud. It aims to prepare system admins to carry out complex tasks by addressing system architecture, deployment, security, and automation.
Cost of Examination: 329 USD (varies)
Average Annual Salary: $80,092
My Personal Notes
arrow_drop_up