Top 10 Job Opportunities in Cloud Computing
Job Opportunities in Cloud Computing are rising in the upside-down era of this unexpected pandemic. As per T4 research, the market share of cloud computing in 2021 is 406 Billion US Dollars and can exponentially grow up to 663 Billion US Dollars. With such a market share, companies whether small, medium, or large can shift from their traditional data-centric approach to the one stuffed with cloud computing services thereby rewarding the masses with the suddenly popped up benefits of this technological transformation. Does this really NOT FORCE US to think if or not we can make our career in the emerging field of cloud computing!!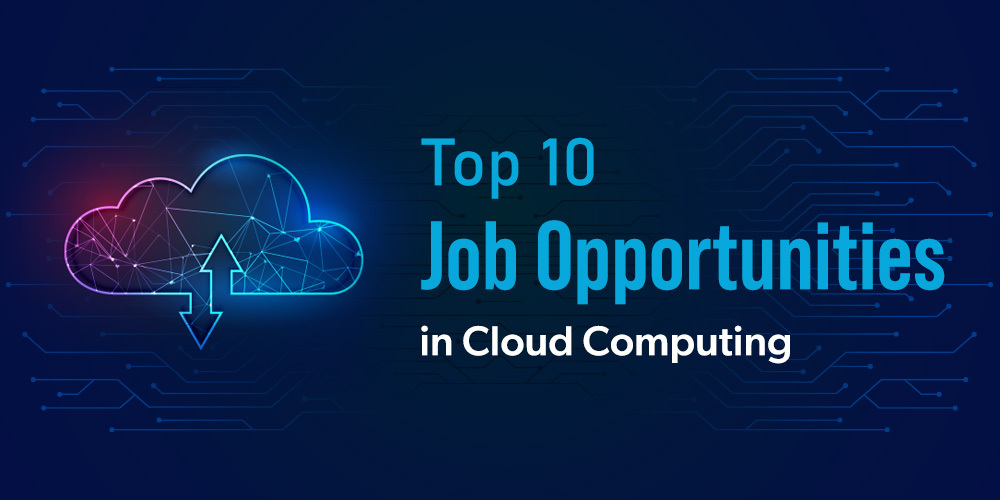 Yes, there are ample opportunities in this sector that organizations are giving to those individuals ready to extract the chief outcomes from the investment a company makes to leverage a cloud-based architecture. And according to your technical and leadership skills tailored well with years of experience, you can grab an offer letter of any of the positions like Cloud Consultant, Cloud Engineer, UI Developer, and so on…….Let's know about the top opportunities through which one will get benefited in terms of perks, work type, and performance bound to cloud-based models companies adopt to leverage the graph of their sales corresponding to their investments.
1. Cloud Engineer
Cloud Engineer, in a broader sense, responsibly manages many technical processes through the provided cloud-based systems. Worried about with what aim the processes are carried forward!! Each of them comprises technologically advanced tasks correlated well with either designing, maintenance, planning, and monitoring of their existing business infrastructures for faster innovation and scalable leads through those technical processes. Most specifically, to be a cloud engineer, you should have knowledge about Python, PHP, .NET, SQL, general N/W (Network) Management Functions, and a deeper understanding of virtual networks. Besides, you should work whippily with cross-functional team members who can uninterruptedly provide application product support for better budgeting and forecasting of project analysis migrated to the cloud. What else does an organization need now to integrate all their server-based technologies and deploy their products and services negotiating well with the interests and loyalty of their customers in a shorter period of time?
2. Cloud Architect
Cloud Architect is another cloud-based career opportunity in which you will act as a person responsibly preparing a cloud-computing strategy inclusive of action plans and designs for cloud systems. Thinking if I can become this sort of person who has the potential of moving the business processes of various organizations to the cloud platform!! Yes, you can achieve milestones in this career opportunity and for that, you should have a thorough understanding of DNS i.e. Domain Name System, TCP and IP protocols, and other aspects of computer networks. Side-by-side, you should also be having flexibility in computer programming languages like JavaScript, Python, Go, and Java and can work on the related projects with minimal help or guidance. So, you can proceed ahead on the path of becoming a Cloud Architect who can work well on his/her day-to-day expectations like negotiating third-party contracts, by communicating with vendors, related to hardware, cloud technologies; closely working with IT security to monitor privacy and incidents responding to that as per scaled budgets and estimation costs of cloud adoption plans.
3. Cloud Consultant
A Cloud Consultant is always on the course of providing technical researches and studies that justify his/her cloud management plans along with the suggestions regarding the cloud services and architecture adhered to by the organization as per its requirements. Planning to reserve your seat for this job role!! Yes, you can but do this after you acquire a strong IT background for yourself so that you can implement, migrate, design, or maintain cloud applications and the business processes associated with any of those applications. And for doing this better, you must have an in-depth knowledge of at least one operating system from this list: a) Windows b) Linux c) Ubuntu d) Fedora; basics of HTML Apex, JavaScript, and lastly, excellent customer service skills so that you can help the clients meet their requirements. Hence, the time has now come to showcase the IT background acquired by you, consisting of in-depth knowledge about OSs, networking protocols, communication, and technical skills for your as well as the organization's growth for which you will be working in your future endeavors.
4. DevOps Cloud Engineer
DevOps Cloud Engineers are intensively involved with coordinating with various cloud developers with the sole purpose of integrating cloud-based solutions for better performance of cloud-based projects bound to the organization's architecture. And primarily, this architecture revolves around technologies like Google Cloud Program, Microsoft Azure, or AWS. So, you need to excel yourself on any of those technologies and simultaneously, on the programming languages like Ruby, Java, Python, or Pearl. After you excel yourself with the ones aforementioned, you will be collaborating with the members of Research and Development like the ones known in the market as Developers to deliver automated solutions regarding expansion capability of the existing software, monitoring the users' feedbacks and responses towards the newer product release and communicating the same with R&D teams for an improvised product's interface intuitive from user's perspective. Just enroll yourself in any of the industry-led training which will help you make a cakewalk on the day-to-day expectations of a DevOps Cloud Engineer!!
5. Cloud Infrastructure Engineer
The job role of a cloud engineer is to keep on revolving around a motto and that is developing a secure and robust cloud-based infrastructure that can associate itself well with the systems somewhere demanding cloud networks. Indeed, the infrastructure engineers work closely with H/W i.e. Hardware Engineers and other developers gifted with excellent thinking, analytical, and verbal skills. Imagining what I need to do to become a person known in the market for assessing an organization's existing infrastructure and explore the options through which the infrastructure can be moved or shifted to the cloud!! For this, you need to be effective with Python, Go, Linux, SLAs (Service Level Agreements)/SLOs (Service Level Objectives), and high-transactional IP Routing protocols. Only then, you can execute the determined best course of action in accordance with the roles and responsibilities assigned to you for this position on which you will be working on a daily or quarterly basis.
6. Cloud Security Engineer
A Cloud Security Engineer never takes a step back when it comes to attracting organizations with the solutions related to designing and workload implementation on cloud-based systems in a secure manner. Wondering how the security engineer uses the potential of the cloud to deploy solutions!! To achieve the same, the engineer creates cloud-based programs that can be installed, maintained, or upgraded on the available cloud computing environments. Later, threat simulations and penetration tests are performed to determine whether or not risks are there impacting the security design and application development. If required, a set of practices like the use of cryptography, data encryption, MFA i.e. Multi-Factor Authentication, and Single Sign-In can be implemented to give people security recommendations while detecting incidents. Noteworthily, you should try becoming an in-demand cloud security engineer who knows about programming languages like Java, Python, but is handier with upgrading the existing security environments an organization may adopt thereby serving as the voice of their customers.
7. Data Engineer
Data Engineer is always on the better side of the coin by preparing data stored encrypted over the cloud for not only the analytical but the operational uses as well. Thinking about how that data is prepared!! For doing so, data engineers take the help of data acquisition methods like sharing, transforming, and purchasing of data to build data lakes from the relevant and multiple data sources keeping in mind auditing and data governance. Many times, they need to align the cloud infrastructure with the existing business requirements through programming languages like MongoDB, SQL, Python, and tools like Apache Spark, Amazon Redshift, and Snowflake. Simply, they are enthusiastic with their identified ways of improving efficiency, quality, and reliability of data developed, constructed, or maintained by taking updates from the stakeholders patient enough to govern the creative translations performed by the data engineers. Without any doubt, you can also be a part of this better side of the coin just after you participate in analyzing data through programming languages and tools essential for functional and technical design support in detail.
8. Full-Stack Developer
Full-Stack Developers, honestly speaking, are the prime-time engineers of today's technologically advanced world. Anticipating how they are listed in primetime!! Those Full-Stack Developers work dedicatedly with mobile, web, or native application stacks thereby helping clients during every planning phase of the assigned or upcoming projects. Furthermore, they can descriptively work with both front-end and back-end development ideas with their extensive programming knowledge of CSS, JavaScript, and HTML essential for front-end whereas knowledge of PHP, Angular JS, Apache, and Linux for back-end. And all this is vital for repeatable business continuity and scalability. Are you curious to be friends with the roles and responsibilities of a Full-Stack Developer? They are like developing precisely front-end web architecture that meets both the technical and customer needs, designing and then developing APIs for wider reach, and creating databases plus the servers of variable compatibility levels which are accessed speedily from mobile or web. So, you have a chance to move forward continuously on the path of development either front-end/ backend and work with stacks well-relatable with the functional capabilities of mobile, web, or native cloud applications.
9. Cloud System Administrator
Cloud System Administrator has a knack for maintaining, troubleshooting, and developing the network connections through their real-world experience of cloud-network types and managing on-demand firewall related requests. Besides, the administrator also mixes up with implementing and defining policies for cloud-based systems so that the customers can speedily communicate with all the services that systems can potentially reciprocate live. This helps the organization a lot since they are assured of the seamless delivery of all of their services at every level – small or large. Calculating if your skills can help you get yourself introduced to the cloud system administrator job role!! Yes, you are free to involve in the operational efficiency demanded by the role through coding languages like Python, Ruby, Pearl, Java, or .NET; familiarity with tools like Puppet, Chef, & Ansible properly administering the network types all the time. All this will benefit you really while you are shaping your career as a Cloud System Administrator.
10. UI Developer
UI Developer as the name translates itself inches day-by-day towards translating creatively software design components and associated ideas into reality. Contemplating how a UI Developer handles such an innovative translation!! The answer is that with the smarter use of front-end technologies like Angular, Flutter, frameworks like Django, and languages like CSS, Java; the translations are handled creatively by a UI Developer. Collaboratively, the developer will be writing Unit Tests and also working responsibly with QA engineers to define end-to-end test cases somewhere involved with agility and user satisfaction. So, if you wish to be remembered amongst your peers as an agile and user-oriented UI Developer, then you must be well-versed with every nook and corner of the front-end development i.e. from planning the website's layout to ensuring that it is fully functional and visually appealing via front-end technologies from a user's perspective.
My Personal Notes
arrow_drop_up