Top 10 Business Analytics Tools
Business Analytics is undoubtedly a good career to opt for. According to LinkedIn, there are 23.3 million people willing to pursue this career, 9.8 million 'Business Analysts', and 4.4 million 'Senior Business Analysts'. The market growth is expected to increase to 14.3% by the end of 2026. A Business Analyst having 4-5 years of experience can expect an average salary of 8.7 LPA whereas Senior BA having 10-20 years of experience can expect a salary of 12.5 LPA.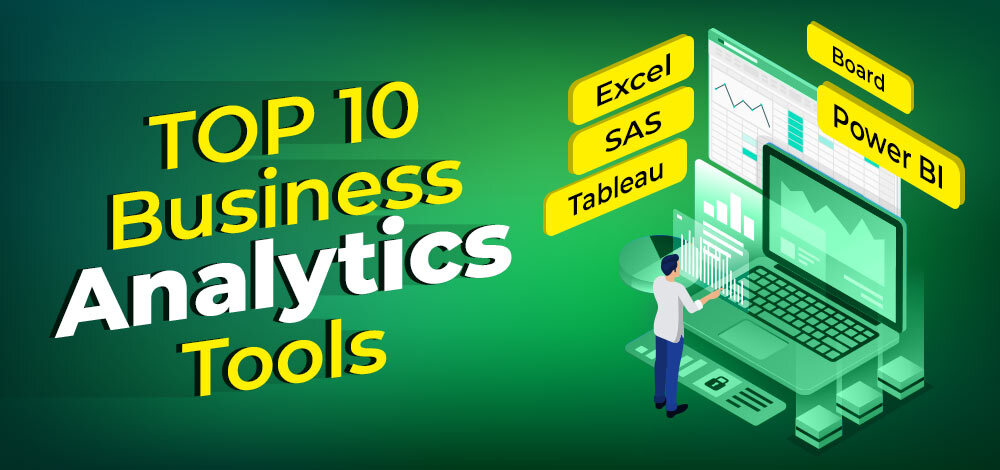 A blend of technologies and methodologies used for examining and solving an organization's data, performance, and business problems is called Business Analytics (BA). Business Analytics uses data analysis, statistical analysis, and other quantitative methods to drive decision-making, gain insights and perform business decisions, thereby increasing the revenue, productivity, and efficiency of an organization.
Importance of Business Analytics
In today's data-driven world, where the success of any business relies heavily on a huge amount of data, many companies are still unsure of how to analyze these large amounts of data. Here is when business analytics comes to play. Organizations that are data-driven often employ Business Analysts to help them make decisions and provide insights based on historical data. This also helps companies to be more efficient, optimize and automate their processes, and also focus on their revenues and growth.
One of the apparent importance of Business Analytics is that it helps organizations understand short and long-term risks based on available data such as customer preferences, trends, etc. Business analytics enables organizations to understand why and how specific results are achieved, reduce risks, look into more effective business processes and solutions, and also predict the likelihood of certain results.
Business Analytics Tools Used by Companies Today
The tools that business analysts include statistical tools and combine the quantitative and qualitative data from different business systems and incorporate them into a repository. These business analytics applications are packed with powerful features and facilitate efficient data collection, analysis, and presentation in real-time. They also provide businesses with a holistic overview of key insights that improve efficiency, productivity, and profitability.
Here is a list of 10 powerful Business Analytics tools that we'll be discussing in detail:
1. Excel
Amongst all the analytical tools available in the market, Excel is still the most versatile tool used for business analytics. It is one of the cheapest, most accessible, and easiest to use. With powerful features like form creation, PivotTable, VBA, etc, it can work with small as well as large amounts of data. Excel is one of the easiest tools to pick up, you will even find professionals from any background excelling in Excel. Don't forget to check-out the course Excel Course and Training – Self Paced
2. SAS
SAS is a robust, easy to learn, and versatile tool that finds wide usage in the analytics industry. Loaded with a range of statistical tools, SAS is often suitable for any large organization's data mining process. It uses ML, AI, and automation to meet Business Analytics requirements by simplifying the process of analyzing large sets of data in less time. To gain the best use for SAS analytics SAS has added more modules for IoT, SAS anti-money laundering, Data mining, data visualization, text analytics, forecasting, SAS analytics pro, and many more.
3. Microsoft Power BI
Microsoft Power BI is one of the most popular business analytics tools which excels in data visualization and helps users create interactive user reports. It offers data warehousing capabilities including data preparation, and data discovery, and allows users to identify real-time trends and deliver reports. Besides providing a desktop-based interface, the "Power BI Desktop", it also provides cloud-based business services, known as "Power BI Services", which can be accessed from almost anywhere.
4. Tableau
Tableau is another powerful Analytics tool that can connect to any data source and create customizable data visualizations, maps, and dashboards. Its powerful data discovery and data-cleaning function allow users to perform analytical functions in seconds. It is easy to learn, robust, and does not include any complex scripting. Tableau's statistical functions help users to perform in-depth analyses and predict patterns based on current and historical data.
5. Qlik Sense
Qlik Sense, created by Qlik is another powerful next-generation analytics tool that allows users to create visualizations, charts, interactive dashboards, and many more. It is a cloud-based Analytics software that uses Machine Learning and sophisticated Artificial Intelligence to improve the quality of data mining and data processing. It provides analytics capabilities for all types of users and is flexible across public, private, and hybrid clouds.
6. Splunk
Splunk is another widely used business analytics tool that was launched by Splunk Technology, a company from San Fransisco. Splunk is used for processing machine log file data, capturing, indexing, and finding correlations between real-time data. This data is used for generating graphs, reports, dashboards, etc. Splunk is generally used in small and medium-scale industries.
7. MicroStrategy
MicroStrategy is a top business analytics tool that offers data discovery, data visualizations, and web services. It combines a range of business analysis techniques that hosts other sources to fetch data for analysis and also allows the user to create and share reports from any location or device. It also allows the smooth processing of unstructured text data. Operating Microstrategy requires just a basic understanding of programming, data analysis, and SQL.
8. Sisense
Sisense is a business analytics software that allows users to perform extensive analysis and visualization of complex and enormous amounts of data. It is used by both small businesses as well as enterprise-level businesses. It helps the users bring data from a wide variety of sources, combine multiple data sets, and help make data-driven decisions and forecast future trends. Sisense has been recognized as a leading cloud analytics platform by various industry experts like Gartner, Dresner, etc.
9. Board
Another top-rated business analytics tool is Board which is best known because of its analytics model that permits users to create custom intuitive and interactive user reports and dashboards. It can manage massive data volumes and support accurate analysis and forecasting by manipulating data using data visualization, drill-down, and drill-through functionality.
10. Domo
Domo is a complete cloud-based business analytics platform that integrates multiple data sources and provides wide connector support. It is easy to use and offers micro and macro-level visibility and helps users see real-time data. It is often used by both small and large-scale companies. Domo is designed to assist businesses in finding effective solutions and taking informed actions from the insights gained.
With businesses increasingly leveraging, the demand for business analysts and business analytics tools is increasing in diverse sectors including automotive, healthcare, retail, banking, hospitality, etc. Based on your interest and skill, you may pick up the right tool for you and master yourself in it.
My Personal Notes
arrow_drop_up