Tips to Crack a Telephonic Job Interview
Hi, after reviewing your application, we have shortlisted your profile for the Telephonic Interview.
If you're in a league of job hunting currently (or in past), you must be familiar with the above-mentioned lines. Yes, in today's high-tech era, you are not anymore restricted by any geographical boundaries to get into your dream company and Telephonic Interviews play a crucial role in reducing this barrier. However, there are many advantages of telephonic interview such as you can appear for the interview from any place as per your convenience or you can refer back to notes, etc. but there are still some complexities and challenges integrated with Telephonic Interviews for which you have to be prepared to get the green flag for final selection.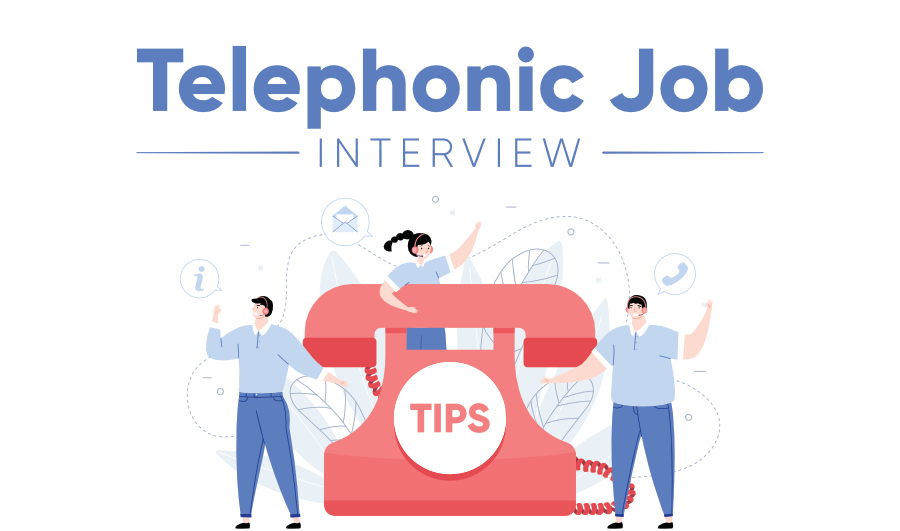 Now, the question arises that why companies are preferring to conduct telephonic interviews for the recruitment process? This can be understood as a Telephonic Interview Round is generally the initial screening step to shortlist the candidates for further rounds. This is to be done for selecting the deserving and worthy candidates from the crowd of applicants by reducing the expenses involved in the interview procedure. Also, it saves a lot of time for both – the candidates and the recruiters.
You have to get prepared all those areas for a telephonic interview as you prepare for a face to face interview. However, there are a few additions and modifications in your preparation task list that you have to keep in mind to crack a Telephonic Interview. Yes, it may be possible that you spend a lot of time talking over the phone or you have excellent communication skills but that doesn't give any assurance of acing a telephonic interview. You have to look out at various aspects while giving a Telephonic Interview, let's take a look at all such aspects.
1. Schedule the Interview Carefully
This is the first thing you have to keep in mind that be sure you will be available on time to attend the call as per the schedule. A 10-15 minutes' delay from your side can be very expensive and might even kill the opportunity. You need to schedule the interview as per your availability like if you're an employed person, you can schedule the call for the weekends or any other time when you are not at work. Also, schedule the interview for the time that suits you like do not choose a time in which you usually sleep, etc. While scheduling the interview, you should confirm all the information such as date, time, interviewer details, etc. and also get to know if the interviewer is calling you or it is you who need to make the call.
2. Choose a Quiet Place
As after scheduling the interview it is known to you that at which time the recruiter will be calling so it is your responsibility to find a suitable place that has no disturbance or noises and has good network connectivity. You can have some mock calls with your friends or family to decide for a particular noise-free place having a good network zone. Also, a quiet place doesn't only mean having a noise-free area but you have to eliminate all kinds of disturbances whether it be from family members, pets, or any other. You are strongly recommended to be alone when the telephonic interview is in progress and are also advised to avoid eating or smoking during the call.
3. Be Prepared
Apart from finding a quiet place, several other preparation tasks also need to be covered for nailing a telephonic interview. The first thing you have to do is gather information about the recruiting company and go through the job description. You can search for the employee reviews, previously asked interview questions, etc. regarding the company. You can also prepare your notes for the preparation. Some of the tips regarding the same are provided below:
Be ready with pen & paper.
Keep your resume and notes with you.
Eliminate any kind of noise or disturbance.
Turn off call waiting on your phone.
Maintain a positive mindset.
4. Be Focused & Listen Carefully
While giving the telephonic interview you must have the same alertness and preparation as you would have during a face-to-face interview. It is advised to you to eliminate all the disturbances and sit in a comfortable position during the call as it will help you to focus on the interview. You must listen to the questions asked by the interviewer attentively, however, if you don't understand the question the first time or if you're unsure about what is being asked you can ask it again to be sure. Also, don't interrupt the interviewer while he is asking a question instead let him complete it first. Although, if you have something important to ask, you can note it down and ask once the interviewer is done.
5. Speak Clearly & Ask Relevant Questions
During a telephonic interview, the interviewer is unable to judge you based on your body language and gestures so all you have to describe yourself is your voice and communication skills. You have to keep in mind that your voice will represent your personality. Just be sure that whatever you speak must be clear and your voice is audible to the interview. Also, it must be a two-way conversation i.e, you can take a few seconds to answer but don't take a very long pause. Also, you may ask several questions to the interviewer such as about the company, job profile, etc. But make sure the questions must be relevant, do not ask any irrelevant questions such as salary, leave policy, etc. during the telephonic interview as it is generally the screening process (or you can say first round).
6. Don't Rush to End the Call & Be Appreciative
When the interview is about to end, do not rush to end the call instead ask if the interviewer has any other questions. Also, you can ask about the further rounds and the interviewer's contact details. You are advised to thank the interviewer for giving you an opportunity and his time (it will create a positive impact!).
As of now, you must be aware of some important preparation tips to tackle the telephonic interview. There are various companies exists that conduct telephonic rounds for their recruitment process such as Amazon, DE Shaw, etc. Also, some general questions are commonly asked by most of the companies. Let's take a look at such questions:
Describe yourself.
What do you know about the company & the job profile?
What is your area of expertise?
What are your strengths & weaknesses? and many more.
Also, you may be asked some situation-based questions by the interviewer to analyze your presence of mind. So, what are you waiting for? Just follow the above-mentioned preparation tips for the telephonic round and be confident during the interview.
My Personal Notes
arrow_drop_up