Things to Keep in Mind While Choosing the College For Graduation
It's that phase of the year again where you give lots of exams and decide which is the best college for you. This phase is not that efficient this year due to COVID-19 and competitive exams are yet to happen for engineering and medical students. But what after giving all these exams for different colleges or universities. How do you know which college is best for you or which college will bring the most out of you and make you ready for prospects? Some people have crystal clear pictures in their minds which they were carving for many years and by that, we mean working hard for it. Some people have characteristics of flowing with the river and thus selecting the best college according to the opportunities they get along the way. There are many loose ends and uncertainty for the students, not for a particular group of people but all of you. And these loose ends have been extended due to the ongoing pandemic which will affect many students in one way or another.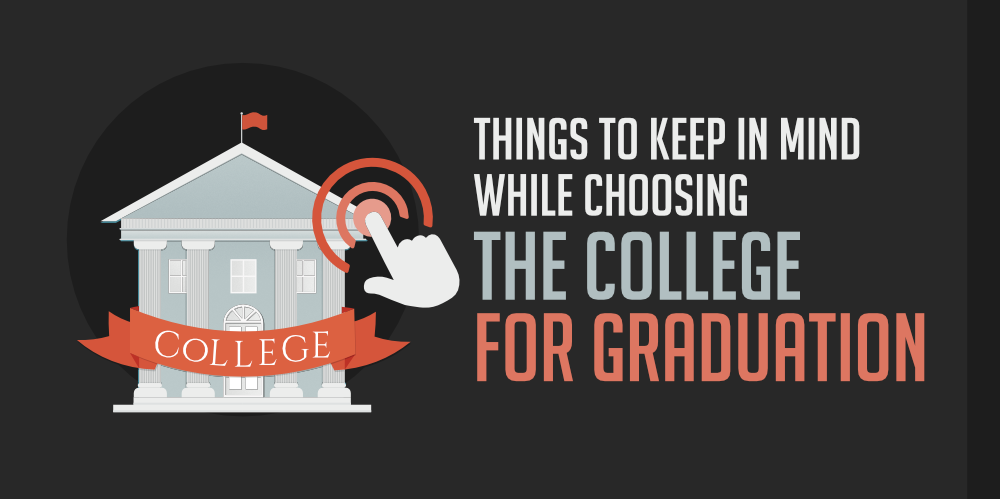 Despite having so many uncertainties, some things can be done to make sure about things that are under our control and can be directed in the direction of our will and wish. We tend to focus more on those things which are out of our control and that is where most of us make mistakes and fail miserably. Caring about factors that are in control is the most important thing one can do. Choosing a dream college is one of them. There are many colleges in India with various courses being provided to students. Many colleges may be offering courses that you aspire for with some of the best faculty. A lot goes into deciding the colleges which are having all-round facilities which are required by the students and factors which decide these are listed below.
1) Courses Offered to the Students in a Particular College
Courses offered in a college are the first and most basic filtering criteria for the students. This is where their interest comes into the picture. Whether they want to go in the medical field or engineering field and upon that which particular specialization they want to get in. For example, students aspiring for an engineering field can decide whether they want to do civil engineering, mechanical engineering, or computer engineering which is trending in this 21st century.
2) Faculties Who are Teaching and Their Experiences
Course structure and workload of a particular course depending on the instructor taking the course. There is some basic course requirement that is the same for every college or university but the workload and the coverage of extra syllabus depend on the instructor assigned to that particular course. So the standard of faculty is an important feature to predict the quality of the courses provided to the students.
3) Study Environment in the College and Campus Life
A student is defined by the environment and the company he/she is having and spending most of the day. This bond goes for 4 years in proximity and beyond that as well. The type of study environment is most essential when you know that you have to make friends and live a campus life. You should look for different facilities which are available in the college like the canteen, hostel lecture halls, Sports facilities, etc.
4) Placement Records and Companies Visiting the College
This is the most sought after feature any student will look for in a college. Placement feature is something that every college wants to improve as they are the major crowd puller. But we want to clear this right now that placement majorly depends on the student's capabilities and will to achieve something great. However, you should consider the number of companies visiting the campus and the type of companies visiting the campus for placements.
5) Extra-Curricular Activities for the Students in the College
College life is all about all-round development. Here you can improve your personality and become academically strong simultaneously. Extracurricular activities are conducted only because the college wants you to open yourself and explore and grab the different opportunities that you could have with an open mind and personality. Taking part in those activities and performing in them efficiently is the most important factor that you can control.
6) The Workload Concerning the Courses and Activities
Workload as said earlier depends on the instructor the techniques he/she will use to complete the course. Workload also depends on the type and level of the course you are choosing. Some institutes have more workload as compared to others for the same course. So keeping in mind about different course workload becomes important. And also managing the course workload with extra activities is mandatory.
7) Cultural Fest and Technical Fest (For Engineering Students)
Cultural fest and technical fest are two of the most enjoyable times you will have in your whole academic year. More happiness comes when you are part of the organizing team and you get customized T-Shirts and privileges (e.g Access to the backstage of the main event). Taking part in these fests is optional but important for all-round development for a student.
8) The Fee Structure for Different Programs in Which You Want to Enroll
Before taking admission in a college, you should always look for the fee structure as well. This is the part where you should involve your parents as well because they are the ones who are going to pay for your fees. You can take out a loan as well for the same. Different programs have different fee structures and this also differs in different colleges.
9) Future Opportunities Other than the Mainstream
Students should always look for future opportunities that a college can provide other than the mainstream courses. Many courses could give you a different path that you can follow other than the mainstream college opportunities that colleges provide to their students. You can also do minors in different courses for the same.
All the listed factors are flexible and can be shaped and sized according to your need and aim in your life. All of them depend on your interest and areas where you want to give your best and are looking forward to having a career in.
My Personal Notes
arrow_drop_up