TCS Digital Recruitment Test
TCS is the second-largest Indian company by market capitalization and is among the most valuable IT services brands worldwide. In 2015, TCS was ranked 66th overall in the Forbes World's Most Innovative Companies list, making it both the highest-ranked IT services company and the top Indian company.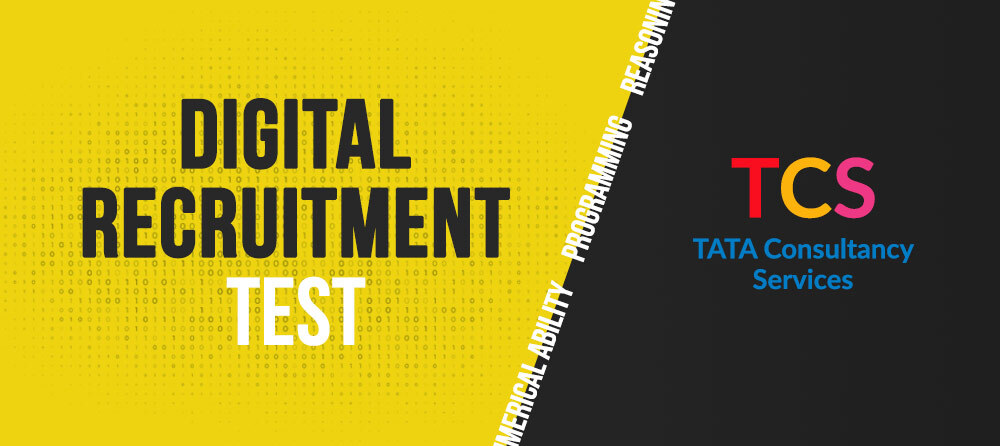 Tata Consultancy Services Ltd was incorporated in the year 1968 and it is now a leading global IT service, consulting, and business solutions organization offering various transformational as well as outsourcing services to global enterprises. The company is headquartered in Mumbai. It has been operating through 285 offices in 46 countries as well as 147 delivery centers in 21 countries.
TCS Digital hires for the Digital Technology Domain, specializing in IoT, AI, ML, Big Data, Virtual Reality, BlockChain, NLP, etc. There are three ways of landing the TCS Digital offer.
If your college is a TCS Premium College
If you Crack the TCS CodeVita Pre-Qualifier
If you do exceedingly well in the TCS NQT (Ninja)
Eligibility:
All Branches B.Tech, M.Tech.
Percentage in X and XII – 60% or 6.0 CGPA
In Pursuing Degree – 70% or 7.0 CGPA
In UG (for PGs) – 60% or 6.0 CGPA.
The applicant must not have any active backlog/arrear/ATKT while appearing for the TCS Selection process.
It is mandatory to declare academic gaps. The overall academic break should not exceed 24 months.
The recruitment process for TCS Digital hiring includes three rounds:
Round 1(TCS Digital Online Test): It involves two online tests. The first one is an Aptitude test that consists of Quantitative Aptitude and Verbal Ability (Easy-Medium Level questions in both sections). Next is the Coding Round. It consists of two easy-medium level questions to be completed in 60 minutes on the TCS Platform.
Round 2(Technical Interview): It involves projects discussion, language-based questions, and basic knowledge checks.
Round 3 (HR Interview): It involves typical HR questions i.e. situation and managerial questions followed by an introduction session. TCS Digital online test is a 110 minutes test conducted on the TCS ioN platform. The pattern is as follows:
Section
Duration
No. of questions

Syllabus

Verbal Ability

10 Minutes

15

Sentence completion
Sentence correction
Active & Passive voice
Cloze passage
Para-jumbles
Vocabulary-Synonyms
Antonyms
Tense
Phrasal Verbs
Prepositions
Direct-Indirect speech

Quantitative Aptitude

40 Minutes

15

Numbers
Probability
Permutation
Combination
Simple & Compound Interest
Logarithms, Progression
Time and Work
Time
Speed and Distance
Percentages
Profit & Loss
Geometry and Mensuration

Advanced Coding

60 Minutes

2

Arrays
Strings
Data Structures
Algorithms
Math-Based concepts
Artificial Intelligence
Big Data
Machine Learning
Image Processing
Package offered: Average TCS Digital salary in India is ₹ 7 Lakhs per year.
Please refer TCS digital archive for all the TCS digital Interview Experiences.
My Personal Notes
arrow_drop_up