Streamlit – Introduction and Setup
Streamlit is an open source app framework in python language. It helps us create beautiful web-apps for data science and machine learning in a little time. It is compatible with major python libraries such as scikit-learn, keras, pytorch, latex, numpy, pandas, matplotlib, etc.. Syntax for installing this library is shown below.
Install StreamLit –
In the command-prompt type
pip install streamlit

Creating a Simple application (Hello World) –
The 'hello, world!' script in Streamlit:
streamlit hello

# to run your python script
streamlit run myFirstStreamlitApp.py
You can stop running your app any time using Ctrl + C.
Advantages:
1. It embraces python-scripting.
2. Less code is needed to create amazing web-apps.
3. No callbacks are needed since widgets are treated as variables.
4. Data caching simplifies and speeds up computation pipelines.
Disadvantages:
1. Streamlit's Data caching cannot keep track of changes to the data happening outside the function body.
Some of its basic functions are described here.
1. Adding a Title

# myFirstStreamlitApp.py
#import the library
import streamlit as stl
# add title to your app
stl.title("Geeks for Geeks")
Output:

2. Adding some text

# myFirstStreamlitApp.py
#import the library
import streamlit as stl
# add title to your app
stl.title("Geeks for Geeks")
#adding text to your app
stl.write("A Computer Science portal for Geeks")
Output: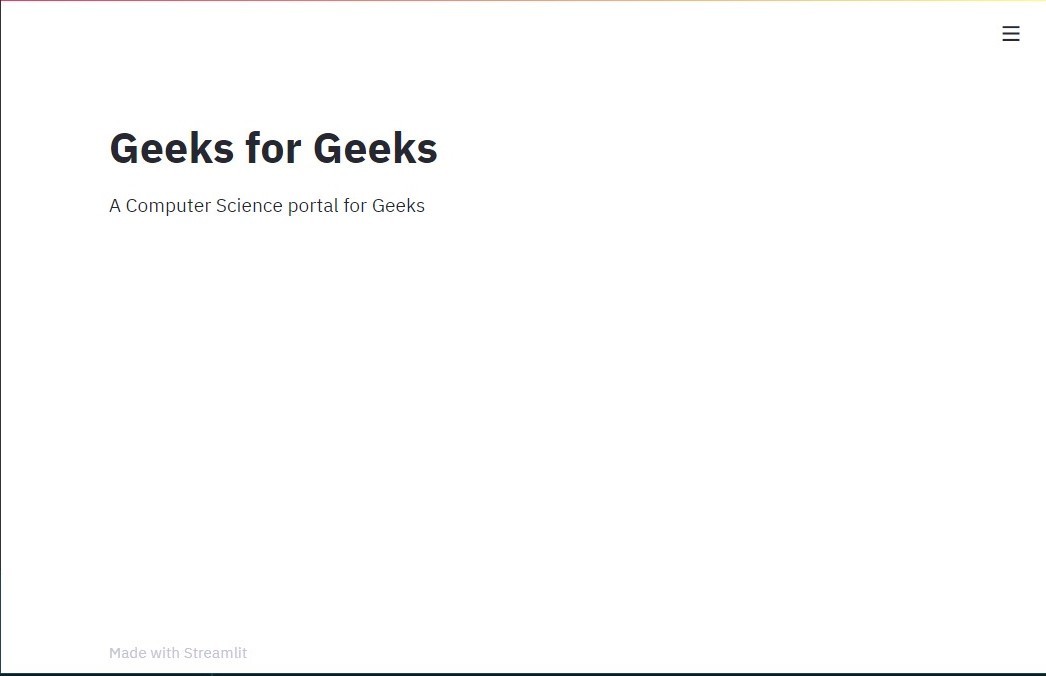 My Personal Notes
arrow_drop_up