Stacked Line chart in Pygal
Pygal is a Python module that is mainly used to build SVG (Scalar Vector Graphics) graphs and charts. SVG is a vector-based graphics in the XML format that can be edited in any editor. Pygal can create graphs with minimal lines of code that can be easy to understand and write.
Stacked line chart
A stacked line chart is a line chart in which lines never overlap because they amplify to each other points. Values are represented on the y-axis and categories are displayed on the x-axis. But the stacked line chart cannot present positive and negative value at the same time. Rendering helps to represent the graph more effectively.
Syntax:
line_chart = pygal.StackedLine(fill=True)
Example 1:
# importing pygal
import pygal
import numpy
# creating line chart object
line_chart = pygal.StackedLine(fill ="True")
# naming the title
line_chart.title = 'Stacked Line chart'
# adding lines
line_chart.add('A', numpy.random.rand(5))
line_chart.add('B', numpy.random.rand(5))
line_chart.add('C', numpy.random.rand(5))
line_chart.add('D', numpy.random.rand(5))
line_chart
Output: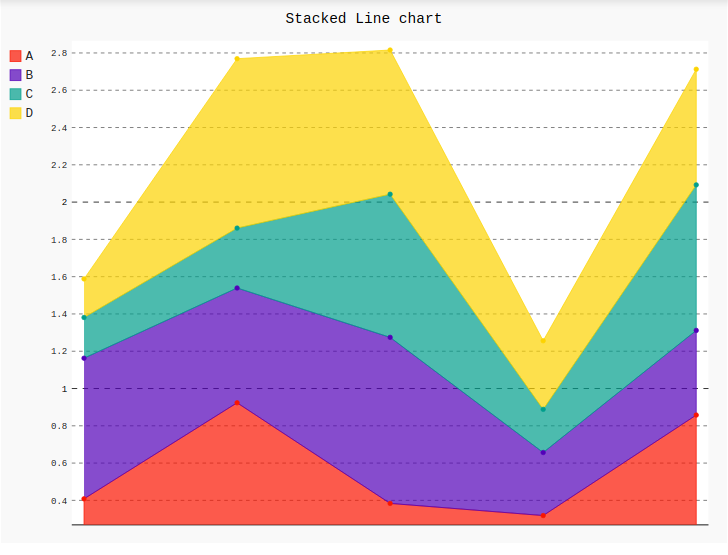 Example 2:
# importing pygal
import pygal
import numpy
# creating line chart object
line_chart = pygal.StackedLine()
# naming the title
line_chart.title = 'Stacked Line chart'
# adding lines
line_chart.add('A', numpy.random.rand(5))
line_chart.add('B', numpy.random.rand(5))
line_chart.add('C', numpy.random.rand(5))
line_chart.add('D', numpy.random.rand(5))
line_chart
Output: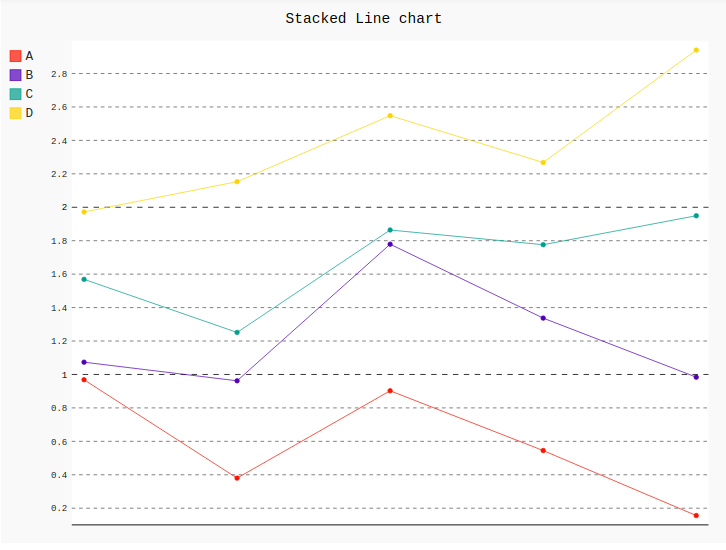 My Personal Notes
arrow_drop_up