Software Engineering | Differences between Coupling and Cohesion
Prerequisite – Coupling and Cohesion
Cohesion:
Cohesion is the indication of the relationship within module. It is concept of intra-module. Cohesion has many types but usually highly cohesion is good for software.
Coupling:
Coupling is also the indication of the relationships between modules. It is concept of Inter-module. Coupling has also many types but usually low coupling is good for software.
Attention reader! Don't stop learning now. Get hold of all the important CS Theory concepts for SDE interviews with the CS Theory Course at a student-friendly price and become industry ready.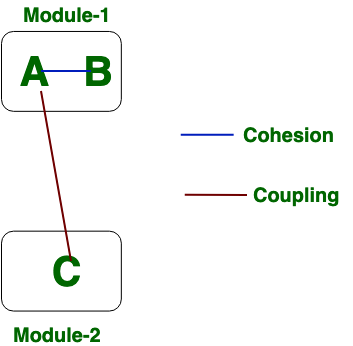 Now we will see the difference between Cohesion and Coupling. the differences between cohesion and coupling are given below:
| Cohesion | Coupling |
| --- | --- |
| Cohesion is the concept of intra module. | Coupling is the concept of inter module. |
| Cohesion represents the relationship within module. | Coupling represents the relationships between modules. |
| Increasing in cohesion is good for software. | Increasing in coupling is avoided for software. |
| Cohesion represents the functional strength of modules. | Coupling represents the independence among modules. |
| Highly cohesive gives the best software. | Where as loosely coupling gives the best software. |
| In cohesion, module focuses on the single thing. | In coupling, modules are connected to the other modules. |
My Personal Notes
arrow_drop_up