Top 15 Service Based Companies in India To Apply in 2023
Everyone dreams about getting into the best company – be it fresher or experienced. Most techies aspire to get into the top tech companies, mainly product-based companies like FAANG/MAANG. But with the recent recession news and mass-firing by the top product-based companies, the job market is becoming volatile. However, you don't need to worry about not getting placed as India is also home to leading service-based companies offering a wide range of services to its clients, such as strategic solutions, IT services, research and software development services, etc.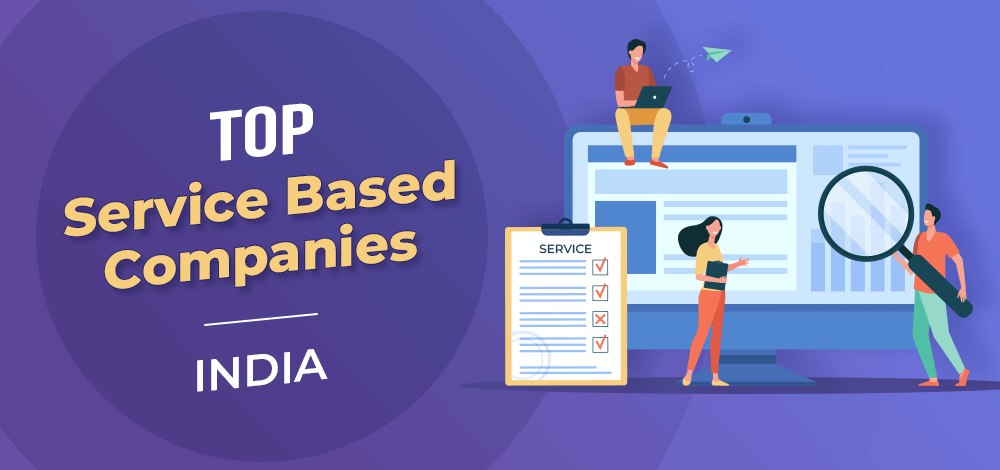 If you're looking for the best alternatives that can make your career aspirations fulfilled, we've curated a list of the Top 15 service-based companies in India you can apply in 2023. All the service-based companies mentioned here hold their names in the list of Fortune 500 companies in India. You can apply for whichever role (SDE, Data Analyst, Cloud Engineer. etc.) you fit in just by checking the company's career page mentioned below.
If you're someone who is looking to get placed in your dream tech company and get good on-campus placement or off-campus placement, GeeksforGeeks got the perfect course for you. Ascend the interview ropes and learn A-Z of coding interview rounds with the help of Complete Interview Preparation – Self Paced. Register today!
Service-Based Companies in India
Below of the list of 15 services-based companies that you should consider in India:
1. TCS
TCS is a division of the TATA company, which JRD founded. TCS, one of the world's largest providers of high-quality IT services, was formed in 1968 and is based in Mumbai. It provides engineering and industrial services, automation and AI, cloud infrastructure, and many more services to a wide range of clients. The company's current CEO and managing director is Rajesh Gopinathan. Top Employers Institute has named TCS a Global Top Employer for seven consecutive years.
TCS has offices in Ahmedabad, Coimbatore, Delhi, Kochi, Thiruvananthapuram, Chennai, Kolkata, Pune, Bangalore, Hyderabad, Gurugram, Noida, and other cities in pan India.
2. Accenture
Accenture, one of the best service-based companies, founded in 1989, works in different sectors, including Strategy and Consulting, Technology, and Operations. Having its headquarter in Ireland, Accenture is a multi-national company that provides services in digital, cloud, and security globally. Accenture has confirmed its place for 18 consecutive years in the Forbes Global 2000 list and 20 consecutive years on the FORTUNE global 500 list. It has also been recognized among Ethisphere world's most ethical companies and has been placed in Wall Street Journal Management Top 250 for five consecutive years now.
Accenture has eleven offices across India in Bengaluru, Chennai, Gurugram, Kolkata, Hyderabad, Noida, Mumbai, New Delhi, and Pune.
3. Infosys
Infosys, founded in the year 1996, is a well-known multi-national company that mainly focuses on technology and business consulting services. Infosys has its headquarter in Bangalore, holding its name in the list of the best service-based company. The company has been recognized as one of the Ethisphere world's ethical companies for two consecutive years and received Brandon Hall group's Organizational Excellence Certification.
Infosys has around 39 offices in India, with Mysore, Pune, Thiruvananthapuram, Pune, Kolkata, Hyderabad, Mumbai, Noida, Bengaluru, Gurugram, Chennai, Chandigarh, Mangalore, Bhubaneswar, Jaipur, Nagpur, and Delhi.
4. IBM
International Business Machines, founded in the year 1911, is the best service-based company known for producing computer hardware and software, and also works in fields such as cloud computing and data analytics. IBM has its headquarters in Bangalore and is an American multinational company. There are 5 important sectors that are generating its revenue: Global Business Services, Global Technology Services, Cloud and Cognitive Software, Systems, and Global Financing.
IBM has offices in India in the following cities – Bhubaneshwar, Chennai, Coimbatore, Noida, Pune, Visakhapatnam, Ahmedabad, Bengaluru, Delhi, Gurgaon, Hyderabad, Kochi, Kolkata, and Mumbai.
5. Deloitte
Deloitte, founded in 1845, is a global tech leader for consulting, technology, financial advisory, audit and assurance, tax, and related services. Deloitte professionals solve technological challenges. Headquartered in London, Deloitte is the largest international services network by revenue. Deloitte was named one of the top 5 global brands by Brand Finance Global 500 in 2020 and the current CEO of the company is Punit Renjen.
Deloitte has offices in 10 cities in India, namely Kochi, Goa, Kolkata, Ahmedabad, Bangalore, Chennai, Gurugram, Hyderabad, Mumbai, and Pune.
6. Wipro
Founded in 1945, it's fun to know that Wipro's first product was vegetable oil, and gradually it stepped into technology. Headquartered in Bangalore, Wipro (Western India Palm Refined Oils Limited) is a leading service of technology, innovation, and business consulting services and solving the most complex digital transformation needs. Various institutions, including the International Financial Corporation, the Bombay Stock Exchange, and institutional investment advice services, have acknowledged the firm in the highest 'leadership' category in governance procedures.
Wipro has offices in Bangalore, Guwahati, Chennai, Mysore, Bhubaneswar, Kolkata, Jaipur, Noida, Gurgaon, Delhi, Vijayawada, Visakhapatnam, Secunderabad, Hyderabad, Kochi, Baroda, Gujarat, Ahmedabad, Mumbai, and Pune.
7. LTI
Larsen and Toubro Infotech (LTI) was founded in the year 1996 and is ranked as the sixth-largest service-based company. It offers global technology and consulting services to clients and businesses. It has been announced that the LTI and Mindtree have merged and the updated entity is LTIMindtree. The company's offices in India are in Delhi, Kolkata, Pune, Hyderabad, Nagpur, Chandigarh, Bangalore, and Chennai.
8. Capgemini
Capgemini, founded in the year 1967, is again the best service-based company offering consulting, technology, and digital transformation. Capgemini has its headquarters in France which is best known for its business, from strategy and design to operations. In 2020, Capgemini received two Pega Partner Excellence Awards, and in 2021, it received three Brandon Hall Group Excellence in Technology Awards. Bhubaneswar, Noida, Bengaluru, Kolkata, Gurugram, Chandigarh, Pune, Mumbai, and Chennai are among the places where the organization has branches.
9. HCL
Hindustan Computers Limited (HCL) is a multinational company that was founded in the year 2011 and was primarily responsible for hardware but slowly HCL emerged as an independent company that entered into the software service business. Headquartered in Noida, HCL works under three domains HCLTech, HCL Healthcare, and HCL Infosystems.
HCL has branches in Chennai, Bangalore, Noida, Hyderabad, Pune, Lucknow, Vadodara, Gurgaon, Mumbai, Kolkata, and Jaipur.
10. Tech Mahindra
Tech Mahindra, founded in the year 2006, offers innovative, customer-centric digital experiences, enabling businesses to grow and expand with time. It has been found that the employees working here have a perfect work-life balance, also the work environment is healthy. Smart IOT Devices, Immersive Experience, Counterfeit Detection, and Smart D2C Equipment are some of the products of Tech Mahindra. Having its headquarter in Pune, Tech Mahindra has been on the list of the top 25 service-based companies.
Many accolades have been bestowed upon the organization, including the 2021 golden peacock award for HR performance in the IT sector. It was also named one of the finest places to work in India in 2020. Tech Mahindra has offices in cities such as Bhubaneswar, Chandigarh, Chennai, Bangalore, Gurgaon, Hyderabad, and Kolkata.
11. Mphasis
Mphasis, founded in the year 1998, is an Indian multinational company providing services in technology and consulting. It works in fields such as telecom, logistics, and technology industries. In 2019, it was ranked & in India's IT companies and #189 in Fortune 500. Headquartered in Bangalore, their motto is "Engineering is our DNA". Mphasis has branches located in Bangalore, and Chennai. Bhubaneswar, Ahmedabad, Indore, Jaipur, Mangalore, Mumbai, Noida, Puducherry, Pune, Raipur, and Vadodara.
12. Cognizant
Founded in the year 1994, Cognizant has had its name among the best service-based companies for years. It works on providing IT solutions to businesses and other areas such as banking, media, health care, entertainment, and manufacturing. Headquartered in New Jersey, United States, Cognizant began with 50 employees in India (Chennai) and now holds a strength of over 200,000.
The offices are in Bangalore, Chennai, Coimbatore, Gurgaon, Hyderabad, Kochi, Kolkata, and Mangalore.
13. SAP Labs
Founded in the year 1998, SAP Labs is targeted to work for SAP core solutions and provides product localization and India-specific solutions. Headquartered in Mumbai, SAP works on providing world-class business solutions to clients. SAP SE has received several awards for its dedication to gender equality and LGBTQ inclusiveness. SAP was also crowned Top Employer in Europe in 2018 owing to improved employment conditions. SAP maintains offices in Bangalore, Gurgaon, Mumbai, and Kolkata.
14. Mindtree Ltd.
Founded in 2007, Mindtree Ltd is a global technology consulting and services company that has its headquarters in Bangalore. It provides delivery of digital transformation and technology services from ideation to execution. It is a child company of Larsen and Toubro Group, having an employee strength of over 35,000. Mindtree received the ICAI's 'Silver Shield' award for excellence in Integrated Reporting as well as the 'Best in Biz' award for 2021 in North America. The firm has offices in Bangalore, Chennai, Coimbatore, Bhubaneswar, Noida, Hyderabad, Kolkata, Mumbai, and Pune, and is based in Bangalore.
15. Hexaware Technologies
Founded in 1990, Hexaware Technologies work on transforming IT services and leverage the power of insight-driven algorithms and strategic cloud computing to help customers achieve business goals. It has its headquarters in Mumbai. Hexaware earned Gold at the ITSMA Marketing Excellence Awards 2018 and the 2018 ISG Paragon Awards in the category of 'Imagination.' Offices of Hexaware may be found in Bengaluru, Chennai, Coimbatore, Mumbai, Nagpur, Gurgaon, Navi Mumbai, and Pune.
To get placed in a service-based company, you need to practice mock tests of different companies so to stand out of the crowd, must try Complete Test Series For Service Based Companies.
Why Join Service-based Companies?
The number of job possibilities in service-based businesses will only grow in the near future. With the rise of artificial intelligence and the necessity for a strong online presence, businesses will want more specialists and pay them well for their services. Entering a service-based firm allows for so much learning and growth since you are not bound to a particular place. You get to contact individuals from various fields of knowledge, which broadens your potential and talents.
At a service-based company, you will deal with unique varying requirements from various clients, exposing you to diversity and richness in order to release your creativity.
Wrapping Up
India is home to the world's biggest companies, and the job market is open and vast for those willing to put in work. Service-based companies are very much valuable to businesses that provide employment opportunities to tons of highly skilled and knowledgeable candidates in their respective fields. If you're looking to get placed in top big companies, you can definitely look for the above 15 service-based companies and their career pages and apply when there's an opening.
Frequently Asked Questions (FAQs)
1. Which is the largest service company?
When it comes to the largest service-based company, Accenture is hailed as the largest Information Technology service company due to its high brand value.
2. What are examples of service-based companies?
Service based companies examples are mentioned below:
TCS
Deloitte
Accenture
Oracle
HCL
3. What are service-based companies?
Service-based companies are those that do not sell a specific product but instead focus on providing services. They work for other businesses or have client-based goods if we speak more explicitly. The services they offer are intangible and might take the form of knowledge, facilities, or abilities. In general, these firms pay less than product-based enterprises. TCS, Infosys, Wipro, Tech Mahindra, and other well-known service-based companies.
Related Article – Difference Between Product Based Company and Service Based Company
My Personal Notes
arrow_drop_up