RFID Full Form
RFID or Radio Frequency Identification is an automatic identification method that uses wireless non-contact radio frequency waves in which data is digitally encoded in RFID tags or smart labels which can be read by reader through radio waves. The transfer of data takes place between a reader and a movable thing that can be identified & track. RFID can be considered similar to barcodes as data read from tags are stored in database or you can say device which captures label's data, stores data in a database.
The major difference between barcodes or QR codes and RFID is that RFID tag data can be read outside line-of-sight whereas traditional barcodes can't. RFID doesn't require any physical contact between reader or scanner and tagged item. There is a microchip placed inside a label which is used to transfer data when label is exposed to radio waves. RFID tags are mainly used in industries for tracking progress of a product.
RFID System :
RFID System composed of RFID Reader & RFID Tags.
RFID Reader –
It is a device used to communicate with RFID Tag which consists of one or more antennas, used to emit radio waves & receive signals back, from RFID Tag. The RFID reader is also called as interrogator as it used to interrogate RFID Tag.
RFID Tags –
RFID Tags consists of 2 parts:

Integrated Circuit :
It is used for storing & processing data.
Antenna :
It is used for transmitting receiving signal.
Active Tag :
These have their own power supply and allows a read range of about 100 feet.
Passive Tag :
A reader inductively gives power to Passive Tags as they don't have their own power supply. Passive Tags are most widely used Tag and their read range is approximately 30 feet.
Classification of RFID System :
RFID System is classified into 2 Fields, Near Field RFID and Far Field RFID.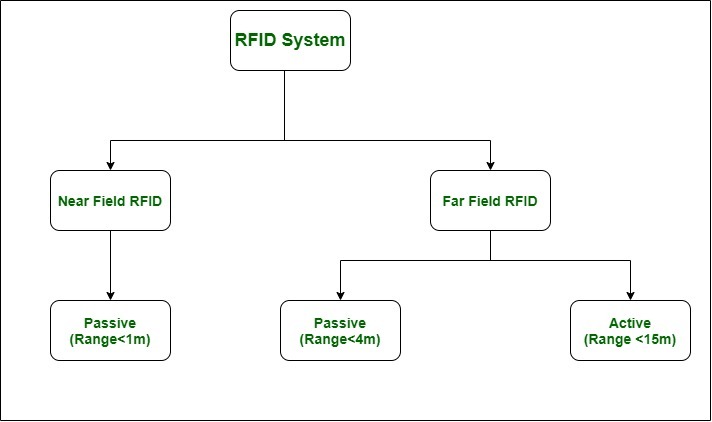 Near Field RFID –
Near Field RFID has small, Omni-directional reader antenna & tag read range between 5mm to 10cm depending on frequency & antenna.
Far Field RFID –
Far Field RFID has resonant, directional antenna & tag range that can reach up to 22.1m.
Applications of RFID :
Document tracking.
Controlling access to restricted areas
Asset tracking
Personnel tracking
Inventory management
ID badging
Supply chain management
Manufacturing
Healthcare
My Personal Notes
arrow_drop_up