Requirement to Study Abroad – Admission Pathways
Quality education is the most important investment for any student. One of the increasingly popular ways to ensure that you get the desired education is studying overseas. Studying abroad is a coveted dream of many but achieved by a few. This article aims to bring the aspirants one step closer to this dream by providing the necessary information and addressing the frequently asked questions.
In the application process apart from your profile, there are majorly three areas that one needs to focus on,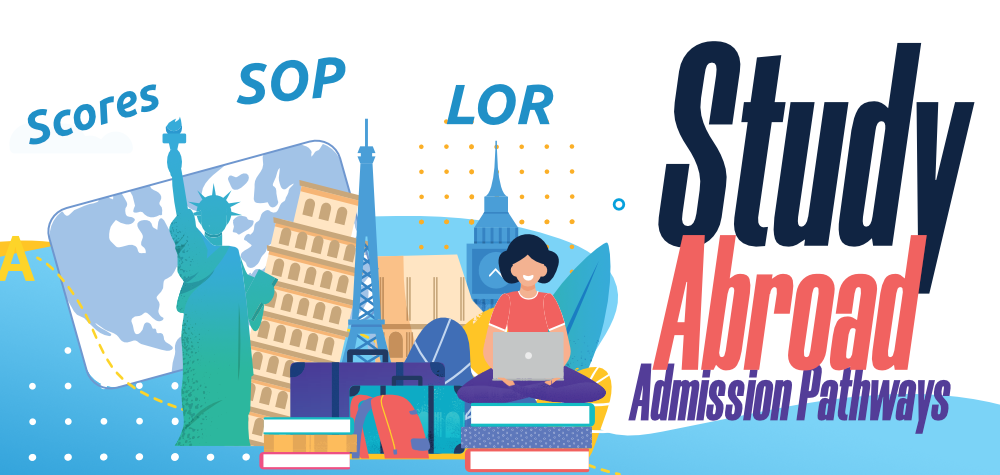 1. Scores
Depending on the field, country, and institute you need to take one or a combination of these exams.
GRE (Graduate Record Examinations):
The Graduate Record Examinations is a standardized test that is an admissions requirement for many graduate schools in the USA and a few other countries. The graduate programs have primarily two deadlines for fall and spring. Further, each institute has a different deadline so one should research the programs ahead of time to ensure that they do not miss the opportunities. Any serious aspirant should devote at least one to three months for the preparation depending on your aptitude and learning speed.
It is advised that you should book your GRE test date in advance so that there is sufficient time for ETS to process your scores and send them to institutes you are applying for, this process typically takes 10 to 15 days. You can take the computer-based GRE once every 21 days, up to five times within a year.
The score is valid for 5 years.

Exam Format:

| | |
| --- | --- |
| Verbal Reasoning | 30 minutes |
| Analytical Writing | 30 minutes per task |
| Quantitative Reasoning | 30 minutes |
| Experimental or Unscored | 30 to 35 minutes |
| Optional Breaks | ~ 12 minutes |
| Total | ~ 4 hours |

IELTS (International English Language Testing System):
It is an international standardised test of English language proficiency for non-native English language speakers.
IELTS is a test of all four language skills: Listening, Reading, Writing and Speaking. The Listening, Reading and Writing tests all taken consecutively on the same day. However, the Speaking test can be booked on your preferred date and time. If you fail to choose a slot in the stipulated time, a slot is automatically allocated.
The total test time is under three hours. The score is valid for a period of 2 years.
Exam Format:

| | |
| --- | --- |
| Listening Test | 30 minutes |
| Reading Test | 60 minutes per task |
| Writing Test | 60 minutes |
| Speaking Test | 11 to 14 minutes |

TOEFL (Test of English as a Foreign Language):

Test of English as a Foreign Language is a standardized test to measure the English language ability of non-native speakers wishing to enroll in English-speaking universities. TOEFL also helps in the VISA application process as well as help in securing scholarships.
IT is accepted in universities in Australia, Canada, New Zealand, the UK, the United States, Europe, and Asia. However, one needs to check the requirements of institutes they are targeting.
The TOEFL online registrations close 7 days before the exam and late registration with late fee closes 4 days before the exam. The target date for taking the TOEFL exam should ideally be at least a month before the first application deadline. This gives plenty of time to work on the applications. Candidates can also retake the exam 12 days after the first attempt. The score is valid for 2 years.

Exam Format:

| | |
| --- | --- |
| Reading | 64-72 minutes |
| Listening | 41-57 minutes |
| Speaking | 17 minutes |
| Writing | 50 minutes |

GMAT (The Graduate Management Admission Test):
It is a computer adaptive test intended to assess a candidate's quantitative, verbal, analytical, writing and reading skills. It is primarily intended for MBA and MiM programs. One can schedule their exam on any date according to their convenience and availability. Candidates can retake the exam after 16 days of their previous attempts. You can appear for the exam a maximum of five times a year. Ideally, candidates are recommended to register two to three months before the exam date.
The minimum and maximum score that any candidate can obtain is 200 and 800 respectively. The exam is of 3 hours and 30 minutes including test instructions and breaks. Candidates who wish to enroll for an MBA program should possess a graduate degree in any discipline from a recognized university. The score is valid for 5 years.

Exam Format:

| | |
| --- | --- |
| Analytical Writing | 30 Minutes |
| Integrated Reasoning | 30 Minutes |
| Quantitative Reasoning | 62 Minutes |
| Verbal Reasoning | 62 Minutes |
2. SOP (Statement of Purpose)
SOP is an essay stating the purpose of applying to a particular course at a particular university. SOP is one requirement that almost every institute requires. A word limit is specified by the institutes and so candidates must ensure that each SOP is unique and written with keeping the institute's requirement in mind.
Some important points to remember while writing an SOP are:
Make sure you do commit any grammatical errors.
Be precise and avoid the use of cliches.
Avoid redundancies and be concise in your text.
Don't use informal language and overt use of personal pronouns.
Don't use words that make you sound unsure of yourself.
Don't be vague.
Format of an SOP:
Introduction
Introduce the field that interests you (You can also include the reason)
Your history
Your academic and professional history.
Your extracurricular achievements.
Your hobbies and interests (Not compulsory).
Why this course and University
Describe what excites you about the program and how this university will help you advance your personal goals.
Conclusion
Describe what you have to offer and how you will be a good fit.
Please note that the above need not be strictly adhered to, you can be creative and remember that the word limit is your only limit!
3. LOR (Letter of Recommendation)
In simple terms, LOR is an endorsement and recommendation of you by your teachers or organization heads to the institute's admission heads. The LOR provides the admission officers with a comprehensive insight into your suitable candidature, for admission into the concerned University. It is usually written by a professor or former employer.
It is a vital part of your application since it testifies to your character and assures the faculty of the university that you are indeed an asset to the university.
FAQs
How should we apply to institutes?
One can adopt a two (or three) list system where they classify colleges as Dream And Probable. Since the institute application fee is high one should divide colleges based on their scores, previous convert data and their profiles in these two categories. This will help them maximize their chances of getting an admit. Depending on the capital you have available you can apply to as many colleges on the list as possible and viable.
What is a good GRE score?
Scores above 320-325 are branded as decent scores. However, depending on the colleges a candidate is targeting it varies a lot. There have been instances of a convert at 310 and no conversion at 330. So, a convert is an accumulation of many factors and not just the score.
Are there any scholarships available?
Yes, many institutes offer a fee waiver and one should refer to each institutes website on how to avail the scholarships. Some scholarships are also provided under the condition that students can fare a certain threshold grade in their post-graduation.
How many LORs are required?
Typically two to three LORs are required by institutes, however, each institute has different criteria so one must read their admission requirement for more details.
Does the SOP have a word limit?
Yes, almost all SOP essays have a word limit and it is wise to strictly adhere to it. Since each institute has a different word limit one should be wary of using a similar SOP. Further, some institutes also specify what they wish to be answered in the SOP.
How to write a good SOP?
An SOP should be clear in stating primarily addresses four questions – Who you are, why this course and institute and why you? One should ensure that there is a connection and a flow is followed throughout the SOP. Avoid unnecessary jargon to make an impact instead try to demonstrate your unique points.
What is the ideal time for GRE preparation?
This question is quite subjective and is heavily dependent on your learning skills. However, any period between one month and three months is the least mandate.
How do we know which exams to give?
Each country and institute has a different requirement. Further, many times institutes accept more than one score so one needs to check the requirement of the institute they are targeting.
My Personal Notes
arrow_drop_up