Regular expression to ∈-NFA
Prerequisite – Finite Automata Introduction, Designing Finite Automata from Regular Expression (Set 1)
∈-NFA is similar to the NFA but have minor difference by epsilon move. This automaton replaces the transition function with the one that allows the empty string ∈ as a possible input. The transitions without consuming an input symbol are called ∈-transitions.
In the state diagrams, they are usually labeled with the Greek letter ∈. ∈-transitions provide a convenient way of modeling the systems whose current states are not precisely known: i.e., if we are modeling a system and it is not clear whether the current state (after processing some input string) should be q or q', then we can add an ∈-transition between these two states, thus putting the automaton in both states simultaneously.
Common regular expression used in make ∈-NFA: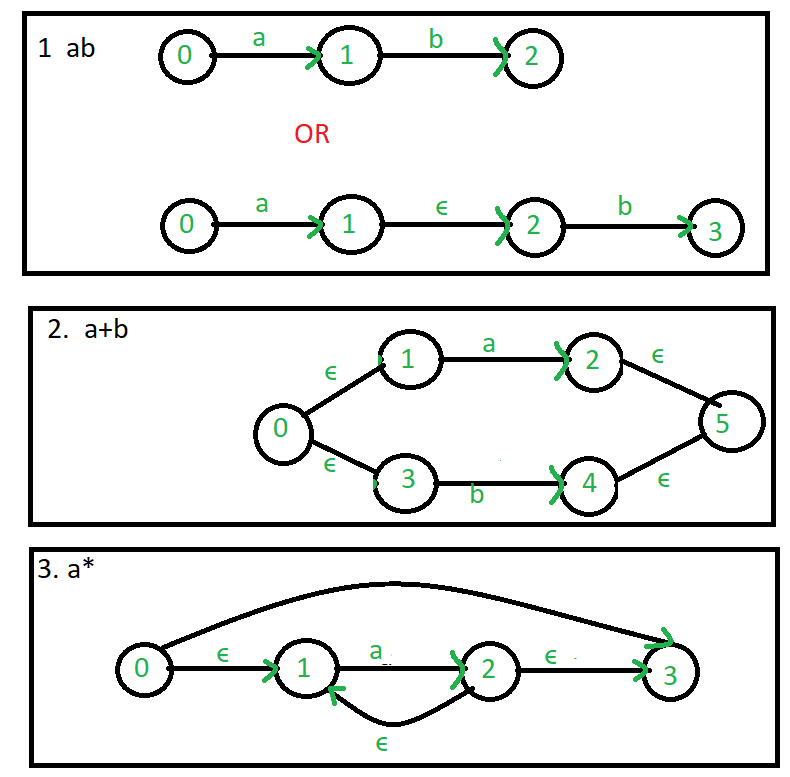 Example: Create a ∈-NFA for regular expression: (a/b)*a
Refer for – Conversion from NFA to DFA, Minimization of DFA
Attention reader! Don't stop learning now. Get hold of all the important DSA concepts with the DSA Self Paced Course at a student-friendly price and become industry ready.
My Personal Notes
arrow_drop_up