The Render Props is a technique in ReactJS for sharing code between React components using a prop whose value is a function. Child component takes render props as a function and calls it instead of implementing its own render logic. In brief, we pass a function from the parent component to the child component as a render props, and the child component calls that function instead of implementing its own logic.
Creating React Application And Installing Module:
Step 1: Create a React application using the following command:
npx create-react-app foldername
Step 2: After creating your project folder i.e. foldername, move to it using the following command:
cd foldername
Project Structure: It will look like the following.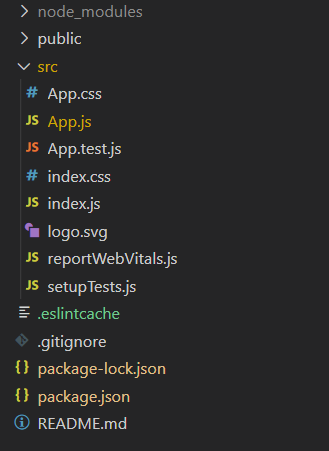 Example: Now write down the following code in the App.js file. Here, App is our default component where we have written our code.
App.js
import React from 'react'
class App extends React.Component {
render() {
return (
<div>
<h1>Render Props Example</h1>
<SampleRenderProps />
</div>
)
}
}
// Child component getting render props
class RenderPropsComponent extends React.Component {
render() {
return (
<div>
<h2>I am Child Component</h2>
{this.props.render()}
</div>
)
}
}
// Parent component sending render props to the child
class SampleRenderProps extends React.Component {
render() {
return (
<RenderPropsComponent
// Passing render props to the child component
render={() => {
return (
<div>
<h3>
I am coming from render props
</h3>
</div>
)
}}
/>
)
}
}
export default App;
Step to Run Application: Run the application using the following command from the root directory of the project:
npm start
Output: Now open your browser and go to http://localhost:3000/, you will see the following output:
My Personal Notes
arrow_drop_up