Python Program to Reverse the Content of a File using Stack

Given a file, the task is to print as well as store the lines of that file in reverse order using Stack.
Examples:

Input :
I am
new to this
world of
Python.

Output :
Python.
world of
new to this
I am


Input :
1
2
3
4
5
Output :
5
4
3
2
1

Approach:
Create an empty stack.
One by one push every line of the file to the stack.
One by one pop each line from the stack and put them back to the file.
Below is the implementation.
Input File: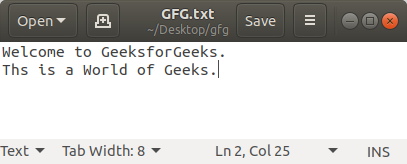 # Python3 code to reverse the lines
# of a file using Stack.
# Creating Stack class (LIFO rule)
class Stack:
def __init__(self):
# Creating an empty stack
self._arr = []
# Creating push() method.
def push(self, val):
self._arr.append(val)
def is_empty(self):
# Returns True if empty
return len(self._arr) == 0
# Creating Pop method.
def pop(self):
if self.is_empty():
print("Stack is empty")
return
return self._arr.pop()
# Creating a function which will reverse
# the lines of a file and Overwrites the
# given file with its contents line-by-line
# reversed
def reverse_file(filename):
S = Stack()
original = open(filename)
for line in original:
S.push(line.rstrip("\n"))
original.close()
output = open(filename, 'w')
while not S.is_empty():
output.write(S.pop()+"\n")
output.close()
# Driver Code
filename = "GFG.txt"
# Calling the reverse_file function
reverse_file(filename)
# Now reading the content of the file
with open(filename) as file:
for f in file.readlines():
print(f, end ="")
chevron_right
filter_none
Output:
Ths is a World of Geeks.
Welcome to GeeksforGeeks.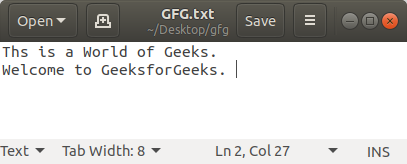 Attention geek! Strengthen your foundations with the Python Programming Foundation Course and learn the basics.
To begin with, your interview preparations Enhance your Data Structures concepts with the Python DS Course.
My Personal Notes
arrow_drop_up