Project Idea | Government School Welfare Platform
India is a diverse country with people from all sections of society. Some afford to provide quality education to their children, but some are not so lucky. The majority of poor and vulnerable students study for free in government schools until the age of 14. But government schools are slowly vanishing.
Even though government schools provide free education, parents are still hesitant to admit their kids to government schools and prefer spending lakhs of rupees on private schools. One of the biggest reasons for the failure of government schools is the unavailability of proper infrastructure and mainly because of poor access to these government schools.
Purpose: The purpose of this app is to help the government schools in India so that even the poorest of the poor get quality education.
Implementation: Our idea focuses primarily on improving the current condition of government schools by providing a crowd-sourcing platform. Outsiders, teachers, or head-masters from these government schools can use our platform to share their difficulties and needs. People who are willing to help can either donate money (which directly goes to the bank account of a government school) or help students directly by providing writing boards, desks, benches etc.
There are multiple other features like providing a notice board feature where people will be notified of any scholarships or schemes provided by government or private institutions. Everything posted on the portal will be published on all of our social networks so that many people get to know about the issue.
Government school teachers also have extra work of making sure that local poor and vulnerable students go to school. But this becomes hectic going around the village or localities searching for kids who are not going to school. So we have added a section where people can directly notify the teachers or headmaster of the local school about these children.
Features: These are the following screens on our application
Home page: The home page will list all the newly added posts from schools. Users can click on individual cards to know more about the school and its needs.
Notice page: Here all the achievements of students, new scholarships will be listed.
Social media: Posts from other users or unattended posts from social media is listed here.
Donations page: Users can donate money or materials directly to the school.
Profile page: This page will have all the details of transactions and other user data. People can add photos of free-roaming or child laborers. Headmasters, teachers get notified in their individual profile section.
Search bar: People can search their preferred schools and donate accordingly. Search is based on PIN code, school name, or location.
Sign in and Sign up page: These are the usual sign-in and sign-up pages. Teachers, professor roles are assigned by double-checking with the local government officers (using dfs).
What does the project do?
Our app connects remote and backward schools with people who can help them through any means. With the further addition of features, the app is also intended to help the kids learn new skills from people willing to teach.
Tools and technologies used:
React Native
Node JS
Mongo DB database
API's for social media integration, location, and payment gateway
Required skillset to build the project:
React Native for android app development
UI and UX design
Back end development
Database design, development, and management
ER diagram: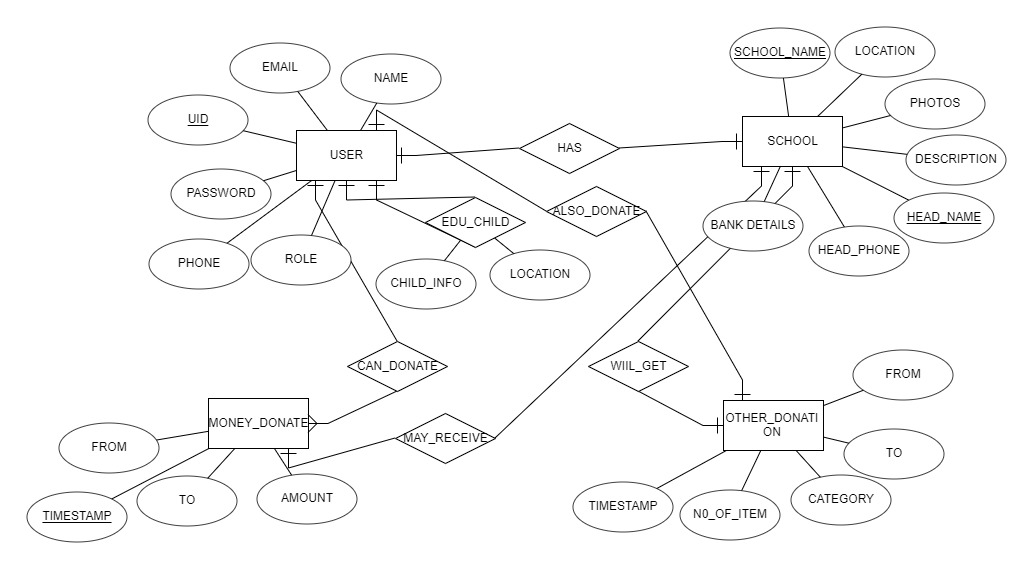 Application:
Our platform mainly focuses on improving the infrastructural conditions of government schools of India so that even the poorest of the poor can get quality education.
All the information related to the government and private schemes and scholarships are published on the platform so that many students can reap the benefits.
The amount of work to be done by govt school teachers is reduced by making it possible for nearby people to notify about free-roaming kids and child laborers.
Social media integration helps in bringing schools to the limelight of thousands of people.
Team members:
My Personal Notes
arrow_drop_up