Plan Your Placement Strategy With Love Babbar
Whether it is about making a career as a Sportsperson, a Businessman, or an IT Professional, you're always required some sort of guidance or advice at a point of time. And yes, we know that all the geeks out there also require significant advice or suggestions for planning their placement strategies. However, no one can guide you better than the person who has already gone through a worthwhile career path or has got some mastery in a particular field. And with the same concern – for September's Edition of Geeks Digest, the renowned personality in the tech world, Mr. Love Babbar, has joined us to share the insights of his professional journey and to guide you for achieving your career goals!!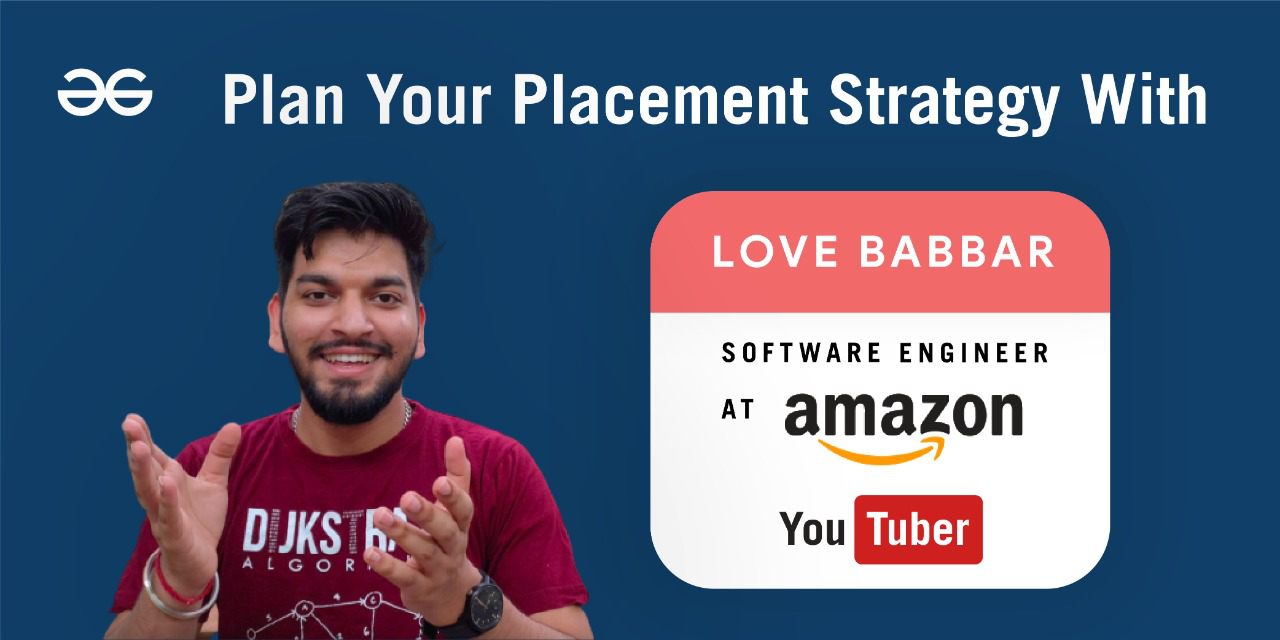 He is currently designated as an SDE at Amazon, and is quite popular among students as well as working professionals on social media platforms (especially on YouTube having more than 1 Lakh subscribers!!) for his educational content based on placement preparations, interview experiences, programming, etc. He has done his B.Tech (IT) from the Netaji Subhash Institute of Technology (NSIT), Delhi.
Now, without wasting much time, let's start the discussion with the expert:
Question-1: When and how did being a programmer strike you as the perfect career choice?
Answer: Having absolutely no connection to programming whatsoever, I was extremely clueless right from the moment I took admission in NSIT till around four semesters. Due to a lack of guidance, I didn't know where to practice or even how to get started!
Soon, the internship season began, and I was taken aback! The continuous rejections were instrumental in motivating me. So I took it as a challenge as I sought to crack the interviews. I just knew that I really wanted to master coding.
I actually believe it's about one's mindset. From knowing nothing about programming to this day, where I guide more than 1 lakh students to achieve their goals, I zeroed in on one thing: Nothing is permanent. The worst times can be put away and one can bring about a change by only making efforts in the right direction.
Hah, and about the 'perfect career choice', well! I don't know how long I'd continue being a software engineer. Having said that, I don't wish for monotony to settle in my life and I shall give it my all as long as I'm enjoying my work.
Question-2: Describe a normal day of an SDE at Amazon. What is the best thing that you like about being one?
Answer: Well, right now, I'm quite missing those 'normal' office days: Meeting and greeting my colleagues and especially the outings!
So, in the pre-pandemic world, here's a glimpse of my days spent at Amazon.
Whether you learn things in a corporate or not, you're definitely going to learn how to play Table Tennis! Jokes apart, that's how I used to start my day in the office, by playing Table Tennis!
This was followed by having tea or coffee, replying to emails…followed by coding, scrums, and attending meetings.
Going out for food & fun was a part of our routine! For lunch, my favorites were Haldiram's, Pizza Hut & Biryani Blues within the Ambience Mall. It even used to be the buffet at the 7th floor sometimes!
Lunch was followed by more meetings and of course, the real job, i.e., coding.
At the end of the day, I would either go for a bike ride, have a late-night party with the team, or just simply return home to spend quality time with my family.
I even posted a video, The Real Corporate Story on my YouTube channel, Love Babbar. Watch it to know more!
Question-3: What does an organization like Amazon look for in a prospective candidate? Please share some tips for the young programmers to crack the interviews of tech giants like Amazon.
Answer: If I would talk specifically about Amazon, I believe they look for the following 14 principles in a prospective candidate:
Customer Obsession
Ownership
Invest & Simplify
Being right, a lot
Learner & curious
Hiring & developing the best
Thinking big
Bias for action
Frugality
Earning trust
Diving deep
Having a backbone, i.e., disagreement & commitment
Delivering results and,
Insisting on the highest standards
If one is strong in any of these three, then you might be the one!
My suggestion to all the young dreamers out there who want to land up at one of these tech giants would be to:
Have a strong hold on Data Structures & Algorithms (DSA)
Do Not skip Competitive Programming
Focus on core CS subjects like OS, DBMS, OOPS, Networking amongst others
Remember to look at some case studies of System Design, since it's a new trend
Ensure that you have one or two projects included in your resume
Question-4: We're in the midst of a pandemic that doesn't seem to get over any sooner. How, according to you, must the students be making the most of the time that they now have?
Answer: In my opinion, every negative thing does have a bright side, if we choose to look at it in that way. Or at least, we can try adapting and make the most of whatever resources we have! Treating the lockdown as a blessing in disguise, the students must utilize their time extremely well.
As for me, I have been interacting with numerous students and also reading their queries. Having also interacted with people from the industry, I learned that students who have mastery of DSA would not be affected. Moreover, the current interviews focus more on DSA and problem-solving skills. However, times are changing. The tech corporate sector is dynamic and so, will keep changing tremendously over time. Students now need to prepare themselves for new tech-related learning, design, problem-solving skills, and lastly, project work.
Question-5: The placement season is on. What do you believe is the appropriate strategy to work upon?
Answer: At the moment, virtual interviews are trending as it's the only option for hiring right now. Being different from the regular placement season, I believe that the students must:
Treat their virtual interviews with equal importance as the usual on-campus ones
Make sure that they're comfortable in live coding
Prepare by going through 20-30 previous interview experiences at GeeksforGeeks before the D-Day. It does help a lot.
Question-6: Being one of the most sought-after YouTubers for coding, what was your breakthrough moment while vlogging your experiences on your channel?
Answer: Having the trust of 1 Lakh subscribers surely is a massive number and also, a big responsibility. It means a lot to me, personally. It brings me immense delight when students write me back to thank me that they landed up their dream job of which my YouTube channel formed a significant part of their journey. It gives me a sense of contentment and helps me to keep going and inspire me to achieve more.
So, this is all from the Expert, Love Babbar himself. Thank You for Reading!!
My Personal Notes
arrow_drop_up