Placement Tips for Students Who Graduate During COVID-19 Pandemic
Everyone knows how this global COVID-19 outbreak has created various uncertainties, particularly in the business world and the corresponding job sector. Various businesses have already been closed, people have lost their jobs or facing situations like salary cuts, etc. – amidst all these who are most worried are the students who graduated in such tough times. They're just about to start their professional career journey, however, this pandemic has made things quite unusual and difficult for them.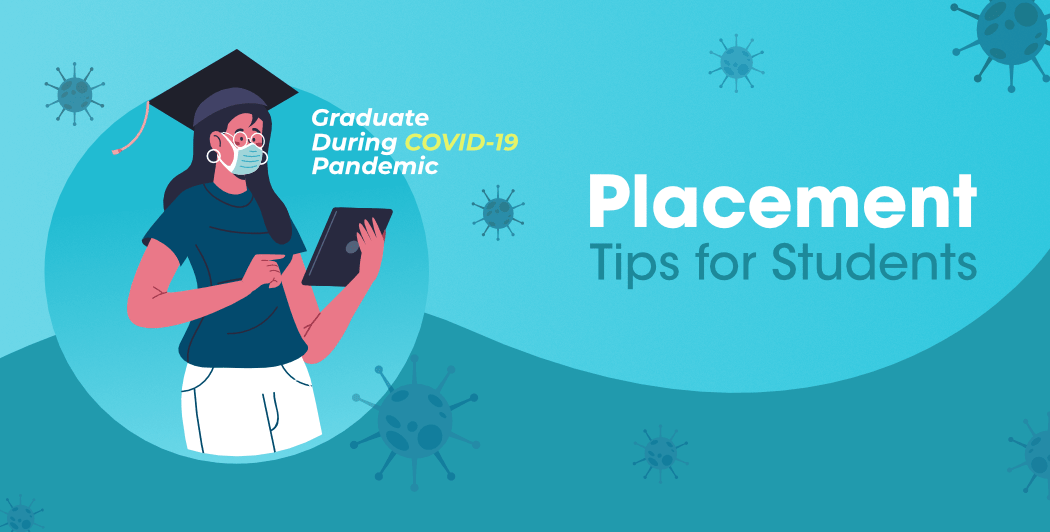 Even so, what you need to understand is that several sectors, especially IT, are doing well even in the current situation, and the respective organizations from these particular sectors are still recruiting candidates.
But…the catch is that you need to become adaptable to the NEW NORMAL to get into your dream job. For instance, companies are switching from the offline recruitment process to the online process, searching for candidates with better learning agility, adopting Automation, Artificial Intelligence, and other trending technologies, etc. – you need to consider these aspects and prepare yourself accordingly to get a job during this pandemic.
To make things more fluent for all the current graduates – here, in this article, we're providing some detailed tips that will surely help you to land up a job:
1. Don't Lose Hope – Stay Positive and Motivated!
Chances are more, many of you will ignore this one and directly jump to the second tip. But honestly, this tip is equally important (or even more important) as the others.
Though you may find it difficult to stay positive and motivated, especially when it comes to your career, in such uncertainties when you're seeing people facing layoffs, workforce downsizing, and other situations – what you need to understand is that you're not alone in this, the entire world is going through this pandemic situation. And, on a practical note, do remember that companies are still recruiting! On contrary, you need to be proud of yourself for facing such challenges to start your professional career journey.
Getting stuck in this chaos will not get you anything instead of giving you more pressure and stress. However, a positive and right mindset will make you able to focus on your learnings and finding the right opportunities. In case, if you're feeling low or demotivated, you can opt to share the things with your batch mates, family, mentors, etc. to get back to normal. Also, practices like exercise, meditation, etc. can help you out in this to stay calm and positive.
2. Self-Assessment, Know the Industry Requirements, Shortlist Companies, etc. – DO IT YOURSELF!
As you have noticed, the 'Do It Yourself' phrase is highlighted in the heading – there's a justified reason behind it. You need to keep in mind that it is only you who have to take the initiatives from your side to land up a job for yourself. And especially during this pandemic, when numerous on-campus placement opportunities are getting canceled or delayed – you even can't solely depend upon your college either.
You just can't wait for the right opportunity while sitting idle. Things don't work like this!
You are firstly required to do your detailed self-assessment. You need to identify your skillset, career goals, strengths & weaknesses, domain & industry preferences, and other related aspects. Subsequently, after doing this, you will come up with a clear picture that in which particular domain you want to build your career such as software development, cloud, machine learning, data science, etc. Furthermore, you need to know about the current demand and requirements of the industry and check whether you possess all those technical and non-technical skills required for the targeted job role or not. Other than that, you can shortlist the targeted companies and understand their hiring process. Do remember that these small steps will take you much closer to your end goals!
3. Brush Up and Advance Your Skills
Okay, so once you'll be done with the above-mentioned tasks – now you need to work on your skills and learnings. For example – if you have decided that you want to be a Software Developer, then you need to learn and work on the respective skills such as Programming Language, Data Structures & Algorithms, DBMS, other computer science subjects, etc. In addition, you can opt to build several projects to gain practical exposure and possess some standard certifications to validate your skills & knowledge. And yes, don't forget to work on non-technical and soft skills also as recruiters are emphasizing more on these in current times.
Amidst this pandemic situation, you can prefer online learning as it will make you enable to learn and upskill yourself conveniently without any geographical barriers. There are numerous quality resources available over the web either free or at quite affordable prices. For instance, you can go with the GeeksforGeeks Complete Interview Preparation course. This course is strongly recommended to all the final and pre-final year students as it provides you with almost every resource required to crack the interview of any tech company along with the finest doubt assistance support and that too within a very much affordable price.
4. Being ADAPTABLE is the Need of the Hour!
You probably would have come across this famous statement of Charles Darwin – "It is not the strongest of the species that survive, nor the most intelligent, but the one more responsive to change!!" This statement is significantly proving itself in current times.
This COVID-19 pandemic has led to various changes and transformations in the business workflows, for example – businesses are now preferring automation, cloud computing, and other trending technologies for their respective platforms to reduce operational costs, provide better user experience to their customers, boost the productivity, etc. Hence, it becomes quite needful for all the current graduates to adopt these changes and along with their specific skill set or domain, they should prepare themselves with these future technologies and skills that are required by the industry.
Let's say if you're an Artificial Intelligence & Machine Learning enthusiast – then what you can do is explore the latest trends in this particular domain such as Augmented Analytics, Hyperautomation, Internet of Things (IoT) that are in high demand in the tech world and learn any of these technologies as per your convenience.
If you will get succeed in proving to the recruiter that you're going to be a worthwhile asset for the organization in such uncertainties and in the future as well then no one can stop you to land up that particular job – it is as simple as that…!!
5. Level Up Your Online Presence Game!
This is undoubtedly a very much important aspect, especially in this particular situation of the pandemic. You need to market yourself and get visible to the employers in all possible ways – and online platforms are the most effective and efficient way to do the same. Firstly, you can build your profile on various recommended job portals to get aware of the latest job openings in your shortlisted companies. You can make use of several reliable platforms like GFG Job Portal. Then you can apply for these jobs from the portal itself or can directly reach out to the recruiters as well using platforms like LinkedIn, CutShort, etc.
A strong online presence helps you in numerous ways such as it allows you to grow your professional network effectively, to know about crucial industry insights and career opportunities, to get connected with the recruiters directly, and many more. Also, in order to showcase your work online to the recruiters and boost your chances of landing up the job opportunity – you can opt to build a GitHub profile, create portfolio blogs and websites, YouTube channels, etc.
Amidst all this, don't forget that your resume should be professional, creative, and enriching…!! CV Engineer, NovoResume, etc. are some of the tools that can help you in it.
6. Get Familiar with the Online Interview Process
Whether it be a startup or a big tech giant – everyone is now going online for the recruitment process. However, it has been observed that students are finding it a bit difficult to get comfortable with online interviews. Hence, all the current graduates are strongly recommended to get themselves familiar with the online interview process to not miss out on a job opportunity.
Firstly, what you need to do is get familiar and comfortable with the required tools and technologies that are being used for online interviews. You need to ensure that you're having the required hardware/software, a good internet connection, a distraction-free environment with appropriate lighting, etc. before appearing for the actual online interview. Other than the technical aspects, you also need to work on aspects like how to look appropriately on camera, how to maintain proper eye contact, etc.
In addition, do not consider online interviews anyhow lesser than offline interviews – be on time, dress professionally, keep your resume & other required documents ready with you, and don't forget to do the follow-up after the online interview.
These are several worthwhile tips that can help all the current graduates to get placed in their dream job even in this pandemic situation. Though, you need to keep patience and be persistent as you can't expect to get positive results overnight…!!
My Personal Notes
arrow_drop_up