Placement 100 : Complete Interview Preparation package you must have this Placement Season
NOTE : Registrations to Placement 100 course are closed now. Please refer Complete Interview Preparation with Doubt Assistance (A similar new course).
It's Summertime and the placement season is in full swing! Whether you're interested in product-based companies, startups or service-based companies, it is equally important to thoroughly prepare for placements so that you can obtain your Dream Job.
Success is where Preparation and Opportunity meet.
This is especially true for today's placement scenario as the graduating engineers are increasing every year while quality job positions are decreasing. According to the Economic Times, 80% of Indian engineers are not fit for a job in the current economy as the general quality of Indian engineering graduates has remained stagnant in the last decade while the technological advancements have grown by leaps and bounds.
However, there is a lot of confusion about the difference between the interview process of product-based companies and service-based companies. This leads to problems in placement preparation as the preparation requirements for product-based companies and service-based companies can vary. While product-based companies require very good programming skills and quantitative ability, service-based companies require some technical knowledge along with good communication skills.
To handle the diverging demands for placement preparation for product-based companies and service-based companies, GeeksforGeeks brings you a course (Placement 100) designed to prepare you for placements so that you can perform your best. Placement 100 is a 6 months program comprising of an online course, assessment exam and placement assistance for top performers. To learn more about it, read on…
Course Overview
Placement 100 is an online course that covers all the topics required to prepare for placements. The course includes theory & lecture videos for improvised learning supported by tracks & contests for practice. It comes with a first-in-industry feature: Doubt Assistance to help you if you are stuck. The course will be followed by mock tests which will prepare you for the assessment exam. The assessment exam will be based on the whole course and will be similar to screening exams conducted by most companies. The top performers in the assessment exam will be prioritized in the placement program by GeeksforGeeks. The program also includes Mock Interviews after the assessment exam for the selected students and referrals for the top performers to direct interview in some companies.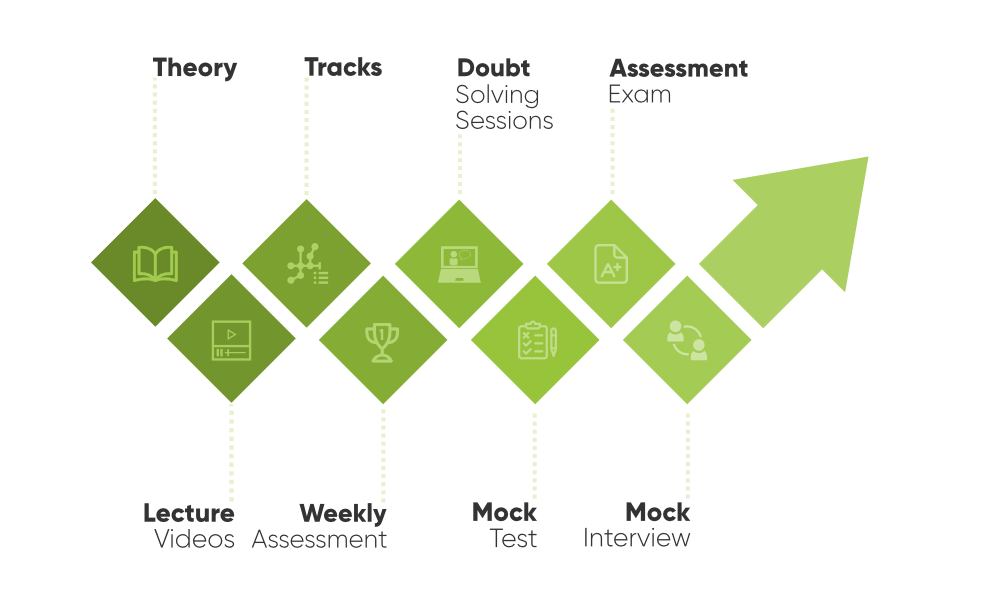 The course is divided into three phases as explained below:
Phase I: The first phase consists of entire content along with premium video lectures and other resources to learn programming basics, OOPs, Data Structures, Algorithms, CS Fundamentals – OS, DBMS, Networking, OOAD.
Phase II: The second phase contains tutorials on Aptitude – Logical reasoning, Verbal Ability, and Quantitative Reasoning. This phase will also cover, guidelines for building a resume, improving communication skills and other soft skills of the candidate.
Phase III: The last phase will cover three Mock-Tests followed by an Assessment Test. Based on the performance in the Assesment test, top performers will be offered Mock Interviews and will be referred to companies for interview.
Course Content
Placement 100 provides a thorough understanding of all the topics that are important for placement, whether they be for Product Based Companies or Service Based Companies. The Course Content in detail is given as follows:
Programming Basics: Introduction and Basic I/O, Variables, Operators, Loops, Arrays, Strings, etc. in your choice of language (C++ or Java).
Object-Oriented Programming Principles: Classes and Objects, Inheritance and Polymorphism, Abstraction and Encapsulation, Access Modifiers, Friend and Virtual functions in C++ as well as static, final, this and super keywords along with Interfaces in Java.
Data Structures and Algorithms: Mathematics, Basic Recursion, Arrays, Matrices, Searching, Sorting, Hashing, Strings, Linked Lists, Stacks, Queues, Binary Trees, Binary Search Tree, Heaps, Graphs, Recursion and Backtracking, Dynamic Programming, Graph Algorithms, and Advanced data structures.
Object Oriented Analysis and Design: Elevator Design, Parking Lot Design, Tiny URL Design, Bookmyshow Design, Design Chess and Design Online book reader system.
Operating System: Operating System and its Types, Multiprogramming, Multiprocessing, Multithreading, Process Management, Process Scheduling, Inter-process communication, Multi-threaded programming, Process Synchronization, Deadlock, Deadlock Recovery, Memory Management, and Virtual Memory.
Database Management System: Introduction to DBMS, Database Architectures, ER Model, Relational Model, Keys in Relational Model, Database Normalization, Normal Forms, Concurrency Control, Indexing in Database, B+ Tree Introduction and SQL.
Computer Networks: Introduction to Computer Networks, Transmission Modes, Network Topologies, TCP/IP vs OSI Model, Circuit Switching vs Packet Switching, Flow Control Protocols, Error Detection, IP and Classful Addressing, Classless Addressing, IPv4 vs IPv6, Routing Protocols, ARP & Reverse ARP, Transport Layer, TCP & UDP and Application Layer.
Aptitude and Reasoning: Quantitative Aptitude, Logical Reasoning and Verbal Ability
Personality Development: Soft Skills Tips, HR Round Questions, and Resume Building Guide
Note: The Placement 100 course syllabus can also be viewed in detail here.
Course Features
Learn:
–> Theory content designed by our team of experts.
–> Premium lecture videos by industry experts.
Practice:
–> Tracks consisting of MCQs and programming questions.
–> Weekly contests based on tracks.
Ask doubts:
–> Discussion Forum for clearing doubts.
–> Weekly doubt sessions for doubt assistance.
Compete:
–> Assessment exam based on company's screening exam pattern
–> Mock Tests to prepare for the assessment exam
Get Placed:
–> All students can apply to job openings after the course completion.
–> Top performers in the assessment exam will be shortlisted on priority.
Mock Interviews:
–> Similar to interview in top companies.
–> Only for students shortlisted after the assessment exam.
Certificate upon Course Completion
This course also provides an additional feature of Placement Support. The following image will direct you to the Jobs page: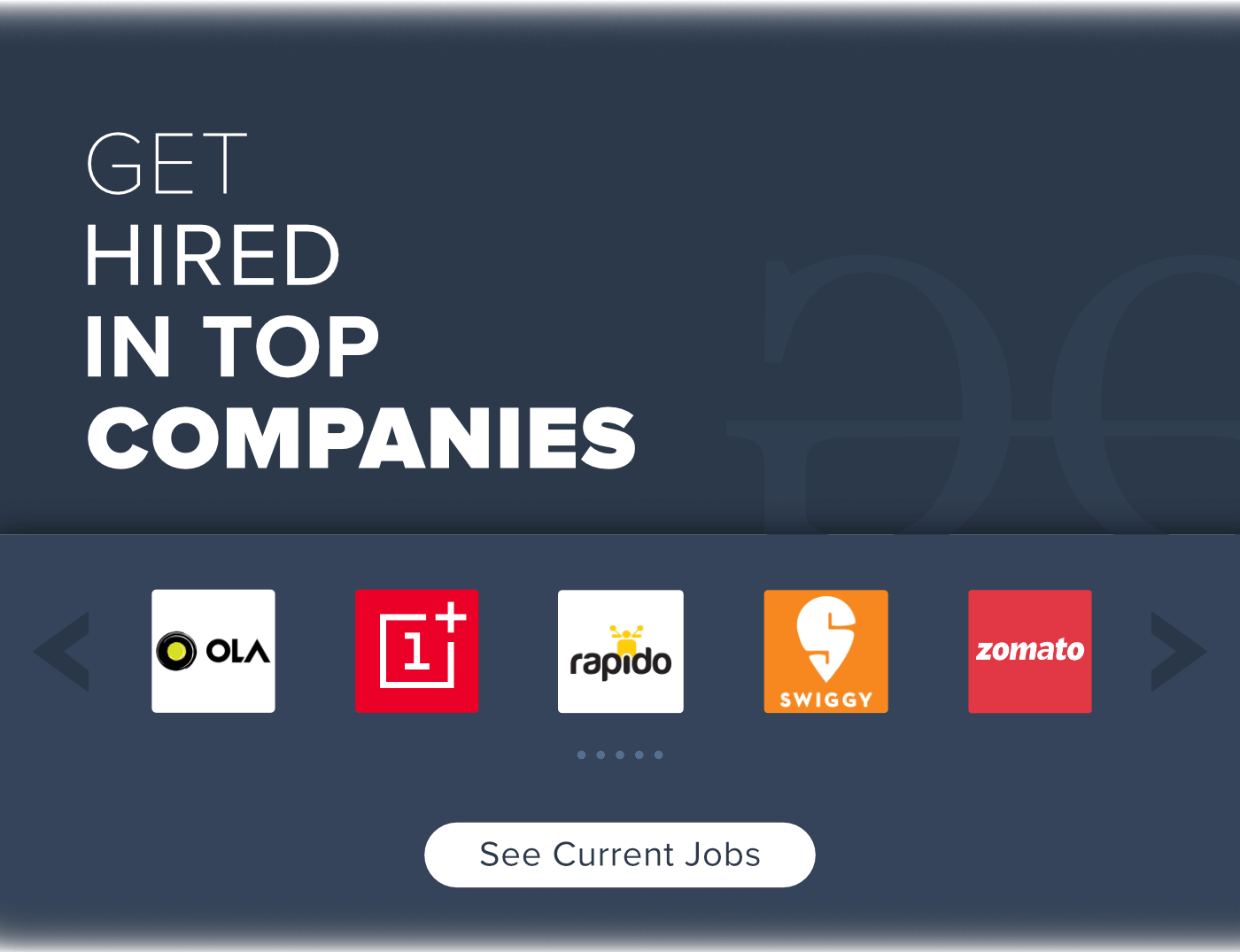 Course Fee
This course is priced at INR 14,999 but it is available at an Offer price of INR 9,999.
You are just a click away to begin the journey to your Dream Job. Register now for the Placement100 course by clicking on the button below.
FAQs
Registrations are closed, is there any similar course?
Registrations to this course are closed now. Please register for Complete Interview Preparation with Doubt Assistance
For which companies can I prepare with this course?
The course will help you prepare for product-based companies (like Amazon, Microsoft, Adobe, etc), startups (like Ola, Swiggy, Zomato, etc) and MNCs (like Infosys, Cognizant, Deloitte, etc)
How can I register for the course?
You need to sign up for the course using this link. After signing up, you need pay when the payment link opens.
Is this a Paid course?
Yes, the course is priced at INR 14,999 but will be available at an Offer price of INR 9,999.
When can I make the payment for the course?
The payment link will be available on the course page on 28th June 12:00 PM.
What is the duration of the course?
This is a 6 months program comprising of an online course followed by an assessment exam.
Does this program offer a placement guarantee?
The program is designed to prepare students for placement. Top performers will be referred to companies for interview and will be prioritized during placements but there is no placement guarantee.
Who can I contact for queries regarding the course?
For any queries regarding the course, you may write to us at geeks.classes@geeksforgeeks.org or call us at 1800 123 8622
My Personal Notes
arrow_drop_up