p5.Table removeTokens() Method
The removeTokens() method of p5.Table in p5.js is used to remove all the specified characters from values in the table. A specific column can be specified for removing the token from only that column. However, if no column is specified then the values of all the columns and rows in the table are processed.
Syntax:
removeTokens( chars, [column] )
Parameters: This function accepts two parameters as mentioned above and described below:
chars: It is a String that specifies all the characters that have to be removed.
column: It is a String or integer that specifies the column name or ID of the column to be trimmed. It is an optional parameter.
The example below illustrates the removeTokens() method in p5.js.
Example 1:
function setup() {
createCanvas(500, 300);
textSize(16);
tokensInput = createInput();
tokensInput.position(30, 40)
trimBtn =
createButton("Remove specified tokens");
trimBtn.position(30, 80);
trimBtn.mouseClicked(cleanTableData);
// Create the table
table = new p5.Table();
// Add two columns
table.addColumn("subject");
table.addColumn("performance");
// Add some rows to the table
let newRow = table.addRow();
newRow.setString("subject",
"----Maths---");
newRow.setString("performance",
"====Good===");
newRow = table.addRow();
newRow.setString("subject",
" English");
newRow.setString("performance",
"__-Excellent--");
newRow = table.addRow();
newRow.setString("subject",
"Science");
newRow.setString("performance",
",,, ;;OK;");
showTable();
}
function cleanTableData() {
let tokensToRemove = tokensInput.value();
// Remove given tokens only from the
// whole table
table.removeTokens(tokensToRemove);
// Redraw the table
showTable();
}
function showTable() {
clear();
// Display the rows present in the table
for (let r = 0; r < table.getRowCount(); r++)
for (let c = 0; c < table.getColumnCount(); c++)
text(table.getString(r, c),
20 + c * 100,
140 + r * 20);
text("Enter the tokens that have to be" +
" removed from the table values",
20, 20);
}
Output: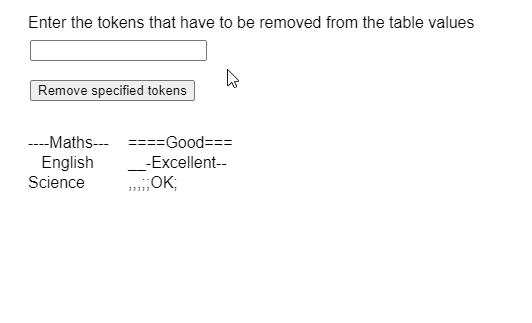 Example 2:
function setup() {
createCanvas(500, 300);
textSize(16);
tokensInput = createInput();
tokensInput.position(30, 40)
trimBtn =
createButton("Remove specified tokens");
trimBtn.position(30, 80);
trimBtn.mouseClicked(cleanTableData);
// Create the table
table = new p5.Table();
// Add two columns
table.addColumn("subject");
table.addColumn("performance");
// Add some rows to the table
let newRow = table.addRow();
newRow.setString("subject",
"----Maths---");
newRow.setString("performance",
"-----Good===");
newRow = table.addRow();
newRow.setString("subject",
"-----English---");
newRow.setString("performance",
"__-Excellent--");
newRow = table.addRow();
newRow.setString("subject",
"-Science---");
newRow.setString("performance",
",,, ;OK;");
showTable();
}
function cleanTableData() {
let tokensToRemove = tokensInput.value();
// Remove given tokens only from the
// 'name' column
table.removeTokens(tokensToRemove,
'subject');
// Redraw the table
showTable();
}
function showTable() {
clear();
// Display the rows present in the table
for (let r = 0; r < table.getRowCount(); r++)
for (let c = 0; c < table.getColumnCount(); c++)
text(table.getString(r, c),
20 + c * 100,
140 + r * 20);
text("Enter the tokens that have to be" +
" removed from the table values",
20, 20);
}
Output: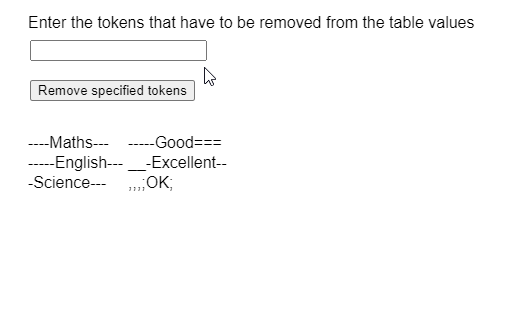 Online editor: https://editor.p5js.org/
Environment Setup: https://www.geeksforgeeks.org/p5-js-soundfile-object-installation-and-methods/
Reference: https://p5js.org/reference/#/p5.Table/removeTokens
Hey geek! The constant emerging technologies in the world of web development always keeps the excitement for this subject through the roof. But before you tackle the big projects, we suggest you start by learning the basics. Kickstart your web development journey by learning JS concepts with our JavaScript Course. Now at it's lowest price ever!
My Personal Notes
arrow_drop_up