p5.js | center() Function
The center() function is used to set the alignment of element into the center either vertically, horizontally, or both, relative to its parent element or according to the body if the element has no parent. If this function does not contain any parameters then the element will align both vertically and horizontally.
Note: This function requires the p5.dom library. So add the following line in the head section of the index.html file.
<script language="javascript"
type="text/javascript" src="path/to/p5.dom.js">
</script>
Syntax:
center( align )
Parameters: This function accepts single parameter align which holds the string 'vertical' or 'horizontal' to align the element.
Below examples illustrate the center() function in p5.js:
Example 1:
function setup() {
// Create canvas of given size
createCanvas(1000, 200);
// Set background color
background('green');
var div = createDiv('').size(200, 70);
div.html('Welcome to GeeksforGeeks', true);
// Set the position of div into center
div.center();
// Set font-size of text
div.style('font-size', '24px');
// Set font-color of text
div.style('color', 'white');
div.style('border', '1px solid white');
div.style('text-align', 'center');
}
Output: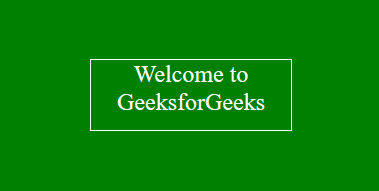 Example 2:
function setup() {
// Create canvas of given size
createCanvas(1000, 200);
// Set background color
background('green');
// Create an input element
var input_val = createInput('');
// Set the attribute and its value
input_val.attribute('value', 'Welcome to GeeksforGeeks');
// Set the position of div into center
input_val.center();
// Set font-size of text
input_val.style('font-size', '24px');
// Set the width of input area
input_val.style('width', '300px');
}
Output: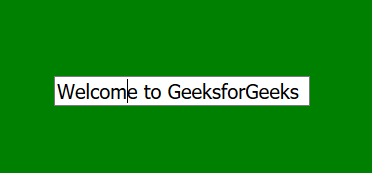 My Personal Notes
arrow_drop_up