Magnitude Software Recruitment Process
This article will give you information about the company, its recruitment process, sample questions that have been asked previously, lots of experiences shared by other aspirants, and the portal where you can apply.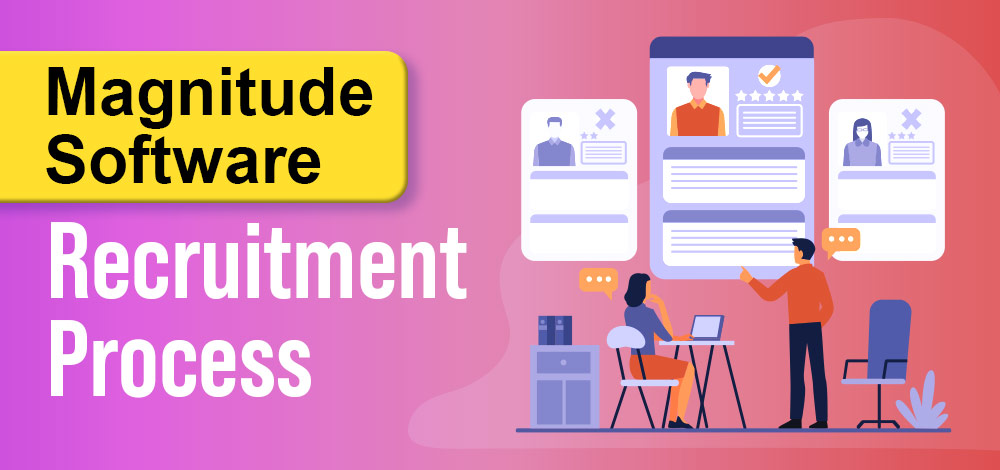 About to Company:
Magnitude Software provides services to enterprises to transform data into continuous intelligence and competitive advantage, uncovering insights looked deep into enterprise applications and integrating data across applications, platforms, and business processes.
Requirement Process:
Round 1: Online Assessment
Round 2: Technical Interview
Round 3: Technical Interview 2
Round 4: HR Round
Eligibility Criteria: B.Tech/M.Tech/ MCA from Computer Science, Computer Engineering, IT, and relevant experience.
Online Assessment: This Round will be conducted on Online Coding Platforms. asked 2 to 3 Data Structures and Algorithms.
Technical Interview 1: Questions from C++ & Java programming languages. and Computer Science Concept, OOPS, Data Structures.
Technical Interview 2: Discussion on projects and coding problems like performing all possible approaches.
HR Round:
Why do you want to work for our company?
What's your family background?
Why did we hire you?
Salary expectation?
Interview Experience: It is always beneficial if you know what it is to be there at that moment. So, to give you an advantage, we provide you with Interview Experiences of candidates who have been in your situation earlier. Make the most of it. To check all types of interview experiences please go through Magnitude Software.
Questions Ask in Magnitude Software:
Where to apply:
My Personal Notes
arrow_drop_up