DevOps Lifecycle is the set of phases that includes in DevOps for taking part development and operation group duties for quicker software program delivery. DevOps follows positive techniques that consist of code, build, test, release, deploy, operate, display and plan.
DevOps lifecycle follows a range of phases such as non-stop development, non-stop integration, non-stop testing, non-stop monitoring, and non-stop feedback. Each segment of the DevOps lifecycle related to some equipment and applied sciences to obtain the process. Some of the frequently used equipment are open source and are carried out primarily based upon the commercial enterprise requirements. DevOps lifecycle is effortless to manipulate and it helps satisfactory delivery.
The Lifecycle of DevOps :
Below is the diagram which indicates the structure of the DevOps lifecycle.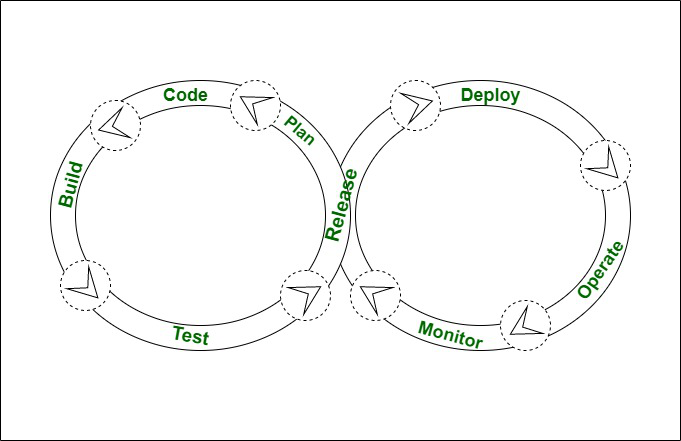 Code –
Coding is the first step in the development of DevOps. In this step, the developers and coders write the code on any platform to develop the product for a customer.
Build –
The 2nd step is to construct the model, in which the simple model of the product has constructed the use of an appropriate programming language.
Test –
The third step is to test or to check where the constructed merchandise and other products are going to examine with the use of the automation checking out equipment such as Bugzilla and selenium web driver.
Release –
This step includes planning, scheduling and controlling the constructed method in a one of a kind environment.
Deploy –
The step after the release phase will be Deployment where all the products, files and documents which are to deployed are carried out on the server.
Operate –
After the deployment phase i.e. after the deployment of the product or application, it is delivered to the client for use where he makes use of that product or software for everyday lifestyles purposes.
Monitor –
In this step, the delivered merchandise or software to a client has been monitored to observe down any up-time and down-time failures or if any errors are there or not.
Plan –
The last phase is Planning. After monitoring it gathers all the information, data, feedback and comments from the client and plans the modifications that need to be performed to make it better.
My Personal Notes
arrow_drop_up