Levels of Memory in Operating System
Memory hierarchy of a computer system it handles differences in speed. "Hierarchy" is a great way to say "order of thinks" like top to bottom, fast to slow, most important to least important.
If you look at the memory hierarchy inside the computer, according to the fastest to the slowest:
1. CPU Registers
2. Caches memory
3. Main or Primary Memory
4. Secondary Memory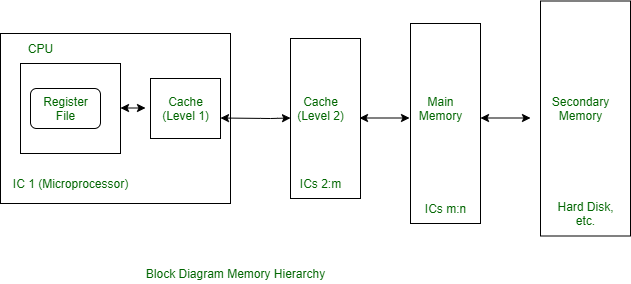 These are explained as following below.
GeeksforGeeks has prepared a complete interview preparation course with premium videos, theory, practice problems, TA support and many more features. Please refer Placement 100 for details
My Personal Notes
arrow_drop_up
---
---
If you like GeeksforGeeks and would like to contribute, you can also write an article using contribute.geeksforgeeks.org or mail your article to contribute@geeksforgeeks.org. See your article appearing on the GeeksforGeeks main page and help other Geeks.
Please Improve this article if you find anything incorrect by clicking on the "Improve Article" button below.