Learn Basics of Programming For FREE – 2 Day Workshop For Students!
The registration/enrollment for the First Step to Coding – Demo Classes has currently been closed. All the young ones or school students can visit this link to explore various enriching beginner-level courses.
To all the students out there, don't you young ones want to learn a skill that can make you able to build a fantastic mobile game or your own creative website or even to learn the practical application of Mathematics fluently…?? If yes, then Coding is your destination! Coding is indeed the new-age life skill that one should learn, especially the students, as it helps them to build problem-solving & logical-thinking skills improves and encourages creativity, develop the skill of perseverance among them, etc. to subsequently helping them in achieving their career goals.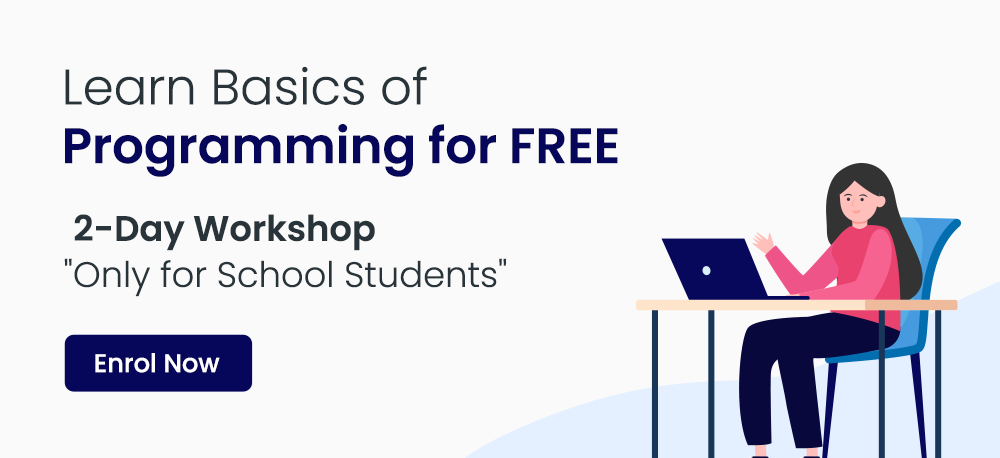 Also, the students who're aspiring for a career in the modern-day tech world should definitely learn to code as it is like a basic prerequisite for it!
However, there is usually a hype among students or beginners that scares and prevents them for getting starting with coding – and it is, "Coding is very much hard to learn!" But the real scenario is somewhat different… coding is quite easier and convenient to learn as compared to various other tech skills, all it requires is the right start and consistent practice. And yes, we are also going to tell how the beginners can get a taste of programming or start learning to code conveniently. But before that, let's shed some more light regarding the significance and importance of getting started with coding for school students.
Is Coding Something Necessary for School Students?
Firstly, talking from the education scheme perspective, you all need to know the government has already come up with several academic plans and programs to promote coding culture among school students. However, rather than taking it as another academic subject, one (particularly parents) should understand the essence and prospects of coding. Okay, for a few minutes, just forget the reason of learning to code for passing any school exam or being prepared for a tech job – there are still very much considerable reasons for students to learn coding like to understand how to tackle problems effectively by breaking down it into smaller chunks or to develop structural thinking.
Similarly, resilience is one of those few pivotal life skills that can't be taught to anyone – it is a skill that one develops within himself via his own experiences. Meanwhile, while doing coding, students automatically develop this skill when they come up with multiple solutions for a particular programming problem till the problem gets solved. Other than that, we all know how immensely we all are surrounded with the technologies nowadays, and learning to code helps the students to explore and understand these tools and technologies in a better and worthwhile way.
So, the point is, learning coding may or may not be compulsory for the students from the perspectives of the academic, but for the overall development of the student and to develop various other career or life skills (as mentioned above) – coding is very much recommended for the young ones.
How Students Can Get Started with Coding?
All the students, parents, and instructors need to know that it is not just about coding but the learning approach of students, beginners, or young ones for any skill or subject is usually different from the professionals or experienced ones. And when we're talking about introducing the extensive tech skill like coding to students, there is a need to remember that it should be introduced or taught to the students in a very elaborative, engaging, and creative way with focusing more on the fundamentals.
There is a need to create interest and curiosity among students to get started with coding. The process should not look like a monotonous task of writing commands or instructions instead it should be enjoyable for the students. For instance, one of the best approaches is the integration of playing logical games in the learning roadmap as it will allow the students to understand how coding works more effectively.
Some of the prominent tips & strategies for students to get started with coding effectively and efficiently are listed below:
Know the practical significance of coding in the real world and develop an interest in it.
Make yourself very much familiar with the coding terminologies.
Focus more on strengthening the basics and fundamentals of coding.
Do adequate hands-on practice along with covering theoretical or conceptual knowledge.
Do not try to cover the entire coding curriculum in one go or the advanced concepts directly.
To make the process more simple and convenient for the students, GeeksforGeeks is coming up with the First Step to Coding – Demo Classes for the students of the 8th-12th class to introduce them to the world of Coding in the most interesting way! In these free demo live classes, students will get an insight into coding and its core and basic concepts that is very much necessary for strengthening the base for a better future in programming! These 2 free live classes will introduce the students to coding terminologies and theories along with activities that will help the student lay a basic foundation of the world of programming.
And, most importantly, these demo classes will surely help the students to make an informed choice about their careers in the programming world. The First Step to Coding – Demo Classes are scheduled for:
Session 1: 16th October, 4:30 PM to 5:30 PM (IST)
Session 2: 17th October, 4:30 PM to 5:30 PM (IST)
You can easily register yourself for these free live demo classes – all you need to do is fill up the form and just need to have working internet and a PC/Laptop!
Hence, all the students, who want to get introduced to coding and grasp the foundational coding concepts in a quite interesting and effective way – must attend the First Step to Coding – Demo Classes!
My Personal Notes
arrow_drop_up