Introduction to 8051 Microcontroller
8051 is one of the first most popular microcontroller also known as MCS-51. It was introduced by Intel in the year 1981. Initially it came out as N-type metal-oxide-semiconductor (NMOS) based microcontroller, but later versions were based on complementary metal-oxide-semiconductor(CMOS) technology. These microcontrollers were named as 80C51, where C in the name tells that it is based on CMOS technology.
It is an 8-bit microcontroller which means data bus is of 8-bits. Therefore, it can process 8-bits at a time. It is used in wide variety of embedded systems like robotics, remote controls, automotive industry, telecom applications, power tools etc.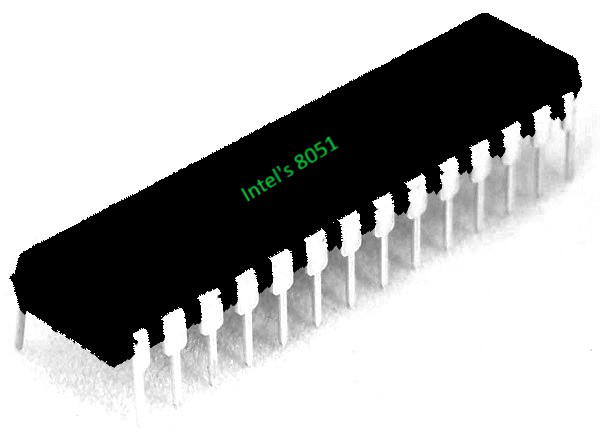 Figure – 8051 Microcontroller
System on a Chip :
It is referred to as System on a Chip (SoC) microcontroller because it is a chip circuit/integrated circuit that holds many components of a computer together on a single chip. These components includes a CPU, memory, input output ports(I/O ports), timers and secondary storage.
Features –
There are some key features of 8051 which works as a foundation for students to learn microcontrollers. These features include :-
4 KB on-chip ROM (Program memory).
128 bytes on-chip RAM (Data memory).
8 bit data bus (bidirectional).
16 bit address bus (unidirectional).
Two 16-bit timers.
Instruction cycle of 1 microsecond with 12 MHz crystal.
Four 8-bit ports.
128 user defined flags.
Four register banks of 8 bit each.
16-byte bit-addressable RAM.
My Personal Notes
arrow_drop_up