Introduction of Lexical Analysis
Lexical Analysis is the first phase of the compiler also known as a scanner. It converts the High level input program into a sequence of Tokens.
Lexical Analysis can be implemented with the Deterministic finite Automata.
The output is a sequence of tokens that is sent to the parser for syntax analysis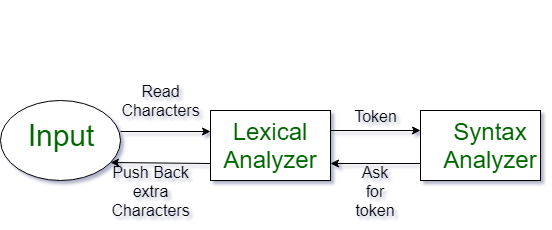 What is a token?
A lexical token is a sequence of characters that can be treated as a unit in the grammar of the programming languages.
Example of tokens:
Type token (id, number, real, . . . )
Punctuation tokens (IF, void, return, . . . )
Alphabetic tokens (keywords)
Keywords; Examples-for, while, if etc.
Identifier; Examples-Variable name, function name, etc.
Operators; Examples '+', '++', '-' etc.
Separators; Examples ',' ';' etc
Example of Non-Tokens: