Improving Servlet Performance to Fetch Records From Database
Here we will be boosting the web application's ability to retrieve records from the database. To provide this, we save the table's data in a collection and reuse that collection in our servlet. As a result, we aren't repeatedly querying the database. We are enhancing our performance as a result of this. In order to begin, we must first generate the following table:
Table:
CREATE TABLE gfguser  
(    
    userid INT,  
    username VARCHAR(50),  
    userpass VARCHAR(50),  
    useremail VARCHAR(100),  
    usercountry VARCHAR(50),  
    contact INT,  
    PRIMARY KEY (USERID)  
)
Now, inside the table, add the following records.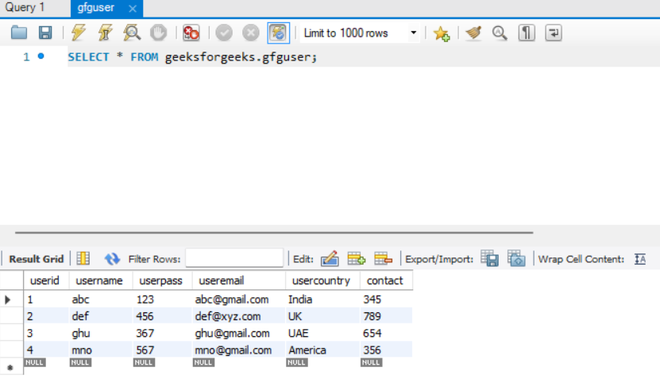 Implementation: In this case, we've generated the following six resources:
index.html
User.java
MainListenerGfg.java
Servlet1.java
servlet2.java
web.xml
Two links in the index.html file transmit requests to the servlet. User.java is a straightforward bean class with three attributes and their associated getters and setters. The database table is represented by this class. The listener class is MainListenerGfg.java. The contextInitialized method of ServletContextListener is called by default when the project is deployed. We are retrieving the table's records and saving them in the User class object, which has been added to the ArrayList class object. Lastly, the ArrayList class object will be used to hold all of the table's records (collection).
Finally, we save the ArrayList object as an attribute in the ServletContext object so that we can utilize it in the servlet. Servlet1.java retrieves and outputs information from the servlet context object. Servlet2.java is identical to Servlet1.java. The information from the servlet context object is printed by this servlet. Information regarding servlets and listeners may be found in web.xml.
A. index.html
Java
<html>
<body>
<h1> GeeksForGeeks</h1>
<a href="servlet1">This is first servlet</a>| //first link
<a href="servlet2">This is second servlet</a> //second link
</body>
</html>
B. User.java
Java
// Java Program to Illustrate User Class
// Class
public class User {
// Declaring variables to
// access data from database
private int id;
private String name, password;
// Adding getters and setter for variables
// Getters and Setters
public int getId() { return id; }
public void setId(int id) { this.id = id; }
public String getName() { return name; }
public void setName(String name) { this.name = name; }
public String getPassword() { return password; }
public void setPassword(String password)
{
this.password = password;
}
}
C. MainListenerGfg.java
Java
// Java Program to Illustrate MainListener Class
// Importing required classes
import java.sql.*;
import java.util.ArrayList;
import javax.servlet.ServletContext;
import javax.servlet.ServletContextEvent;
import javax.servlet.ServletContextListener;
// Class
// implementing ServletContextListener interface
public class MainListenerGfg
implements ServletContextListener {
// Method 1
public void contextInitialized(ServletContextEvent e)
{
// Creating an empty ArrayList
ArrayList list = new ArrayList();
// Try block to check for exceptions
try {
// Loading drivers by
// connecting with database
Class.forName("com.mysql.jdbc.Driver");
Connection con = DriverManager.getConnection(
"root", "root");
PreparedStatement ps = con.prepareStatement(
"select * from gfguser");
ResultSet rs = ps.executeQuery();
// Accessing all data until its empty
// using next() method
while (rs.next()) {
User u = new User();
u.setId(rs.getInt(1));
u.setName(rs.getString(2));
u.setPassword(rs.getString(3));
list.add(u);
}
// Closing the connections
// using close() method
con.close();
}
// Catch block to handle exceptions
catch (Exception ex) {
// Displaying the exceptions
System.out.print(ex);
}
// Storing the ArrayList object in ServletContext
ServletContext context = e.getServletContext();
context.setAttribute("data", list);
}
// Method 2
public void contextDestroyed(ServletContextEvent arg0)
{
// Print statement whenever this method is called
System.out.println("project undeployed...");
}
}
D.Servlet1.java
Java
// Java Program to Illustrate Servlet Class
// Importing required classes
import java.io.IOException;
import java.io.PrintWriter;
import java.sql.Connection;
import java.sql.DriverManager;
import java.sql.PreparedStatement;
import java.sql.ResultSet;
import java.util.Iterator;
import java.util.List;
import javax.servlet.ServletContext;
import javax.servlet.ServletException;
import javax.servlet.http.HttpServlet;
import javax.servlet.http.HttpServletRequest;
import javax.servlet.http.HttpServletResponse;
// Class
// Extending HttpServlet Class
public class Servlet1 extends HttpServlet {
// Method
public void doGet(HttpServletRequest request,
HttpServletResponse response)
throws ServletException, IOException
{
response.setContentType("text/html");
PrintWriter out = response.getWriter();
long before = System.currentTimeMillis();
ServletContext context = getServletContext();
List list = (List)context.getAttribute("data");
Iterator itr = list.iterator();
// Condition holds true till there is single element
// remaining in the List
while (itr.hasNext()) {
User u = (User)itr.next();
out.print("<br>" + u.getId() + " " + u.getName()
+ " " + u.getPassword());
}
// Closing the connections
// using close() method
out.close();
}
}
E. Servlet2.java
Java
// Java Program to Illustrate Servlet Class
// Importing required classes
import java.io.IOException;
import java.io.PrintWriter;
import java.sql.Connection;
import java.sql.DriverManager;
import java.sql.PreparedStatement;
import java.sql.ResultSet;
import java.util.Iterator;
import java.util.List;
import javax.servlet.ServletContext;
import javax.servlet.ServletException;
import javax.servlet.http.HttpServlet;
import javax.servlet.http.HttpServletRequest;
import javax.servlet.http.HttpServletResponse;
// Class
// Extending HttpServlet class
public class Servlet2 extends HttpServlet {
// Method
public void doGet(HttpServletRequest request,
HttpServletResponse response)
throws ServletException, IOException
{
response.setContentType("text/html");
PrintWriter out = response.getWriter();
long before = System.currentTimeMillis();
ServletContext context = getServletContext();
List list = (List)context.getAttribute("data");
// Iterator
Iterator itr = list.iterator();
// Condition holds true till
// there is single element remaining
while (itr.hasNext()) {
User u = (User)itr.next();
out.print("<br>" + u.getId() + " " + u.getName()
+ " " + u.getPassword());
}
// Closing the connections
// using close() method
out.close();
}
}
F. web.xml
XML
<web-app>
<listener>
<listener-class>MainListenerGfg</listener-class>
</listener>
<servlet>
<servlet-name>Servlet1</servlet-name>
<servlet-class>Servlet1</servlet-class>
</servlet>
<servlet>
<servlet-name>Servlet2</servlet-name>
<servlet-class>Servlet2</servlet-class>
</servlet>
<servlet-mapping>
<servlet-name>Servlet1</servlet-name>
<url-pattern>/servlet1</url-pattern>
</servlet-mapping>
<servlet-mapping>
<servlet-name>Servlet2</servlet-name>
<url-pattern>/servlet2</url-pattern>
</servlet-mapping>
</web-app>
Output:
In order to receive the following output, run the index.html file: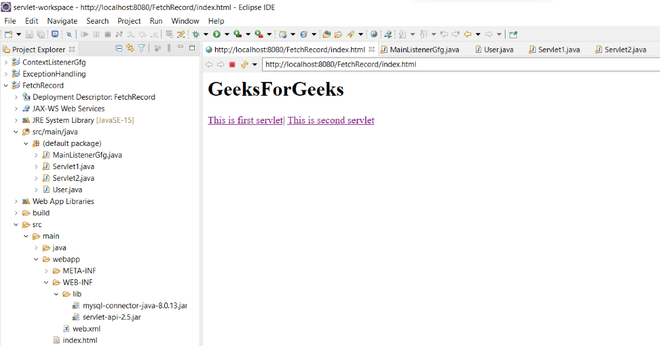 We will get the following result if you click on the "This is first servlet" link: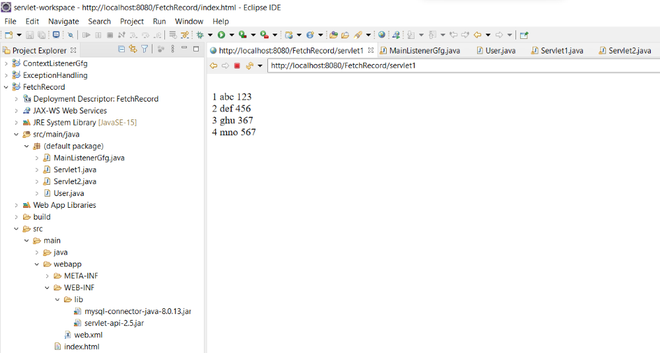 The following output will appear when you click on the "This is second servlet" link: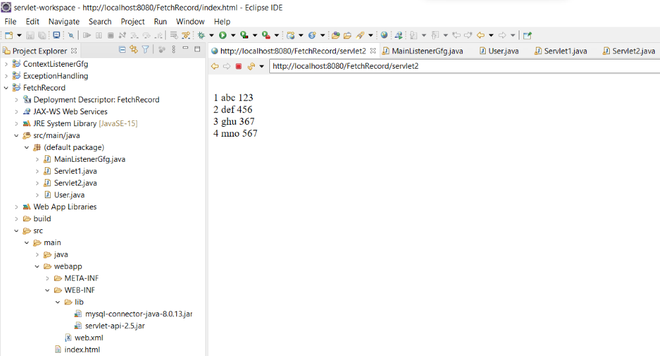 My Personal Notes
arrow_drop_up