Do you actually need to know how to code to work in tech ?
When you were a kid you might have thought that you would become a cricketer or painter or musician or writer and a lot like that. When you grew up your dreams changed and you wanted to become something else and later when you had the choice to hit the college you become confused about your career and you didn't know where you actually stood or what you wanted to become in your life. So as everyone does, you followed what others and your parents asked to follow… Engineering. Why? because according to everyone this one is a safe, secure and high paying job. This is the story of most of the engineering student but the question is do you really enjoy coding…??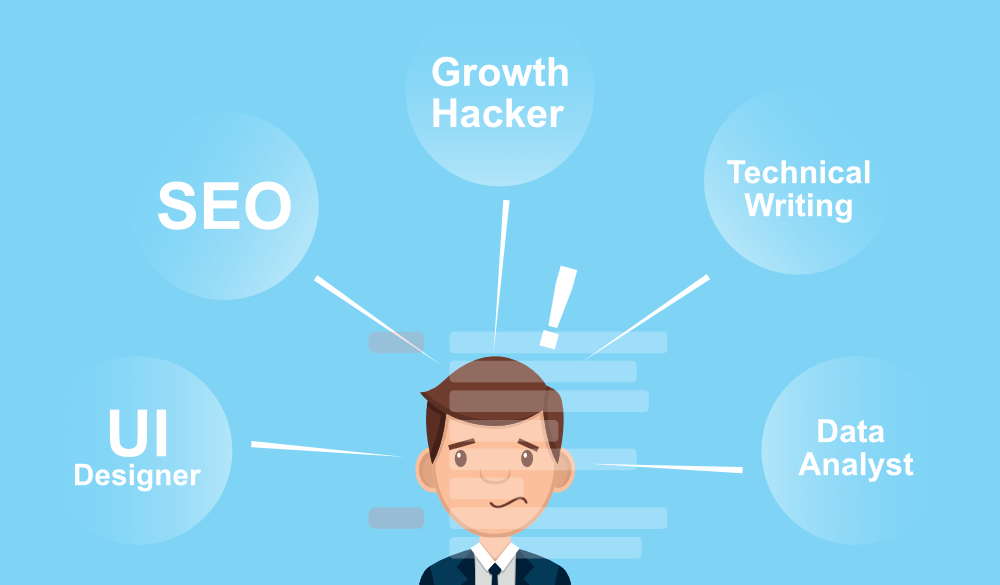 For some people, programming is fun, enjoyable and outstanding if they love to code, fix the bug and solve the problems but there are some people who really think it sucks and programming is not for them. But now what…??? you are graduate, not good at coding but you want a job in tech. A common myth between a lot of students is you need to know how to code if you want to work in tech. Let's break this myth and we will tell you some career options in tech where you don't need to scratch your brain to use all those programming loops or function or coding logic.
1. User Experience Designer: UX designers are responsible for creating a positive experience for the user and their primary goal is working on user satisfaction with the product. They make sure that the overall experience while interacting with a website should be easy to understand for a user. This job requires creativity, a lot of research and empathy, also UX designers are responsible to pass wireframes to the developers so they can understand how to develop a website. Average Salary of UX Designers: Rs 8,82,655/yr. Check pay on Glassdoor
2. User Interface Designer: If you love exploring website designings and you get attracted to it then this role is definitely for you. As a UI designer, your primary responsibility would be designing a website and deciding the look and feel of it. You will be using some graphics tools, photoshop, and other techniques to decide colors, images, layouts and other elements of a website. Average Salary of UI Designers: Rs 535,336/yr. Check pay on Glassdoor
3. Data Analyst: Tech companies have plenty of data related to their businesses and somebody has to gather it, extract it, analyze it and also manage it. This role requires mainly knowledge of SQL or hive or pig (any querying language), Microsoft Excel, and even Google analytics to organize a large set of data. A lot of data analyst knows statistical programming languages like Python or R which is also heavily used in this role. If you love Maths, Statistics and have analytical skills to compile and manage a large set of data then go for it. Average Salary of Data Analyst: Rs 509,142/yr. Check pay on Glassdoor
4. SEO (Search Engine Optimization) Specialist: An SEO expert job role focuses on improving and optimizing the website ranking in search engines for example on Google. SEO team works mainly with developers, web designers and content team in order to make sure that the right keywords are in the right places for higher ranking in search engines. Average Salary of SEO Specialist: Rs 339,113/yr. Check pay on Glassdoor
5. Web Analytics Specialist: Web analytics job role involves examining the traffic of users who are coming to your web page. Web analytics job relates to SEO and digital marketing and here specialist works to grab the attention of users. They focus on user experience visualization through Google Analytics and site change monitoring with A/B testing. Average Salary of Web Analytics Specialist: Rs 547,978/yr. Check pay on Glassdoor
6. Growth Hacker: Growth Hackers also known as user acquisition specialist because their job role involves combining marketing, business development, and technology in order to acquire users. They follow a lot of strategies and constantly test it, they do a lot of experiments and use their creativity to gain more and more users or for better result. Based on the response they take the decision to tweak or discard the plan and that's the reason flexibility is important in this job. Growth Hackers work closely with the marketing, sales, engineering, and product management team. Average Salary of Growth Hacker: Rs. 7,01,682/yr. Check pay on Glassdoor
7. Product Managers: When a company has a product, somebody has to plan and constantly think about the product to make it better, that's what product managers do, for example how to make a better version of a cellphone. Product managers also come up with new product ideas. Their job role involves proper strategy or plan where leadership is one of the essential skills need to have in order to manage the product and to communicate with the team who is working on developing the product. Average Salary of Product Managers: Rs 1,600K/yr. Check pay on Glassdoor
8. Technical Writing: If you love writing the tech assignments or about the complex technologies in your day to day life then this role is suitable for you. Your job role may involve preparing the tech content or creating instruction and documentation for the company product or technology. If you love to read tech blogs, understand the technology and ability to communicate effectively through your writing then choosing this field is the right option for you. Average Salary of Technical Writer: Rs. 620,716/yr. Check pay on Glassdoor
9. Software Testing: Software quality tester works closely with developers to check if the software meets specifications and requirements or not. They put the program through a variety of tests and check all kinds of bugs, errors, and quality of software or product before releasing it in the market. If they find something that doesn't work as expected they inform the developers to fix the problem. Software tester uses some automation tools and techniques to find bugs and errors. Here you need to keep in mind that automated testing requires some coding knowledge but not for manual testing. Average Salary of Software Tester: Rs 360,840/yr. Check pay on Glassdoor
10. Network Engineer/Administrator: As the name suggests that the network engineers are responsible for configuring, maintaining and monitoring day to day operation of computer networks, organizations rely on. It involves checking recovery options, keeping backup of data, troubleshooting, diagnosing and resolving the network or system-related problems. Network engineers work on access points, firewalls, routers, switches, controllers and other networking stuff. Average Salary of Network Engineer: Rs 387,795/yr. Check pay on Glassdoor
My Personal Notes
arrow_drop_up
---
---
If you like GeeksforGeeks and would like to contribute, you can also write an article using contribute.geeksforgeeks.org or mail your article to contribute@geeksforgeeks.org. See your article appearing on the GeeksforGeeks main page and help other Geeks.
Please Improve this article if you find anything incorrect by clicking on the "Improve Article" button below.