The HTML type Attribute is used to specify the type of button for <button> elements. It is also used in the <input> element to specify the type of input to display. For embed elements like link, object, script, source, and style used to specify the Internet Media Type.
Syntax:
<element type="value"> 
Note: This attribute has been DEPRECATED and is no longer recommended.
Supported Tags:
<a>
<area>
<embed>
<input>
<link>
<menu>
<object>
<script>
<source>
<style>
The below example illustrates the use of type attribute in HTML:
Example:
html
<!DOCTYPE html>
<html>
<head>
<title>
HTML type Attribute
</title>
</head>
<body>
<h1>GeeksforGeeks</h1>
<h3>HTML type Attribute</h3>
<form action="#" method="get">
Username: <input type="text" name="uname">
<br><br>
Password: <input type="password" name="pwd">
<br><br>
<button type="submit" value="submit">
Submit
</button>
<button type="reset" value="reset">
Reset
</button>
</form>
</body>
</html>
Output: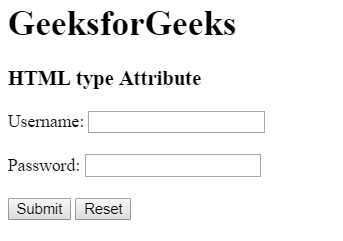 Supported Browsers: The browser supported by HTML type attributes are listed below:
Google Chrome
Internet Explorer
Firefox
Safari
Opera
My Personal Notes
arrow_drop_up