The HTML srcdoc attribute is used to specify the HTML content of the page to show in the inline frame. This attribute is anticipated to be used beside the sandbox and seamless attributes.
If a browser supports the srcdoc attribute, it'll override the content laid out in the src attribute (if present).
If a browser doesn't support the srcdoc attribute, it'll show the file laid out in the src attribute instead (if present).
Supported tag:
Example:
<!DOCTYPE html>
<html>
<body>
<center>
<h1 style="color:green">GeeksforGeeks</h1>
<iframe srcdoc="<h3>I am inside iframe.</h3>"
</iframe>
</center>
</body>
</html>
chevron_right
filter_none
Output: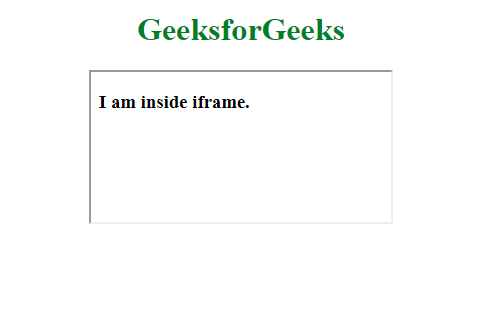 Supported Browsers: The browsers supported by HTML srcdoc Attribute are listed below:
Google Chrome
Firefox
Apple Safari
Opera
My Personal Notes
arrow_drop_up
---
---
If you like GeeksforGeeks and would like to contribute, you can also write an article using contribute.geeksforgeeks.org or mail your article to contribute@geeksforgeeks.org. See your article appearing on the GeeksforGeeks main page and help other Geeks.
Please Improve this article if you find anything incorrect by clicking on the "Improve Article" button below.