HTML | <meta> scheme Attribute
The HTML <meta> scheme Attribute is used to specify a scheme to interpret the property's value.
Syntax:
<meta scheme="format | URI">
Attribute Values:
format/URI: It is used to define the format (or points to an URI that contains the information) of the value inside the content attribute.
Examples:
<!DOCTYPE html>
<html>
<head>
<meta name="keywords"
content="Meta Tags, Metadata"
scheme="ISBN" />
</head>
<body>
<center>
<h1>GeeksForGeeks</h1>
<h2> Meta scheme attribute</h2>
<p>Hello GeeksforGeeks!</p>
</center>
</body>
</html>
Output: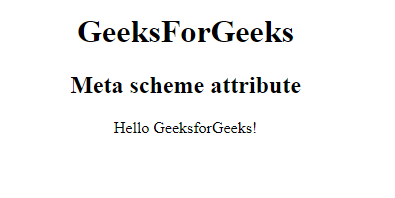 Supported Browser: The browsers supported by HTML <meta> scheme Attribute are listed below:
Google Chrome
Internet Explorer
Firefox
Opera
Safari

My Personal Notes
arrow_drop_up