HTML | <input type="month">
The HTML <input type="month"> is used to specify the control of month and year field. The value must be in the format of "YYYY-MM".
Syntax:
<input type="month"> 
Example:
<!DOCTYPE html>
<html>
<head>
<title>
HTML input type month
</title>
</head>
<body style="text-align:center;">
<h1>GeeksForGeeks</h1>
<h2>HTML <Input type ="month"></h2>
<form id="myGeeks">
<input type="month" id="month_id"
name="geeks" >
</form>
</body>
</html>
chevron_right
filter_none
Output: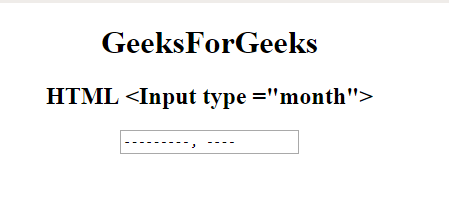 Supported Browsers: The browsers supported by <input type="month"> are listed below:
Google Chrome 25.0
Internet Explorer 12.0
Opera 10.1

My Personal Notes
arrow_drop_up
---
---
If you like GeeksforGeeks and would like to contribute, you can also write an article using contribute.geeksforgeeks.org or mail your article to contribute@geeksforgeeks.org. See your article appearing on the GeeksforGeeks main page and help other Geeks.
Please Improve this article if you find anything incorrect by clicking on the "Improve Article" button below.