The HTML <input> size Attribute is used to specify the visible width in terms of characters of an <input> element. It works with many input fields such as text, search, tel, URL, email, and password.
Syntax:
<input size="number"> 
Attribute values: It contains the numeric value which specifies the width of an input field in terms of the number of characters.
Example:
<!DOCTYPE html>
<html>
<head>
<title>HTML input size Attribute</title>
</head>
<body>
<h1 style="color: green;">
GeeksforGeeks
</h1>
<h2>
HTML input size Attribute
</h2>
<input type="text"
value="This is the default size.">
<br>
<br>
<input type="text"
size="50"
value= "This is user specified size
with value equals 50">
</body>
</html>
chevron_right
filter_none
Output: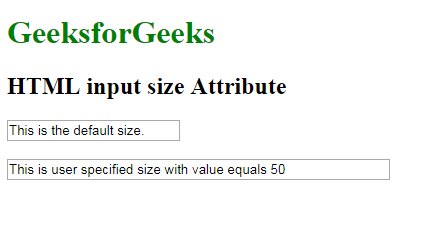 Supported Browsers: The browser supported by HTML input size Attribute are listed below:
Google Chrome
Internet Explorer
Firefox
Opera
Safari
My Personal Notes
arrow_drop_up
---
---
If you like GeeksforGeeks and would like to contribute, you can also write an article using contribute.geeksforgeeks.org or mail your article to contribute@geeksforgeeks.org. See your article appearing on the GeeksforGeeks main page and help other Geeks.
Please Improve this article if you find anything incorrect by clicking on the "Improve Article" button below.