HTML DOM TableRow deleteCell() Method
The TableRow deleteCell() Method in HTML DOM is used to delete a cell from a current row in a Table. It is a predefined method of the TableRow Object.
Syntax:
tablerowObject.deleteCell(index)
Property Values:
index: It contains a numeric value that starts from 0 which defines the position of the cell to be deleted from the current row. For example- The value 0th indicates the first positioned cell to be deleted. The value -1th represent that delete the last positioned cell.
Note:
The parameter is to be defined mandatory in the Firefox and Opera browser. On the other hand, it is optional in safari, chrome and IE Browsers.
If this parameter is not contain any value, it deleteCell() delete the last cell in IE and the first cell in Chrome and Safari.
Example: In this example, we will delete the first and cell from the current row.
HTML
<!DOCTYPE html>
<html>
<head>
<title>
HTML DOM TableRow deleteCell() Method
</title>
<style>
table,
td {
border: 1px solid green;
}
h1 {
color: green;
}
h2 {
font-family: Impact;
}
body {
text-align: center;
}
</style>
</head>
<body>
<h1>GeeksforGeeks</h1>
<h2>
HTML DOM TableRow deleteCell() Method
</h2>
<table align="center">
<tr id="gfg">
<td>GEEKS</td>
<td>FOR</td>
<td>GEEKS</td>
</tr>
</table>
<br>
<button onclick="firstCell()">
Delete the First Cell
</button>
<button onclick="lastCell()">
Delete the Last Cell
</button>
<script>
function firstCell() {
var Cell =
document.getElementById("gfg");
Cell.deleteCell(0);
}
function lastCell() {
var MyCell = document.getElementById("gfg");
MyCell.deleteCell(-1);
}
</script>
</body>
</html>
Output: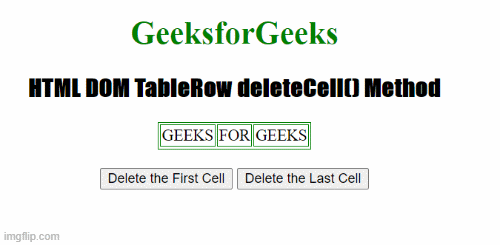 My Personal Notes
arrow_drop_up