HTML | DOM hasAttributes() Method
The DOM hasAttribute() method is a boolean function which returns either true or false but not both. This method returns a true value if the element contains an attribute otherwise, it returns false. It is very useful to know whether the element in the document has attributes or not.
Syntax:
node.hasAttributes()
Parameters: It does not contains any parameter.
Return Value: It return true if the element contains attribute otherwise it returns false.
Example 1:
HTML
<!DOCTYPE html>
<html>
<head>
<title>
DOM hasAttributes() Method
</title>
</head>
<body>
<center>
<h1 style="color:green;width:50%;" id="sudo">
GeeksForGeeks
</h1>
<h2>DOM hasAttributes() Method </h2>
<p>Click on the button to check if that body
element has any attributes</p>
<button type="button" onclick="geeks()">
Submit
</button>
<script>
function geeks() {
var s = document.body.hasAttributes();
document.getElementById('gfg').innerHTML = s;
}
</script>
<p id="gfg"></p>
</center>
</body>
</html>
Output:
Before click on the Button: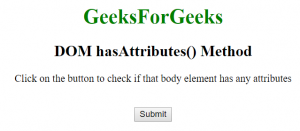 After click on the Button: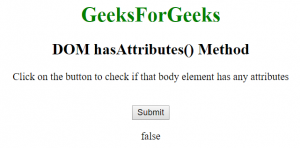 Example 2:
HTML
<!DOCTYPE html>
<html>
<head id="rk">
<title>
DOM hasAttributes() Method
</title>
</head>
<body>
<center>
<h1 style="color:green;width:50%;" id="sudo">
GeeksForGeeks
</h1>
<h2>DOM hasAttributes() Method </h2>
<p>Click on the button to check if that
head element has any attributes</p>
<button type="button" onclick="geeks()">
Submit
</button>
<script>
function geeks() {
var s = document.head.hasAttributes();
document.getElementById('gfg').innerHTML = s;
}
</script>
<p id="gfg"></p>
</center>
</body>
</html>
Output:
Before click on the Button: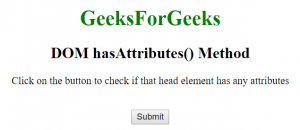 After click on the Button: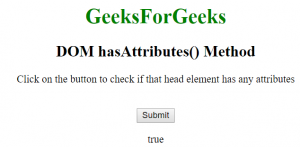 Supported Browsers: The browser supported by DOM hasAttributes() method are listed below:
Google Chrome 1 and above
Edge 12 and above
Internet Explorer 8 and above
Firefox 1 and above
Opera 12.1 and above
Safari 1 and above
My Personal Notes
arrow_drop_up