HTML | DOM getAttribute() Method
DOM getAttribute() method is used to get the value of the attribute of the element. By specifying the name of the attribute, it can get the value of that element. To get the values from non-standard attributes we can use getAttribute() method.
Syntax: It returns the string containing the attribute's value.
Object.getAttribute(attributename)
Example 1:
<!DOCTYPE html>
<html>
<head>
<title>DOM getAttribute() Method </title>
</head>
<body>
<center>
<h1 style="color:green;width:50%;">
GeeksForGeeks
</h1>
<h2>DOM getAttribute() Method </h2>
<br>
<button id="button" onclick="geeks()">
Submit
</button>
<p id="gfg"></p>
<script>
function geeks() {
var rk =
document.getElementById("button").getAttribute("onClick");
document.getElementById("gfg").innerHTML = rk;
}
</script>
</center>
</body>
</html>
Output:
Before clicking on the button:

After clicking on the button: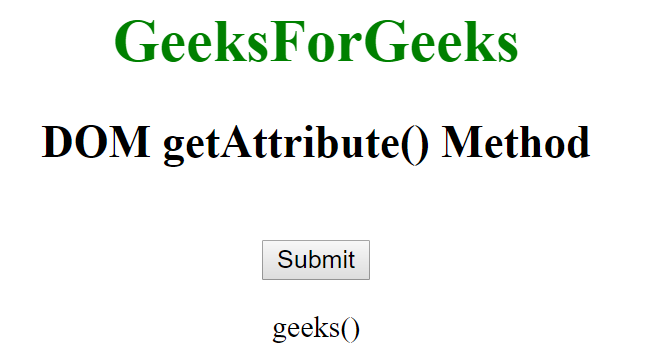 Example 2:
<!DOCTYPE html>
<html>
<head>
<title>DOM getAttribute() Method </title>
</head>
<body>
<center>
<h1 style="color:green;width:50%;">
GeeksForGeeks
</h1>
<h2>DOM getAttribute() Method </h2>
<a id="gfg" href="www.geeksforgeeks.com">
Geeksforgeeks
</a>
<br>
<br>
<button id="button" onclick="geeks()">
Submit
</button>
<br>
<p id="rk"></p>
<script>
function geeks() {
var rk =
document.getElementById("gfg").getAttribute("href");
document.getElementById("rk").innerHTML = rk;
}
</script>
</center>
</body>
</html>
Output:
Before clicking on the button: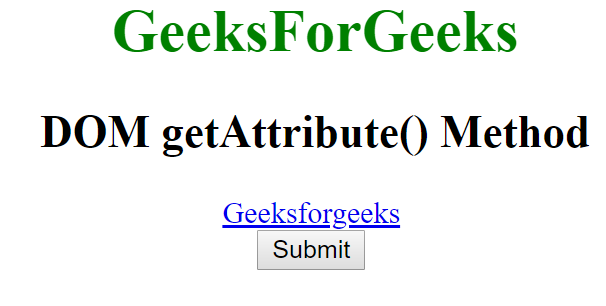 After clicking on the button:

Supported Browsers: The browser supported by DOM getAttribute() method are listed below:
Google Chrome 15.0
Internet Explorer 11.0
Firefox 15.0
Opera 15.0
Safari 6.0
My Personal Notes
arrow_drop_up