HTML | <canvas> width Attribute
The HTML <canvas> width Attribute is used to specify the width of the <canvas> in terms of pixels.
Syntax:
<canvas width="pixels"> 
Attribute Values: It contains the value i.e pixels which specify the width of the canvas in terms of pixel. It has a Default value which is 300.
Example: This Example illustrates the use of width attribute in Canvas Element.
<!-- HTML code to illustrate
width attribute of canvas tag -->
<!DOCTYPE html>
<html>
<head>
<title>HTML canvas Width attribute</title>
</head>
<body style="text-align:center;">
<h1>GeeksForGeeks</h1>
<h2>HTML Canvas Width Attribute</h2>
<canvas id="geeks"
height="200"
width="200"
style="border:1px solid black">
</canvas>
<script>
var c = document.getElementById("geeks");
var cx = c.getContext("2d");
cx.beginPath();
cx.arc(100, 100, 90, 0, 2 * Math.PI);
cx.stroke();
</script>
</body>
</html>
Output: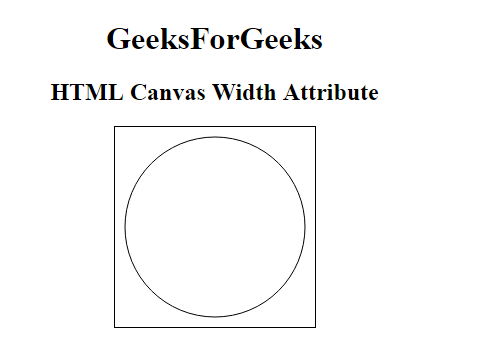 Supported Browsers:
Google Chrome 4.0
Firefox 2.0
Edge 9.0
Opera 9.0
Apple Safari 3.1
Attention reader! Don't stop learning now. Get hold of all the important HTML concepts with the Web Design for Beginners | HTML course.
My Personal Notes
arrow_drop_up