HTML <br> Tag
The <br> tag in HTML is used to give the single line break. It is an empty tag so it does not contain an end tag.
Syntax:
<br>
Attributes: This tag once accept an attribute called clear,
clear:

Indicates where to begin the next line after the break.
Example:
HTML
<!DOCTYPE html>
<html>
<body>
<h1>GeeksforGeeks</h1>
<h2>br Tag</h2>
<!-- br tag is used here -->
<p>GeeksforGeeks: <br> Computer science portal</p>
</body>
</html>
Output: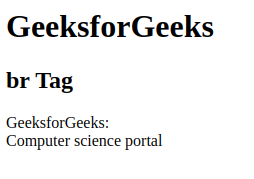 Supported Browsers:
Google Chrome
Internet Explorer
Firefox
Safari
Opera
My Personal Notes
arrow_drop_up