How to Write a Perfect Resume as a Fresher in 3 Steps (Mini Beginner's Guide)
Writing a resume in high school or college as a fresher somewhat seems like a tedious job, especially when you lack experience and also don't know how to write a resume and what format to use. On top of that, most people will advise you to focus on your professional experience but how can you fill the work section when you have just finished high school or started out in college?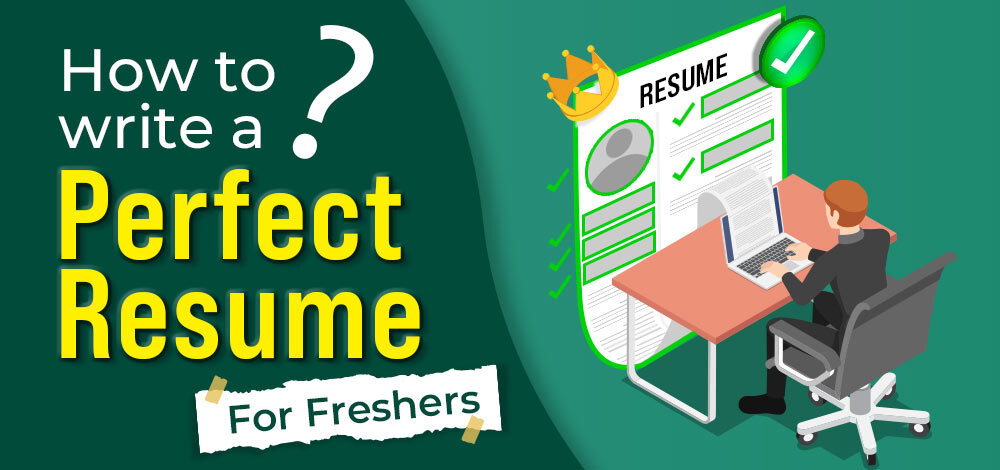 Well, throw away all of your worries out of the window because, in this article, you'll get to know how to write a resume so perfect that will grab recruiters' attention by hook without having work experience.
Here's how you can write a resume as a fresher:
Re-read the job description given in the job ad or on the job portal. Ensure that you're thoroughly briefed about the job. Highlight the skills they've mentioned in the job posting. Make a note of the phrases they've written in the same so you can use them in your resume.

When it comes to formatting your resume, use reverses chronological order. It highlights your career achievements rather than your work experience so it's an absolute deal for freshers and recruiters also get to know that you don't have work experience. The sections in your reverse-chronological resume will be:

Header: Put your contact information like your name, phone number, email address, and your portfolio or any projects you've done in the past. A LinkedIn profile would be the best to showcase your skills and your projects.
Resume Objective: Recruiters go through resumes in 4-6 seconds max. So, don't burden them with unnecessary information. Write your resume objective in 3 lines max explaining what your field of study is; what your skills and experiences are (ones that are relevant to the job) and why you're applying for this position and/or this company. This should be enough as your resume objective.
Education: This section is the ultimate selling point since you don't have vast work experience. It's better to list all your educational achievements, i.e., your degree, GPA/CGPA/SPA, Honors, and other activities you've done during your life as a student.
Internships, extracurricular activities, projects, volunteer work (These sections will replace your work experience): If you've done internships before, you're more than qualified for fresher roles given that you've achieved skills. You can also mention your volunteer experience or any projects you've done in your college or as a freelancer too.
Skills: You must have acquired many valuable transferrable skills throughout your academic career. All industries value these hard and soft skills, as they make employees more adaptable and well-rounded. You can mention these transferable skills: Interpersonal skills, Computer skills, Public speaking, Leadership, Problem-Solving, Communication, Collaboration, Language skills, Research, etc.


Check your resume for errors thoroughly. Even if you've meticulously created each element of your resume, make sure to thoroughly look over the final resume before sending it out to companies. Going over your resume one last time will help you to identify and rectify grammatical issues, repetitive words, and other resume flaws that might lose you the job. Ideally, you should also have a friend or family member check through your CV. They may recognize possibilities for improvement that you have overlooked.
Conclusion
Once you become an expert in creating resumes, getting a big paycheck is not a faraway dream anymore. Learn how to create an effective resume using GeeksforGeeks' Free Online Resume Builder so you can spend less time applying for jobs and more time making money. If you want to prepare for interviews like a pro, you can consider taking GeeksforGeeks courses like Complete Interview Preparation – Self-Paced course to ace interviews in product-based companies or feeling like starting your career in service-based companies, go for Complete Test Series for Service-Based Companies. Both of the courses will be a great help to pave the way to a greater career and even can get you into your dream company if you work hard with determination.
Related Article: How to Write a Powerful Resume 2022 (Beginner's Guide with Examples)
My Personal Notes
arrow_drop_up