How to Use GeeksforGeeks to Prepare for GATE CS?
Everyone knows that GATE is one of the very popular and standard exams in India as it leverages you with numerous career benefits whether it be about getting admissions to the country's top colleges like IITs, NITs, etc. for Post-Graduation or direct recruitment in Indian PSUs. Some of the PSUs who use GATE scores to shortlist the candidates for employment are ONGC, GAIL, BARC, and many others. It is indeed a life-changing exam. The questions in the GATE exam assess your abilities for – Recall, Comprehension, Application, and Analysis & Synthesis.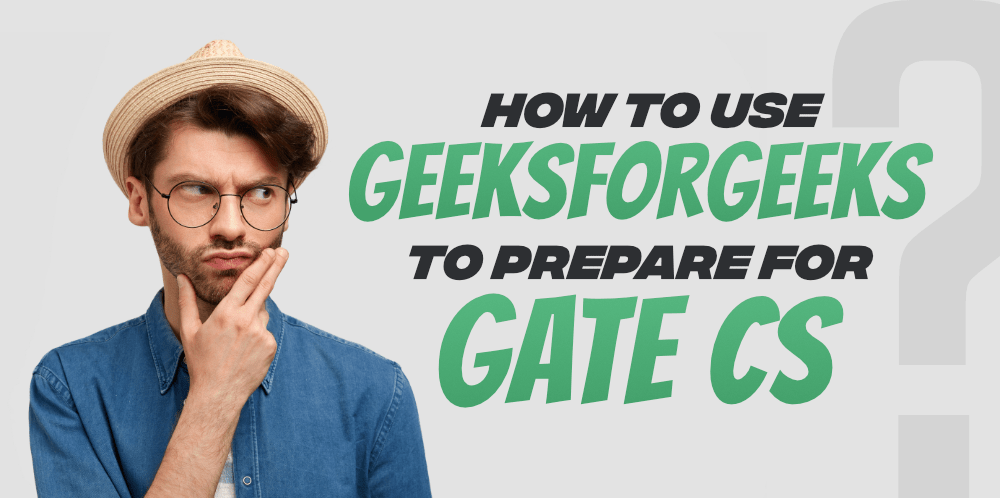 Number of Questions = 10 (GA) + 55 (subject) = 65 Questions
However, as the GATE exam rewards you with such remarkable benefits – it requires you to follow the well-structured preparation process consistently with quality learning resources to ace the exam. And, in a similar context, let us tell you that the renowned platform GeeksforGeeks can help you in this i.e., to prepare for the GATE exam. Yes, you heard it right! There are a few steps/guidelines mentioned below that you can use to prepare for your GATE CS exam with the help of the GeeksforGeeks website.
1. GATE Syllabus
The very first thing that you need to do to start your GATE preparation is – Understand the GATE Syllabus. You can simply access the GATE syllabus by clicking on "GATE 2021" present on Home Menu Bar.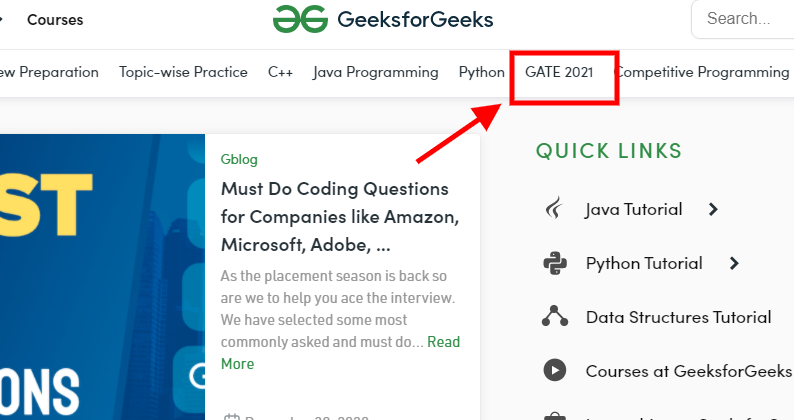 On this page, you'll find that we have listed articles subjective-wise and according to the GATE CS syllabus. There are four columns :
GATE CS syllabus, which includes all the topics for the GATE exam in an ordered manner.
Learn, which listed important articles for learning purposes.
Practice, which listed all important Quizzes and Previous Year Topic-wise Solved questions.
External Resources, which listed all-important external links of foreign universities and CS portals.
You should read/learn the content/articles of this table subject-wise and in the above-given sequence.
2. CS Subject-Wise
Then, you can explore and go through the tutorials of CS subjects in accordance with the GATE syllabus.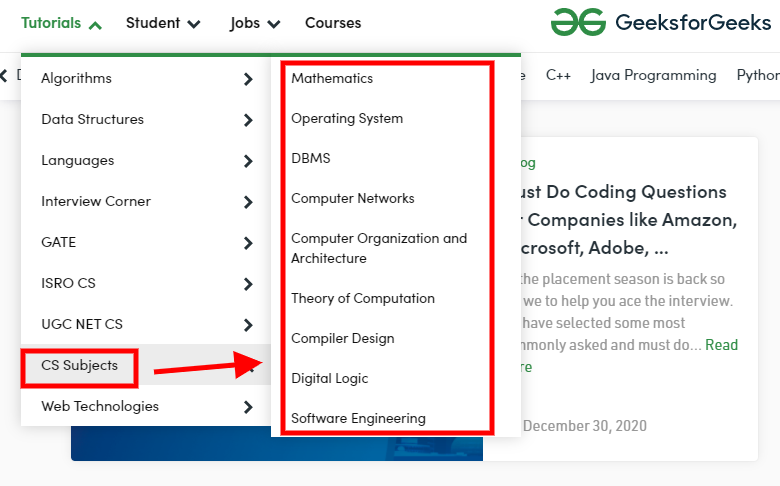 According to the current syllabus of GATE CS, there are 11 Subjects :
You can find/analyze GATE CS 2021 (Revised) Syllabus for learning the relevant topics.
3. Searching Particular Topic/Article
You can use the search bar to find/search published GATE articles in GFG.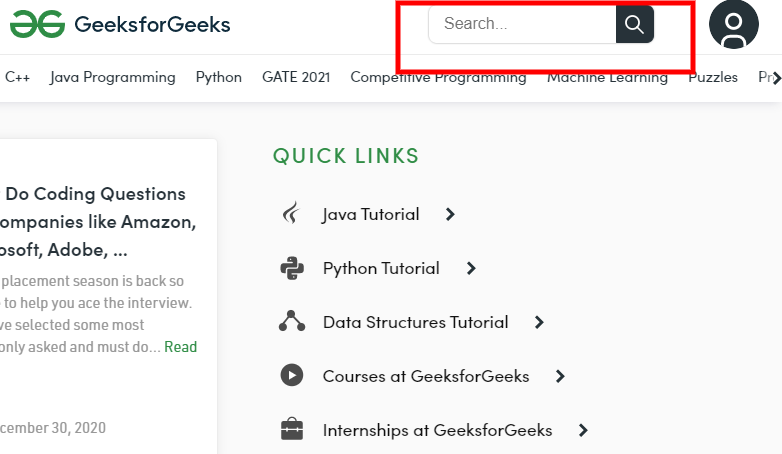 You can also get to know the Important Topics for GATE 2020 Computer Science for preparation purposes. You can use GfG as following steps for GATE CS preparation:
Analysis GATE CS revised syllabus
Choose Subject
Choose Topic
Search topic on GFG
Read the Article
You can click on related/suggested articles if you wish to clarify more. Also, you can click on Tag(s) or Category of that article, if you wish to read articles of that tag or category.
You can also use the GATE CS category to read relevant articles.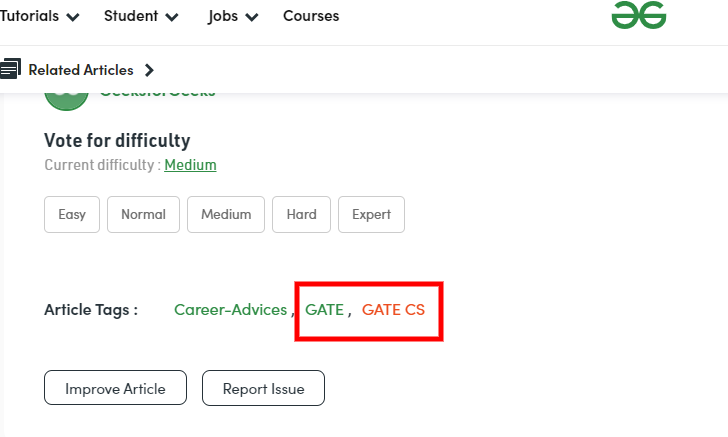 4. Practice Phase
Whenever your preparation is ready and you have learned all the GATE concepts, you can start your practice phase. You should practice previous year's GATE CS papers and all those relevant to the GATE CS syllabus, like ISRO CS, NET CS, TIFR, etc. You should practice as much as possible. Here, we have listed these GfG links for practicing questions, these have topic-wise and year-wise collections.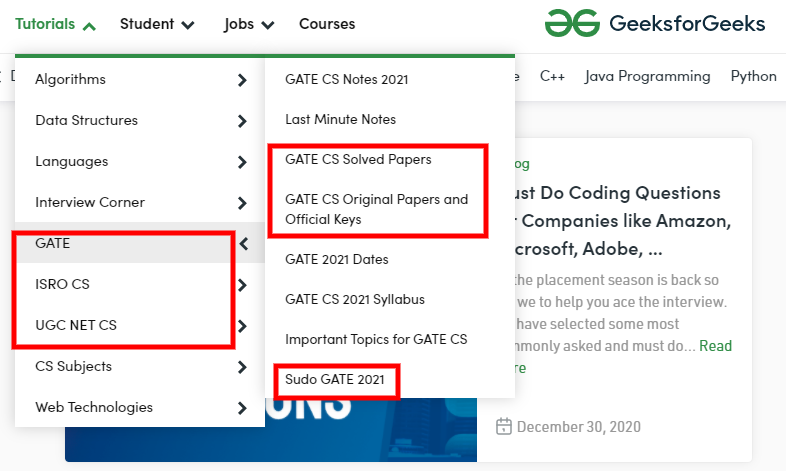 Here are important links for practice purpose:
5. Revision Phase
Revision is necessary. GeeksforGeeks have prepared "Last Minute Notes (LMN)" for revision of CS Subjects. These are explained in brief and to the point. You should start reading LMNs before 1 or 2 months of the GATE exam.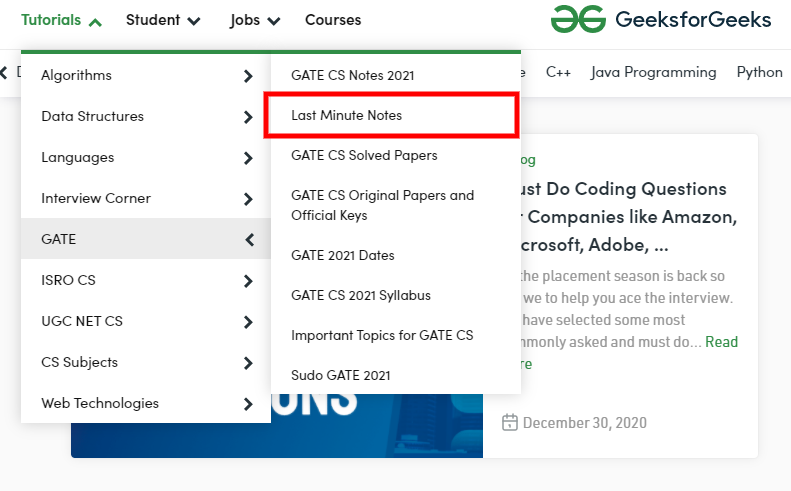 6. Sudo GATE CS (Free of Cost Test Series) by GeeksforGeeks
GeeksforGeeks has been providing free of cost GATE CS Test Series since 2015. Links are given below, you can practice. Questions of these test series are fresh and developed by GATE CS qualifiers with a high score.
Previous GATE CS Mock Tests by GeeksforGeeks:
This is the Sudo GATE CS 2021: https://practice.geeksforgeeks.org/courses/Sudo-GATE-2021
Again, you need to remember that to crack the GATE exam – you're required to follow the right approaches with the right mindset and learning resources. Also, do not forget to practice and revise all the concepts efficiently to crack the GATE exam with a higher score!
My Personal Notes
arrow_drop_up