How to Talk About Your Achievements in an Interview?
You were applying for the job for a long time and finally, your resume is shortlisted now. You must be sweating with nervousness because it's the time for your interview but it's just a cakewalk with the right practice. Behavioral questions play a crucial role in your hiring process. It helps the interviewer to analyze past performance and how you will perform once you are hired. Learning how to talk about your achievements is crucial in getting hired.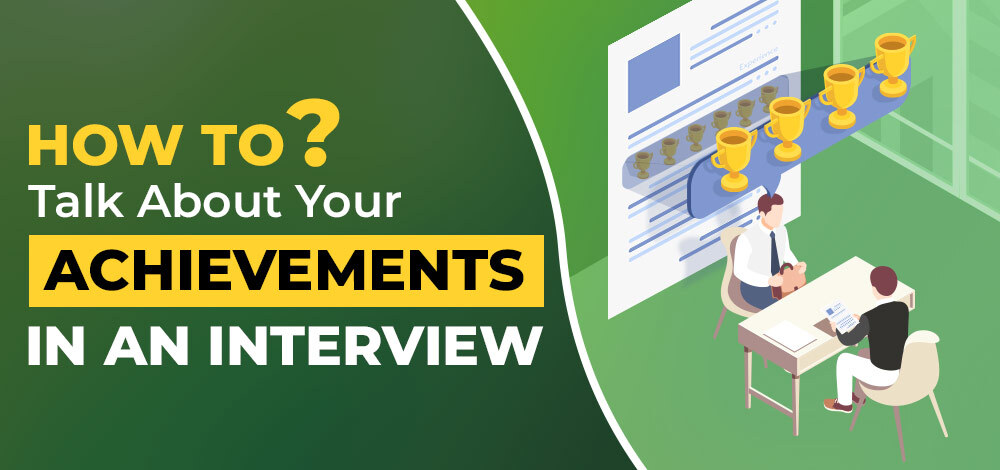 Consider yourself fortunate enough that if your interviewer asks this question it is the right time to manifest your potential. So prepare well for this question and ace your chances of getting hired. As per the interviewer's perspective, if they ask this question they want to know how you are better than other candidates and how you can add value to the organization.
In this blog, we will discuss How to Talk About Your Achievements in an Interview. So let's get started.
How to Pick the Perfect Answer?
The best way to draft a perfect answer is by using the PROVE approach:
Position(P): Describe the position you were in when the event occurred. Further, discuss the task that you have completed.
Responsibility(R): What was your responsibility or what difference did you make in the whole process?
Outcome(O): This parameter includes the outcome of the whole event like how positively you handled the whole situation.
Value(V): This parameter includes what value your contribution added to the organization.
End Result(E): This part includes the results with facts, figures, and specifications. Like how much profit, sales, conversion, etc. you brought to the organization.
Tips For Answering About Your Achievements
1. The answer must be relevant to the job description
While answering about your greatest achievement, always ensure that your answer should be inclined toward the job description. This is your chance to manifest that you have played a significant role in the particular domain and you will continue to do that if you are hired. Understand that you need to choose something which has a huge impact on your career. Then talk about the achievement and don't forget to mention how it helped your organization with specific figures.
2. Don't elaborate too much
The recruiter is not here to listen to your generic stories. So try to explain something specific and memorable examples that provide insights to HR about your way of working. Ensure to mention the important details with confidence. Further provide some details with which the recruiter can relate. Cover all the aspects of PROVE approach in an extremely concise and informative manner.
3. Choose something that has a huge impact on your career
While talking about your achievement always ensure to discuss something that has a huge impact on your career. The achievement must be worthy enough to be quoted in an interview. Evaluate all the parameters that you have added to your resume. Mention the parameters that have a measurable impact on an organization or have resulted in any significant profit.
4. Be honest
Be honest in whatever you say. Providing false information to the interviewer during the interview process shows a lack of confidence and also can hamper your career in the future days. Make sure whatever data or facts you're providing, they're true and factual. Even if you don't have a big achievement, it's completely fine, try to explain even the smallest achievement, sometimes even your smallest contribution to an incident matters a lot and can leave a great impression on the interviewer's mind.
5. Stay confident
Did you know that 39% of the candidates get rejected due to their overall confidence level? If you're sounding low and look underconfident, chances are you'll be rejected. You must have a confident outlook to get an opportunity to go forward in the interview process. When the interviewer asks about your achievement it is time to answer what you have done so far proudly. If you lack confidence this will manifest that you have not done anything worthy. So try to be confident while discussing your achievement and amaze the interviewer with your exceptional work.
6. Practice as much as possible
There is a common saying that "Practice makes a man perfect". So make sure that you practice enough before going to the interview. Don't try to memorize it completely just try to remember the few main points that are important to discuss. Think of this as a story and make sure you easily transit from one part to another. If you forget something don't panic just practice as nothing comes out to be perfect the first time.
Some sample answers to interview questions about your achievements:

Sample 1. My greatest achievement was during my last job with XYZ company as a Marketing executive. When I joined, the team was struggling to meet its goals. So I decided to re-evaluate the whole strategy with the guidance of my managers. We started working on it and eventually our sales enhanced by 12%, which increased our revenue. I was appreciated a lot by everyone and received a star employee award.

Sample 2. My most significant achievement was winning the best manager award for consecutive two years. The award was given based on sales, production rate, and retention rates. Winning this award manifests my dedication to my work and organization. So these qualities will always benefit the organization that I will work with.

Sample 3. My biggest achievement was during my internship as a content writer at XYZ organization. I was entirely new to the domain, so I devoted time to enhance my skills. I redrafted the content of their website using the SEO strategy. My strategy worked out to be amazing and the traffic to the website was enhanced by 9%. This is one of the biggest achievements that I made in my initial career which help the organization reach its target customers.

Sample 4. My greatest achievement was during my job as an HR executive in XYZ company. I felt it was taking a lot of time in sorting and searching for documents. So I took the initiative to implement new software that will streamline the complete process. At the end of a few months, our timesheet indicated that the time spent searching and maintaining documents was reduced by 30%.

Sample 5. A company ABC I earned the fastest promotion after increasing the sales by 50% for three quarters in a row. I also achieved verbal accolades from the Zonal head of Sales in front of the entire organization. The moment was extraordinary and this dedication will surely benefit your organization.
Now that you've got an idea about how to talk about your achievements in an interview, the process won't look daunting after practising these tips. However, it's always better to prepare your 100% and you can do this by registering for our Complete Interview Preparation – Self-Paced course that can get you to be interview ready for both product-based and service-based companies.
My Personal Notes
arrow_drop_up