How to Remove the Password from a Zip File?
ZIP is an archive file format that supports lossless data compression. By lossless compression, we mean that the compression algorithm allows the original data to be perfectly reconstructed from the compressed data. So, a ZIP file is a single file containing one or more compressed files, offering an ideal way to make large files smaller and keep related files together. Some ZIP files are password protected to secure the files from outsiders by disabling their access to the files. But, there are multiple methods to crack a password protected zip file to access its content.
Cracking of passwords requires a lot of your time depending upon the length and complexity of the password when using the Brute-force method, which we are using for the current tutorial.
Follow the steps given below to remove password from a ZIP file:
Step 1: Download the free zip password recovery tool for windows from here.
This tool has a free version and a paid version as well. The free version allows only Brute-force method to work with while the paid version allows masking and dictionary method too.
Step 2: Install and launch the recovery tool.
Step 3: Select the password-protected zip file using the browse option in the top left part of the user interface.
For demonstration purpose, we have created a password protected zip file named "testf.zip"
Step 4: Select the types of characters from the list provided below browse option.
We have set an easy password containing only numeric characters of length 5 for demo. For practical purpose, check all the boxes except the "space" because space is generally not used in passwords.
Step 5: Set the minimum length of the password in the top right part of the user interface.
Step 6: Click on the start button at the top and wait for the process to complete.
You can keep track of all the process happening from bottom right of user interface.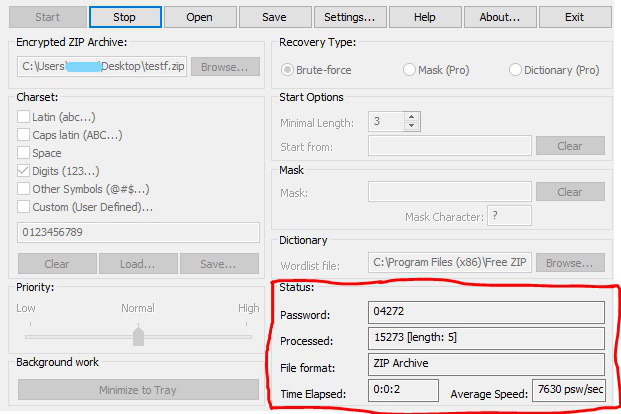 Step 7: Once the process is complete, a dialog box pops up showing you the cracked password and other options to manipulate the file.
As you can see we have the password cracked and yes that is the password that was set while creating the zip file. Now you can perform the operation available on screen.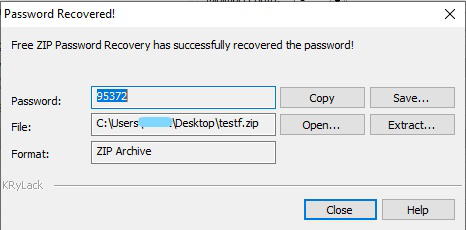 This is the easiest but most time consuming way to crack passwords, but it does work.
My Personal Notes
arrow_drop_up