How to Remove Blank Rows in Excel?
Excel is the best tool to play with your data. It will provide you with everything that can make your life very easy. But in Excel one thing which irritates us a lot is the blank rows. In many cases, we need to format our data many times which leads to blank rows.
Fortunately, we can remove blanks by applying some small steps, these steps are very easy. Let's see some of the most common ways to remove rows in the spreadsheets:-
1. The Manual Mode:
This is the most common way to delete the blank rows but again these are only for that case when we have less number of rows. So, let's take an example, there is data of a classroom, we can see the colour green as the blank row.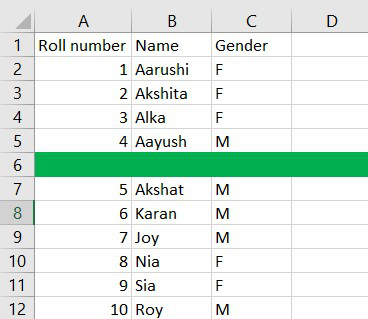 Now we have to hold on CTRL button and left-click on the blank rows you want to delete, as shown in the figure. The yellow colour shows the selection of blank rows.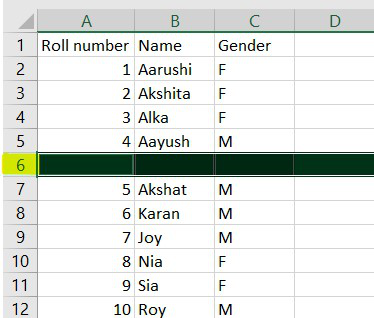 Now, just go to the delete menu and select Delete Sheet Rows, and afterwards, the blank rows will be deleted from your spreadsheet.
2. Delete Blank Rows Using Find Command:
This is another way to delete blank rows in easier ways.
Just select the column and go to the Home tab and then click on the Find & Select command. For the next step, you have to click on the Find from the menu. You can also do this by using a shortcut key CTRL +F.
Now keep Find what as blank. Then select Within: Sheet, Search: By Rows, Look in Values and tick the Match entire cell contents as shown in the figure.
Afterwards, just select on Find All option to return all blank cells and then we can delete all the rows as before. This method is very simple as it can easily find all the blank rows that will save a lot of time!
3. Delete Blank Rows by Sorting :
Sorting is quite a familiar term if you are doing coding but in a spreadsheet, this is also something that solves very big problems. Sorting in excel is complex at all. Let's see how we can delete blank rows using the sorting method.
Well, do you know what sorting is? It is a way to arrange anything systematically, so in the spreadsheet, we can arrange our data in both ascending or descending order.
Now let's do it! First of all, select the entire range of data where you want to delete the blank rows.
Afterwards, go to the Data menu and select sorting, now you can choose both ways of sorting, In this example, we choose sorting from smallest to large. So all the blanks will get disappear and data will arrange in ascending order as shown in the figure.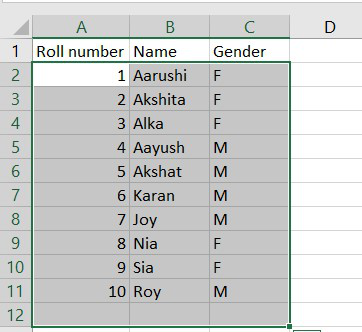 My Personal Notes
arrow_drop_up