How to Make a Perfect Career When You Have No Idea what to Pursue?
One of the major problems among students is that they can't figure out what they want to do until the completion of their college tenure, or even after that! The students generally find them in a dilemma with several questions like – Where to Start?, What to Choose? and various others with the perspective of their career. However, instead of getting worried about it, you can take advantage of this situation as a blessing in disguise. Indeed, in this uncertainty, you are not bounded by any constraints and can explore various career options to find a relevant and successful one for yourself.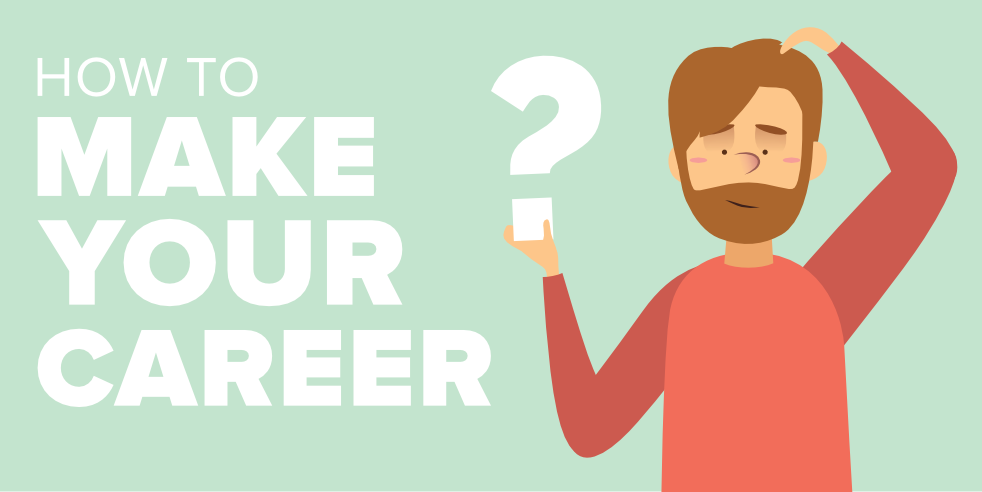 Although, deciding a relevant and worthful career option is not an easy task as you're required to identify your skills, strengths, passion, interests, etc. Apart from this, you are required to have adequate knowledge of various career fields such that you can analyze them and get into a particular field for further actions. Here, in this article, we will discuss a step-by-step strategical process for making a career choice to build a successful career.
Step 1: Do Self-Assessment
This is the first and foremost task that needs to be done while making a career choice. You are required to analyze yourself in various aspects and identify your skills, interests, goals, etc. with respect to your career. Meanwhile, you can do your SWOT analysis (Strength, Weakness, Opportunity, and Threat) to make the most out of the process. You can ask yourself several questions also such as – What are you good at? or What is your area of expertise? or various others. Moreover, you can approach career counselors and utilize other self-assessment tools for effective outcomes. Indeed, in this process, you may come up with a few skills or strengths of yours that you have never even noticed.
Step 2: Explore Various Career Domains
Now, you have to look out for various relevant career options and explore them in-depth. This is the most crucial part of the process hence you can take enough time to do some detailed research about various career domains. Meanwhile, you can prepare a list of the career fields and categorize them based on the industry type or other factors. You may found several different career options that you might not have even heard ever and that can be taken into consideration. However, you have to keep in mind about your skills, interests, and academic qualifications also while exploring out the different career options.
Step 3: Pick Out the Relevant One
Once you'll get done with the exploration of various career options, now it's time to pick out the relevant and worthy career domain for yourself based on all the gathered information. You can compare all of the career fields (that you've explored in Step 2) to make your final choice. You're recommended to make a career choice without ignoring any aspect whether it be your interests, your qualifications, capabilities & skills, or any other. Also, even if a certain career meets all the requirements, you need to consider several industry-based preferences such as career growth, work profile, etc. before making the final decision.
Step 4: In-Depth Research About the Chosen Career Field
If you're thinking that the task has completed now, then you're Wrong! Indeed, you're required to be more concerned now regarding the career field you've opted to make a successful career. You need to do some in-depth research regarding the chosen career field. You can perform the research process with various aspects such as what the particular industry demands? or how to get enter into the field? or what skills and qualifications are required? and various others. Meanwhile, you can consult with various industry experts and other professionals of the same domain to get more exposure and firsthand knowledge of the field.
Step 5: Set Your Goals
As of now, you've done with almost all the research work hence you are required to set the short and long term goals. You need to identify all the objectives that must be completed to achieve your career goal. Meanwhile, the goals should be clearly defined and cover all the aspects – from basic to the advanced level. For example – you should have a thorough understanding of required training and education programs to get into the particular career field, the clear picture of the career graph for at least the upcoming 4-5 years, etc. Needless to say, this is the most basic still crucial step that needs to be taken to make it big into any career field.
Step 6: Make an Effective Action Plan
Okay after identifying your goals, whats next? You guessed it right – it's time to make an effective action plan. Now, you're required to create a roadmap by mentioning out all the steps that will lead you to achieve your goals. It can be understood as – if you're having a goal of getting a Master's Degree to get into your preferred career field, then you need to make an action plan regarding how can you take admission and pursue the particular post-graduation program. However, this is merely an example, you need to prepare a strong career path that will resolve all the barriers that could come along the way of achieving your goals.
Step 7: Dive into the Battle!!
Now, what are you waiting for? Yes, you are all ready to get into the warzone and take the appropriate actions to build your career. You can pursue various education programs relevant to the particular career field, learn & upgrade skills, connect with the people, look out for the opportunities, and various other things that you can do to achieve your career goals. Also, you are strongly recommended to not frequently switch your career field just because of undesired results or failures instead try to come back into the field with more enthusiasm and preparation.
So, the above-mentioned roadmap is helpful for you to make a career despite not having any idea regarding the process. Although, do remember one thing that everyone has their own strengths, and also with all your hard work, consistency, and determination, you can make it big in any of the career fields!!
My Personal Notes
arrow_drop_up