How to Make a Career in Ethical Hacking?
Indeed, Cyber Security is one of the fastest evolving industries across the world. Moreover, due to the rapidly increasing number of cyber-attacks, almost every organization is demanding for the professionals who can deal with such situations and can take preventive measures to avoid the security breach or loss of data. And here comes the role of Ethical Hackers – a cybersecurity professional who legitimately assess or penetrates the organization's network structure to find security vulnerabilities and fix them accordingly. There are various IT giants like Microsoft, Intel, Amazon, etc. that offer ravishing career opportunities in the Ethical Hacking domain.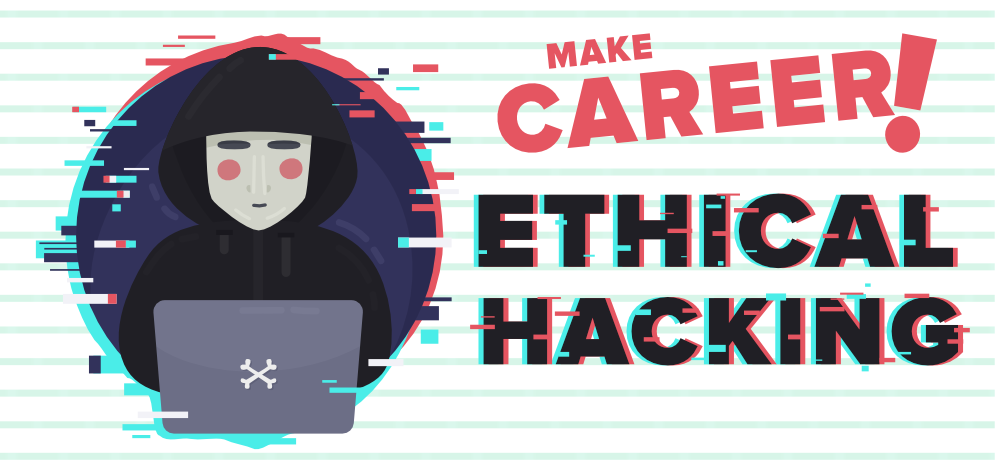 Before moving further, let's take a brief introduction to Ethical Hacking. Ethical Hacking is a lawful practice of getting into the system or network which is done by professionals to identify potential security threats and data breaches in the organization's network. The main aim of practicing Ethical Hacking is to strengthen the network security system of an organization. Moreover, Ethical Hackers are also known as 'White Hat Hackers' and follow the same techniques & methodologies as Black Hat Hackers but in a lawful and authorized manner. An Ethical Hacker can be responsible for various roles & responsibilities in an organization such as:
Determine the security breaches and vulnerabilities in the organization's system or network.
Regularly monitor the data flow, network activity, etc. to analyze the security level.
Comes up with various suggestions & plans for network security improvements.
Conduct penetration tests on the latest embedded security measurements, etc.
Now the question arises – How to make a successful & worthwhile career in Ethical Hacking? And with the same concern, let's go through the complete career path that needs to be followed to get into Ethical Hacking:
1. Start with the Academics
This is the first & foremost thing you need to do to make a career in Ethical Hacking – ensure your study field is concerned or related to the Ethical Hacking (in general, CyberSecurity or IT world!!). Although, it is not mandatory to have a specific educational background for getting into the Ethical Hacking field still having a degree or academic background in the related domain such as Computer Science, Information Technology, etc. will lay your foundation and help you to make it big in the Ethical Hacking. You can opt for Bachelor's or Master's degree in CS/IT or can also go with specific programs or courses related to Ethical Hacking. Moreover, various organizations also demand these educational qualifications as prerequisites while recruiting for Ethical Hackers.
2. Learn Programming Languages & Operating Systems
For being a worthwhile Ethical Hacker, you're required to get proficient with Programming Languages and the frameworks. It helps Ethical Hackers to identify programming errors or vulnerabilities, implementation of security solutions, automation of the tasks, and many more aspects. You can opt for programming languages like C/C++, Java, Python, Ruby, etc. to get into Ethical hacking. Meanwhile, you're also required to learn about several Operating Systems such as LINUX, UNIX, Windows, iOS, etc. You must have a thorough understanding of the functionalities of these operating systems along with the respective commands to emerge as an affluent Ethical Hacker.
3. Sound Knowledge of Network & Security
Needless to say, understanding of Computer Networks & CyberSecurity concepts is the core aspect of Ethical Hacking. You're required to have a knowledge of computer networking & security from basic to the advanced level such as Virtual Private Networks (VPN), firewalls, cryptography, Denial of Service attacks (DoS attacks), etc. Although several hacking concepts such as Penetration Testing, Cloud Computing malware, SQL Injection, Vulnerability Assessment, and various others are also required to be taken into consideration. You can opt for books, tutorials, journals, and various other resources command over the computer networks and cybersecurity concepts.
4. Join Training Programs to Enhance Ethical Hacking Skills
Ethical Hacking is a vast and in-depth domain and you're required to acquire the knowledge of ethical hacking from beginner to advanced level to get expertise in the field. Meanwhile, you can start to learn Ethical Hacking skills through reading books, watching videos, etc. but after reaching a certain level you'll be required to interact with the professionals, gain some practice knowledge, etc. to gain more exposure and understanding of the domain. And with the same concern, you're recommended to go for relevant and worthwhile training programs or boot camps to learn and practice the ethical hacking skills in a real-world environment.
5. Get Relevant Certifications
Once you'll get done with the above-mentioned learning processes, now you're required to get certified and validate your ethical hacking skills. These certifications will not help you to prove your knowledge & skills but can directly land up you various career opportunities in IT giants even without having enough experience in the industry. There are various prestigious certifications in the Ethical Hacking domain such as Certified Ethical Hacker, Global Information Assurance Certification, Offensive Security Certified Professional, Certified Vulnerability Assessor, and various others.
Among all these certifications, Certified Ethical Hacker (CEH) is one of the most demanding and renowned ethical hacking certifications. The CEH exam consists of 125 multiple-choice questions related to the ethical hacking field such as SQL Injection, Backdoors, Session Hijacking, etc. that need to be solved within 240 minutes.
6. Dive into Ethical Hacking Profession
Now, it's time to start your professional career in the field of Ethical Hacking. In the initial stages, you can start with several entry-level jobs in the domain such as Security Analyst, Penetration Tester, etc. and then switch over to senior-level Ethical Hacker jobs. There are various job profiles associated with ethical hacking such as Network Security Administrator, System Manager, Web Security Manager, Information Security Manager, and many more. Meanwhile, Apart from the private IT giants, you can join several government organizations such as the investigation department, law & military enforcement, etc. as Ethical Hackers.
Apart from these technical aspects, you're required to work on several soft-skills and other required areas as well. Firstly, you must be a creative thinker and come up with various innovative ideas as you're required to mess with numerous deceitful minds (yes, Black Hat Hackers!!) over the network. Meanwhile, you need to be a Problem-Solver, Investigative, and Adaptable for being a proficient Ethical Hacker. Meanwhile, there are several recommended books mentioned below that you can take into consideration in your journey of learning Ethical Hacking:
Hacking: A Beginners' Guide to Computer Hacking
The Hacker's Underground Handbook
Hacking: The Art of Exploitation
All-In-One CEH Certified Ethical Hacker
So, these are several major approaches that you need to follow to become a successful Ethical Hacker. Also, considering the current scenario of the IT world, the demand for Ethical Hackers is going to rapidly increase. Mow, what are you waiting for? Go out there, follow the above-mentioned approaches, and become a proficient Ethical Hacker to make the digital world safer for everyone!!
My Personal Notes
arrow_drop_up