How to Land a Job in Service-Based Companies?
During the 3rd or 4th year in engineering college, every student aspires to get placed in the top service-based companies through on-campus or off-campus placement. Be it TCS, Wipro, Capgemini, Cognizant, Accenture, and other top service-based companies, all of them provide services through software as a service, IT as a service, CRM, IT maintenance, IT development, and other business process outsourcing services. And bagging a job in one of these companies is a dream come true for most students through mass recruitment conducted by these companies.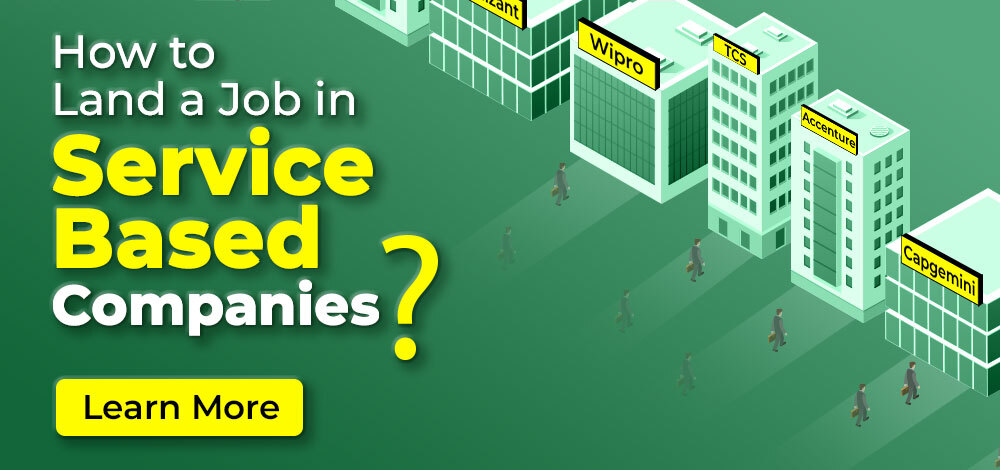 People who are looking for a job in service-based companies that can kick start their career in the tech domain should understand that both service-based and product-based companies work differently and have different approaches toward their work.
Compared to product-based companies that only focus on developing their own products and then simply sustaining them, service-based companies are built around clients and businesses. Service-based companies must be flexible, must employ enormous workforces, and rely on a lot of teamwork.
This is why those people who want to land a job in the top service-based companies in India should be preparing for the interview with the core objective of the company in their minds. The interview process is quite different from the interview rounds conducted by product-based companies. However, the interview rounds are not as tough as the ones conducted by product-based companies.
Let's check how the interview rounds are conducted in the top service-based companies in India like IBM, TCS, Capgemini, Infosys, Cognizant, and others.
Service-Based Companies Mostly Have a Common Pattern of Selection Pattern
Service-based IT companies usually hire through mass on-campus recruitment. But one can also land a job in companies like TCS, Accenture, IBM, and other service-based IT companies through their tests.
For their support roles, they usually hire freshers but if you want to get other job roles in other domains, you can get so through recruitment tests such as TCS National Qualifier Test, Wipro Elite National Talent Hunt, or TCS GenC Elevate. You need to clear these tests to be able to land a job in top-tier service-based companies
Most service-based companies have a similar testing pattern that one can clear if he/she has his/her basic foundation in programming strong enough.
The pattern is something like this:
Aptitude round
Coding round
Technical Interview
HR Interview
Preparing for the technical round questions along with other interview rounds isn't hard now because GeeksforGeeks has brought you Complete Test Series for Service-Based Companies course where you can prepare for coding rounds of top service-based companies like TCS, Wipro, Accenture, Capgemini, IBM and many more.
How to Prepare For Service-Based Companies?
GeeksforGeeks has made cracking the coding interview of service-based companies easier than ever. Be it Infosys coding round questions or Capgemini coding round questions or Wipro technical round questions or TCS interview questions – we've curated one Complete Test Series for Service-Based Companies course bundle that will prepare you for all service-based companies so that you don't have to search here and there and waste your time.
This is the one course you'll need to crack service-based company recruitment drives and examinations such as TCS NQT or Wipro's ENTH with ease. Besides improving coding skills, the course also helps you prepare for numerical aptitude and logical reasoning tests.
With this course, you'll also get mock tests of companies like Accenture, Capgemini, Cognizant, TCS, IBM, and Wipro so that you can prepare for the recruitment examination in a detailed and structured manner. Check the whole syllabus here.
Besides preparing for the interview process, you can learn how to write a perfect resume that can grab the attention of recruiters in the top service-based companies. So, what are you waiting for? Grab your seat in your dream service-based company with the help of GeeksforGeeks. Register for the course and learn from the top industry professionals. This Self-Paced Complete Test series consists of 200+ coding questions asked in major service-based companies and is the perfect way to enhance your quantitative, aptitude, logical reasoning, verbal skills, and foundational programming skills in Java, Python, and C++. You can strengthen your fundamentals in CS like Operating Systems, DBMS, Data Structure and Algorithm, and OOPs with the help of this course.
My Personal Notes
arrow_drop_up