How to Find an Internship as a College Student?
Finding the right internship as a college student has become one of the most challenging tasks today. As most employers lookout for candidates who have some prior work experience, college students can't ignore the benefits and experience of internships. This is all the more crucial for students in computer science (CS), information technology (IT), and related streams.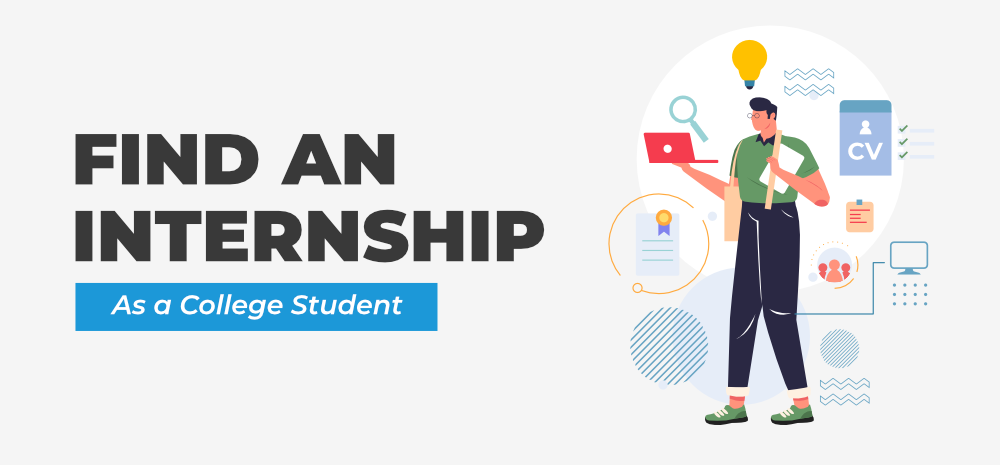 Since it is difficult to get the best internship opportunity, we have shared a few of the easiest and most preferred ways here. The process of finding an internship involves going through internship portals, employee websites, networking, etc. Below, you will find the ways and steps in detail to successfully find the internship opportunity.
1. Google Search
Google is your best buddy whether you are looking for an internship or even a job. Just open the Google Search, type in 'web development internship Delhi', and click on search. It will show you results from numerous relevant websites that you couldn't find with the best of your efforts. You can open websites that meet your criteria, check details, and apply for the internship. This is one of the easiest ways to land an internship opportunity.
2. Make Proper Use of Relevant Online Platforms
Broad Digitalisation has compelled the HR Industry to go online to search for skillsets and talent required in their organization and fill the vacancies. Here are some online platforms that can help you to find Internships, especially if you are a fresher:
i. LinkedIn
You must have an account on LinkedIn before stepping into the professional world. This is not only a place to hunt for internships but also to find several great opportunities for career and networking. Start with creating your account and add your details to the profile. Use the Jobs tab on the platform to search for internships listed here by the employers. Just type the 'internship' word with your field name and hit search. For instance, if you are looking for an internship in web development, then type it and click search.
It will show you numerous opportunities and vacancies available. You can apply the filters here, such as selecting your city, choosing paid or unpaid, etc., and viewing only the appropriate options for you. Along with the internships, you will also see if any connections of yours work there. In case you find your connection working at the company you want to apply for the internship, you can request a referral for more chances of getting it accepted.
ii. Glassdoor
Several recruiters, employers, and job boards list their internship vacancies on Glassdoor as it is one of the top platforms for people to search for internships and jobs. In this business for more than a decade now, Glassdoor helps you see the reviews of the company you are applying to, job description, expected salaries, and much more. You can also see the important interview questions for better preparation. Based on the criteria and company reviews, you can make decisions on whether to apply for the internship at a specific company or not. You can filter out the internships based on your city name, profile, paid/unpaid listing, etc. This makes it easier to find the right opportunities.
iii. Internshala
Internshala is counted among the top platforms for finding verified internships with the ability to apply for free. You can browse internships based on your location, profile, and category. The portal also has a search bar where you can enter your profile and search for relevant internships. While browsing, you can apply filters, like location, stipend, work from home/part-time, number of days, category, etc. Depending on your search criteria, it will show you results. You can view details and apply.
3. Attend Job Fairs
Many companies like to recruit candidates for both internships and full-time jobs through off-campus drives. You will find plenty of such companies at job fairs. What you have to do is lookout for the job fairs nearby along with their location and timings. Participate in as many job fairs as you can and keep yourself prepared for a quick introduction to various employers there. This is another easy way to hunt for internships during or after your college life. Since there will be numerous organizations recruiting at the job fairs, you can decide which ones are the right for you and exactly where to apply and grab the opportunity.
4. Contact Employers
If you want to land an internship opportunity in the city of your residence or any other specific city, then start with searching for the relevant companies. For example, if you want an internship as a web developer, then create a list of companies in the IT and development field which have offices in the city of your choice. Then search for those companies on Google to find their contact details, like a phone number or email address. Mostly, the company website will help you find these details. But if you find it difficult to find the contact details, you can also search for the company on LinkedIn. Once the list is ready, start contacting the employers directly to know whether they have vacancies for interns. Ensure that you are prepared to answer the common questions, like a brief introduction of yours, and some stuff related to your internship field. If they tell you that they will get back to you about it, then don't forget to follow them up in a few days. Sometimes, they might miss out on your conversation. It is better to reconnect and follow up regarding it. If they ask to appear for a personal interview, visit them with full preparation.
5. Use Your Network and Ask for Referrals
Don't underestimate the power of networking. You might have a lot of friends, relatives, college faculty, etc. who can help you find the internship opportunity. If one of your friends works at an organization where they offer great opportunities to interns, then get in touch with that friend and ask for a referral. Also, keep your contacts updated that you are looking for an internship in a specific field like software development, IT, etc. So, when they come across any vacancy, they can let you know about it. Additionally, you should also connect with your college alumni and ask them where they did the internship. This can help you to know about good companies that accept interns. You never know which way works out the best for you.
Wrapping Up: These are a few of the best ways to hunt for internship opportunities as a college student. LinkedIn, Internshala, Google Search, Glassdoor, networking, and more ways mentioned above will definitely work for you and help you grab the right internship. Most of these ways assist you in landing your first job as well.
My Personal Notes
arrow_drop_up